| | |
| --- | --- |
| blueraven316 | 6th September 2007 12:11 |
---
Some more DB Drag

Just came across this article , thought I should share it,
180.5 dB From a Single Subwoofer
September 5, 2007 by Lukas Gilkey
On August 31st the bar was set just a bit higher in dB Drag competition. Alan Dante set the new record at 180.5dB with a single subwoofer. Let me say that again...
WITH A SINGLE SUBWOOFER.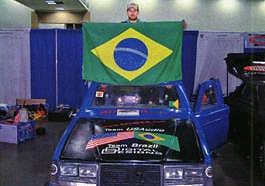 Wow. Alan Dante's concrete filled Volvo is louder than dynamite, jet engines, gunfire, NASA rockets and pretty much any sound you can imagine for that matter.
The 180.5 score was done with a Digital Designs 9918Z subwoofer receiving 26,000 watts of power from four Stetsom 7KD amplifiers. Fifteen Powermaster 16 volt batteries were used as well. Rumor has it that the setup is good for at least another decibel, so expect to possibly see an even higher number in the near future.
Source:
Audio Junkies > Latest News