We on Team - BHP , badly need a thread dedicated to the Motorsports legend Karivardhan.
Posting some of the articles on internet. That will give you a breif intro about Kari and who Kari was to Indian motor sports ?
This is a place to give the homage and Tribute to Kari the great Legend !!!
Sundaram Karivardhan
or short
Kari
(June 20, 1954 Coimbatore, India–August 24, 1995 in the same town) was a legendary figure of Indian motorsports. Apart from being a successful formula car racer, was also a designer and constructor of several formula cars, his most famous design being the Formula Maruti open wheeled race car. His low cost cars helped other racers, notably Narain Karthikeyan, Karun Chandok, and
Armaan Ebrahim
to their entry into motorsports. A wealthy industrialist, he was later killed in an air crash, aged 41.
Race Car Constructor:-
One of his early complete in-house designs was the 300
BHP
Formula Monoposto
based on the
Formula Atlantic
Chevron B40
model nicknamed "Black Beauty". But until the late 80's, motorsports was only for wealthy drivers. In an effort to make racing more affordable in India and improve grassroots level racing he designed and tested a small single seater, dubbed as India's Formula Ford, with a Maruti 800 engine, and adapting easily available parts, sometimes made in-house. His second design was a two seater car named McDowell 1000 using a
Maruti Gypsy
1.0
liter
engine.
FISSME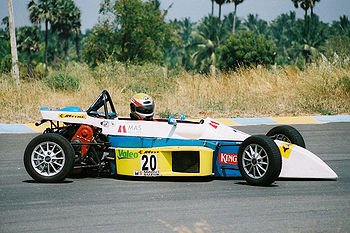 A FISSME of Formula Maruti Single Seater racing Car
FISSME
(Formula India Single Seater Maruti Engine) widely known as
formula Maruti
was launched in 1988 in Chennai's Park Sheraton just before the annual
Grand Prix
races in MMSC track. Notable drivers taking part in the inaugural race were
J. Anand
,
Akbar Ibhrahim
and
R. Gopinath
, all of them would later become national champions in Formula 3. The inaugural race was won by Akbar Ibhrahim.
Later years saw drivers like Narain Karthikeyan,Karun Chandok, Armaan Ebrahi and other future national champions making their debut races in a Formula Maruti series, until the class was discontinued from the mainstream championship in 2006. Still these cars race in junior championship, and are the most affordable open wheeled formula cars in the world costing not more than US$ 300 for a single race.
Motor Rallying
Kari entered in very few rallies, among them the Karnataka K-1000 in Bangalore. He later launched the JK Rally team in 1992, when JK Tyres wanted to enter into rallying which was previously dominated by MRF Tyres. In the 1990 season he spotted a young Hari Singh from Chandigargh taking part in the Coimbatore Rally and, seeing his talent, offered him to tune his car, enabling him to win the Indian Championship title 5 times. During the early 90's he quickly converted all Maruti GypsyRally cars to fuel injection when tuned chips gained popularity.
Racing Team
Kari's racing team was Super Speeds, and the main sponsor was Lakshmi Mills. The early cars had a white and blue body shell which was later switched to black and gold. The company that built his cars was P&B Engineering. J. Anand and [COLOR=#0000ff]N. Leela Krishnan were some of the notable drivers from his team before the duo switched to rival Team MRF
Aviator
Kari was interested in many areas of mechanics, and that included his interest in aviation as his family owned a Cessna airplane. In 1989 he started a small manufacturing plant near Coimbatore to manufacture Power Gilders using a Yezdi 250cc motorcycle engine, later a Rotax engine. He would often test his gliders flying to the Ooty Mountains, Dindigul,Kovilpatti, or Kayattar near Tirunelveli. The small airstrip in Coimbatore later became the Kari Motor Speedway
Fatal Crash
He died on 24th of August 1995 while flying a Puspak trainers aircraft. The purpose of flying was to log some additional flying time as required to retain his flying license. The accident was widely mourned by the racing scene. He was about to make a full mark in the automobile scenario and his last press interview was with Car and Bike magazine and Motor Show programme days before his crash.
His demise almost created a vacuum in Indian Motorsports with dwindling crowds in the Chennai track and after the 1997 season made the MMSC scrap the All India Grand Prix Meet altogether. In 2002 his long-time friend and co-racer B. Vijaykumar stepped in to build and launch Formula LGB and Formula Rolon race cars and also constructed a race track in his hometown which is a major motorsports hub.
Widely known as a gentleman racer, his unselfish ways and dedication to the development of Indian motorsports attracted many new talents into Motorsports. Kari also earned admiration from several quarters more for his character than his racing talents. Though born in one of Coimbatores wealthiest families, Kari was easily approachable by several people irrespective of social barriers. Kari was nevertheless considered a unique man with his soft-spoken nature and publicity shy nature. He was good in spotting new talents and training them to become professionals like Akbar Ibhrahim and five time national Rallying Champion Hari Singh.
Kari's Team Super Speeds later became a Limited Company now a part of L. G. Balakrishnan Brothers and today has a motorsports division which constructs the Formula and Formula Rolon cars.
The race track in is named after Karivardhan, and in Karamadai in Coimbatore an is named after him. Some of his former employees have their garages named in his honour. His Intended based car was named Kari 65 in his honour with 65 being his racing number.
These are Kari's words given to a press interview in 1994 "We are on step two on a scale of 10 in circuit motor car racing today. The Sriperumbudur race track is the beginning. We will need to import Formula Three cars into India and corporate sponsors can make that happen."
A man with vision, Kari, even in 1994, was looking far into the future. He was very keen that younger Indians (Karthikeyan must have been a teenager then) took to the sport. He knew this was not an easy task. "Today, we have only two types of drivers at Sriperumbudur. The top drivers and the absolute newcomers. Motor sports is an expensive sport. Consider just tyres for instance. On an average, one needs four tyres for every 15-lap race. Tell me, how many youngsters can afford this expense?" he had said.
Kari wanted corporates to adopt the Novice class. "We necessarily have to promote the Novice class and make it affordable. For this, we need substantial sponsorship, where cars, tyres and mechanical support come easily for newcomers. Only then will track racing take off," Kari had said.
Kari became a legend in his short lifetime, which ended tragically in an air crash in Coimbatore in 1995. By then, he had set high standards for the likes of Karthikeyan to follow. By a coincidence, Kari is distantly related to Karthikeyan.
Kari won his very first circuit car race, driving a modified Fiat in 1974 on the Sholavaram race track in Chennai. There were few who could hold a candle to the man in Indian circuit car racing. He drove imported Saloons, a Formula Atlantic and even a Formula Monoposto, which he designed in his workshop in Coimbatore.
Kari, a mechanical engineer with a specialisation in machine design, was the managing director of the Coimbatore based textile major, Lakshmi Mills. Kari was not only an ace driver, but also a car constructor par excellence.
When the speedy Suzuki 800s (Marutis) hit the Indian market, Kari was the first to modify them into formula racing cars and dubbed them as Formula Marutis. No wonder then, as many as 26 Formula Marutis designed by him, raced in the 1994 national championships in Sriperumbudur.
That year, Kari, driving a Formula Monoposto 1,600 cc car, finished second to Belgian Flory Roothaert who drove a superior car fitted with a Renault Godinho engine. Analysing his defeat to Flory, Kari had observed, "Flory has a very powerful engine this year. The difference between our engines is about 30 horsepower. It is difficult to beat him with a handicap like that." But the competitor in him said, "I will be coming back next year with a new chassis and a new engine."
Kari's Chennai based buddy, Vicky Chandok, whose son, Karun, is following in Karthikeyan's footsteps says, "Kari was an enigma. He was a visionary in Indian formula car racing. He just wanted to build cars and race them. The 1989, 1,000 cc car, that he built in Coimbatore still forms the backbone of Indian motor car racing."
However, life was not just motor sports for Kari. Ever the family man, he had spoken to this writer on the Sriperumbudur race track, with his son Arjun seated on his lap, watching his wife Vijayshree race a Formula Maruti car built by him.
Former national motor racing champion, Chennai based Akbar Ebrahim, a Karivardhan protégé says, "I owe my success to Kari. He worked very hard with me. He taught me discipline and commitment. Basically, the importance of being consistent from the first lap to the last. Ever the perfectionist, Kari permitted just 1/100th of a second difference between any two laps. He would make me repeat all the laps otherwise." Akbar agrees that if Kari were alive, his relationship with Karthikeyan, could have been identical to the one shared by Gavaskar and Tendulkar today.