| | |
| --- | --- |
| 1Day | 18th April 2007 03:50 |
---
Uh Uh Uh!! Spied Murcielago LP640 Superleggera, now we are talking..

Saw the news today that lambo might be working on the Superleggera version of LP640 Murcielago, this should do wonders for the car, I hope they up the ante here a little bit with dropping more weight and adding a lot more HP without giving it that stickery looks(i still love the gallardo superleggera).
Ohhh Boy!! i am excited, i guess the lambo CEO's promise to give us something new every major auto show seems to be doing wonders..
I can wait..(Click on the pic to goto Autoblog for news)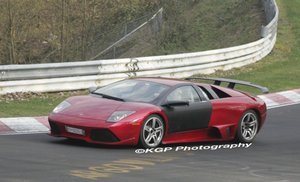 More in the second linked pic from "The Car Connection"