| | |
| --- | --- |
| v12 | 30th March 2004 17:40 |
---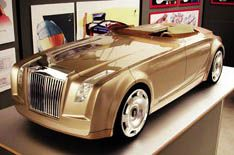 A British car design student has come up with a novel Rolls-Royce grille that tilts backwards on the move to improve aerodynamics.
Coventry university transport student Michael de Bono designed this model, which keeps Rolls traditional upright grille when stationary, but angles it backwards when the car is being driven.
When he put it in a smoke and wind tunnel, the airflow smoothed itself over the top of the grille edge, said tutor David Browne. It was more aero-dynamic the air was tricked into believing it had passed a radius rather than a sharp edge.
Watch this space for production likelihood de Bono has since won a job at Rolls parent company BMWs design studio.
Source :
Autocar