Attachment 1865564
Toyota Camry Hybrid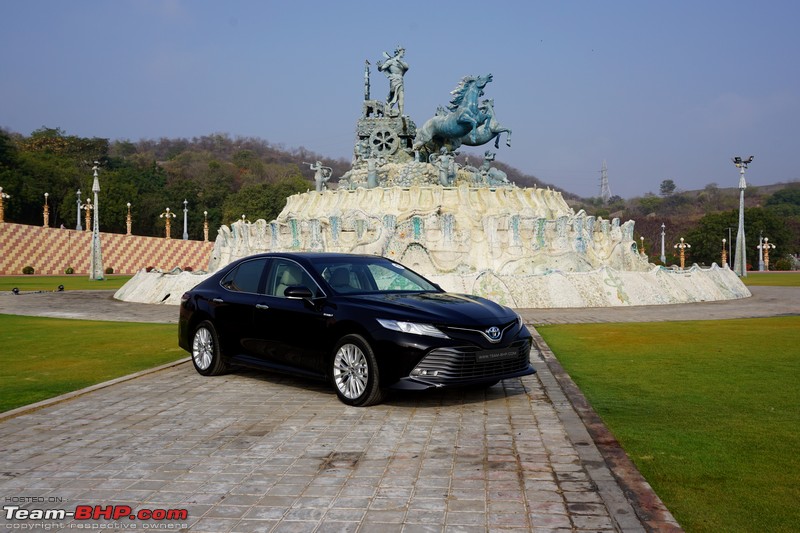 What you'll like:
• An extremely well-rounded luxury sedan. Lots of road presence due to its sheer size too
• Spacious, comfortable & well-equipped cabin. Ideal for self-driven or chauffeured owners alike
• High-tech and environment-friendly hybrid powertrain mated to a butter-smooth CVT automatic
• Terrific fuel efficiency! 15 km/l or more in the city
• Compliant ride quality with sorted road manners
• Loaded with kit (amazing sound system, ventilated front seats, reclinable rear seats, head-up display)
• Top-notch safety ratings. Equipment includes 9 airbags, ESP & more
• Toyota's bullet-proof reliability and superb after-sales service. Camrys age very well
What you won't:
• Weird front styling isn't to everyone's taste. You'll either love it or hate it
• Expensive! The VW Passat & Skoda Superb are both priced noticeably lower
• Not as much fun to drive as its German competitors (
although it's no longer boring either
)
• A couple of missing essentials (
rpm counter, Android Auto / Apple CarPlay, folding rear seat...
)
• Back seat is better suited to 2 adults, rather than 3
• Just a single trim. No choice of variants at all
• Long waiting period. Over 3 months in some cities
Link to Official Review
Volkswagen Passat
Attachment 1865486
What you'll like:
• A
solid
European sedan with classy & understated styling; will age well over time
• Premium, upmarket cabin and a cavernous 586-litre boot
• Loaded with features & technology (adjustable dampers, 360-degree area view camera...)
• Fast & practical 2.0L TDI engine mated to a smooth & quick 6-speed DSG
• Mature suspension brings balanced road manners
• 5-star NCAP safety rating (9 airbags & a full suite of electronic aids)
What you won't:
• Many of you will find the styling to be too conservative
• Sibling rivalry from the Superb (more rear legroom etc.)
• Lacks the brand cachet that customers desire at this price point
• Explosive 1.8 TSI petrol engine isn't offered, and neither is a manual transmission
• Long-term reliability concerns over the DSG transmission
• Volkswagen's dealership & service experiences are a hit or miss
Link to Official Review
Honda Accord Hybrid
Attachment 1865487
What you'll like:
• Fuel-efficient, environment-friendly Hybrid technology
• Fast performance, with good low-end torque
• Comfy low-speed ride quality
• Safe handling matched with a steering that's nice to use
• Spacious interiors, well-bolstered seats & lots of equipment
• 5-star safety rating. Kit includes 6 airbags, lane-watch system, ESP & more
What you won't:
• An overpriced CBU! Almost 6 lakhs more expensive than chief competitor, the Toyota Camry
• Misses many rear seat features that the Camry has (
reclining seat, air-con settings, audio controls...
)
• Despite the fast performance, it is boring to drive
• Excessively soft suspension means an unsettled high-speed ride
• No spare tyre! Additionally, low-profile tyres are prone to damage on Indian roads
• Small boot for such a large luxury car. Hybrid hardware eats up space
Link to Official Review
Skoda Superb
What you'll like:
• The benchmark D2-segment luxury sedan...all over again. Well priced for all it offers
• Timeless, elegant styling. Fit, finish & build quality are top notch
• Amazing rear seat comfort. Beats luxury cars costing twice as much
• Classy cabin is practical & user-friendly. Cavernous 625 liter boot!
• Terrific diesel & petrol engines mated to fast gearboxes. Manual tranny available too
• Loaded with features & technology. Equipment list runs pages long
• 5 star safety rating & kit - 8 airbags, ESP, TC, ABS + EBD, EDL and lots more
What you won't:
• DSG is known for breakdowns. Old Superb's long-term reliability was overall poor
• Skoda's scary after-sales service. Dealer network doesn't understand customer service
• Diesel's price premium (over the petrol) is 3 lakhs on the road! That's unusually high
• Some product planning goof-ups (limited colours, no navigation, no diesel MT)
Link to Official Review