| | |
| --- | --- |
| n_aditya | 31st July 2007 17:16 |
---
Ambassador with a 4.5 Liter, 6 cyl FORD engine!!

Hey guys,
Spotted this Amby at a garage near my office.
The amby's hood was extended to occupy a massive 4500CC V6 FORD engine :Shockked: . It has 205-50-R16 size michelin tires on OZ rims.
The car was getting some suspension mods (stiffer springs and raising suspensions as the bottom was scraping the speed bumps).
I have also spotted at this garage, a couple of accords with body kits, a celica, a Grand Vitara, Mitsu Challenger, Prado etc on several occasions.
Here are the pics. Hope you like 'em.
P.S. Rudra, dedicating this thread to you. :)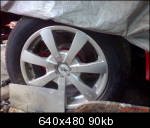 This pic can probably give you an idea of the length of the car :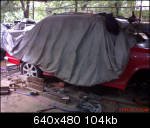 Pics taken from my cellphone (w700i) so please excuse for the low quality.