| | |
| --- | --- |
| ported_head | 29th October 2005 13:30 |
---
So, I was going through some Photoshopicsm on the internet, and this struck me. Here is a pic of the Renault Dacia Logan, let's see what out artistes can do with this. So Stratos, Islero, kiku, lucky lee and anybody else.....wave those magic optical mice....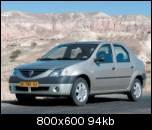 I'm sorry if the pic quality isn't of the highest order, but this is the best I could find.
Hey, Rudra, care to give it a shot?