Team-BHP
(
https://www.team-bhp.com/forum/
)
An excellent review GTO. I recently drove an amaze and though the car has amazing space for a 4M car, I did not like driving the car. It has way too much noise and vibration. The interiors look very basic. The new city will sell, probably the top seller, because it is a diesel and it's a Honda. Would I buy it? Probably not. I was expecting it to have much better NVH (The verna is notches above the new city in this regard I guess). The interiors don't look cohesive but atleast has the features. I was expecting more power and I always prefer a driver's car. Good luck to Honda.
@GTO : Is it possible to have a pic of engine guard from a distance. The guard in pic 11 looks like it has already taken couple of beatings, a zoomed out pic will give an clearer idea about ground clearance.

The car seems to have dual personality. Few parts looks premium (headlamps, steering wheel, instrument cluster) while some looks build to cost (naked wheel well, missing boot panel, skinny tire).
Excellent review, keeping with the high standards of team-bhp. Appreciate the quality of the pictures and overall very useful review with loads of information. My personal view of the car is that it is almost there with loads of features and overall a very nice looking car. Diesel will be a big hit in India. On the negative side I find that still this appeals largely to Honda lovers. The interior styling (ex piano black interiors), air con vents in different styles, touch screen AC controls and the noted noisiness of the engine, missing refinements (like the tool kit in rexin cover, no fifth alloy, narrow door pockets, poor colour choice for carpet) are bit frustrating.

Was expecting Diesel auto, that would have been icing on the cake!
Quote:
---
Originally Posted by GTO (Post 3322002)
The Honda City will be launched in January 2014.

What you'll like:

• Practical diesel, fast petrol and convenient CVT. Take your pick
• Loaded with equipment (sunroof, touchscreen climate control, keyless entry & go, rear air-con, reversing camera)
• Extremely spacious cabin. Loads of sensible touches make it easy to live with
• Diesel & Petrol, both, have segment-topping ARAI fuel efficiency ratings
• Big 510 liter boot will swallow your airport & holiday luggage
• Light controls, slick gearshift and easy maneuverability for the city. Effortless to drive
• Honda's reliability & fuss-free ownership experiences

What you won't:

• Same diesel as the Amaze. Outright performance & NVH levels are lower than the Verna, Vento & Rapid
• Front looks like a mere facelift. Too similar to the outgoing car. Garish chrome grille too
• Electric steering remains light & sensitive at highway speeds. Ought to weigh up more
• Skinny 175 mm tyres & boring alloy wheel design. Both need to be upgraded
• Light build quality. Lacks the sheer solidity of its European rivals
• 6 footers will find rear headroom to be in short supply
• Some features missing (proper dead pedal, folding rear seat, height-adjustable seatbelts, boot lid cladding)

---
GTO, when I first visited the forum back in 2011, the first thing that I searched for was an official review of City 3rd Gen from you. However, after going through numerous threads, I understood there was none.
When the 2012 facelift of City was launched, I waited for a review from you. Not that it called for one, the changes were nothing for driveability, except for the small increase in GC. In fact I remember you mentioning that you'll pass this one since there were too many forum members sharing their experiences of the City.
I have just read through your review and this is easily one of the most comprehensive on the forum in the recent times! I'm struggling to decide whether this should be No. 1 or Skoda Octavia review should hold that crown (that's an excellent one in its own right)! But given the fact that City appeals to a lot more wallets than Octavia, this has to be the most fantastic and relevant review on the forum!!
I have just couple of questions for you. If you were to choose between Linea T-Jet, Vento TSI DSG and 4th Gen City Petrol MT (I know the comparison is not fair) for both regular city commute as well as frequent highway trips, which is the one that YOU would choose? Would the petrol MT make to an enthusiast's line-up in your view? Thanks in advance for your responses, and again - guess this is the best thread on the forum as of today! :thumbs up
Naturally rated this 5 Stars.
5 * rating for such a wonderful review. I like the car. And if I had to get one, it would have been the petrol MT variant. The only thing dissapointing is the garish chrome grille. (:Shockked: What were they thinking?) Else I think they have got most of the equation right in all respects. I think for this car, even the petrol ones will sell in good numbers.

Do you guys have pictures of the lower variants Ex/Sx ? To see how they compare to the top end VX, and what all features they have lost?
Also, it would be interesting to see what additional features they would be providing in their international model? Maybe all black interiors, rear adjustable neck support, etc as shown below for the previous gen.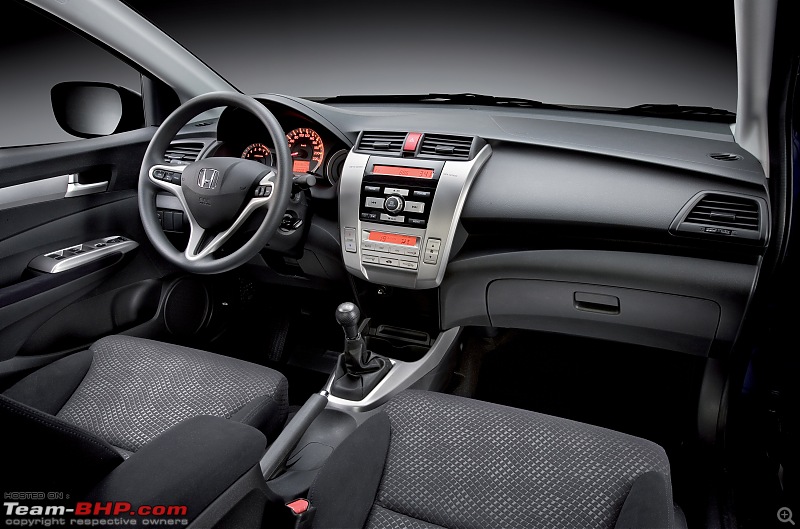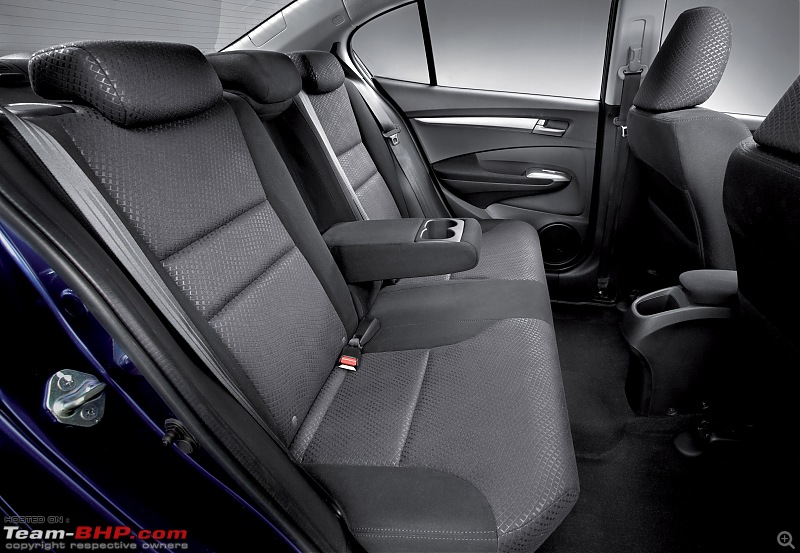 Source:
http://www.automobilesreview.com/gal...da-city-09.jpg
and
http://www.automobilesreview.com/gal...da-city-07.jpg
The review is comprehensive and very detailed. Full 5 stars for the amount of work put in by GTO in documenting this review. The finer points elucidated is what makes the reviews on Team-BHP stand out.

I think the car will will be priced a bit premium than the out going one and I also think this will fly off the shelves until Hyundai and other manufacturers come back with their facelifted versions. All in all, consumer is in for luck!
Quote:
---
Originally Posted by B103 (Post 3322244)
Regarding automatic transmission, by reverting to the CVT, I am wondering if the focus is on the urban female clientele. Do we have any statistics on the male/female ownership percentage of automatic cars in India?
---
Find this statement quite interesting! What does a CVT transmission has to do with gender of the buyer/driver? Do you mean to say that women would prefer CVT compared to a DSG or conventional AT? :)
Awesome and detailed review. Disappointed with the fact that the Diesel is the same motor doing the duty in the Amaze. Expected something that could put up a showdown with the Rapids and Ventos out there. Was thinking of upgrading from my previous gen petrol City to the Diesel city but I don't think so now :( Personally, I like the side and front profile of the last gen city.
In the City, I never expected a gizmo-fest, but since they were kind enough to provide us keyless entry and climate control, I find it worth complaining that they didn't go far enough with safety kit. They should have provided side and curtain airbags at least on the top-end version. Also ESC and TCS would have been welcome.
Equally sad that the AT is a CVT. I know that Honda aren't into DCT/DSG yet, but they should have stuck to the conventional, but brilliant AT which they already have in the 3rd gen City and Civic.
Quote:
---
Steering is adjustable for tilt only. Wish Honda had given rake too. I found the location of this adjustment lever to be too far down:
---
Isn't "tilt" and "rake" the same thing? I suspect you are talking about "reach". Reach adjustment is missing.
Comprehensive review/buyer's guide, as usual! 5 start thread for sure.

The car looks much better than the outgoing gen, except for that front chrome bar. Its looks pretty loaded too.

A diesel automatic could have been an excellent USP for this car. Its a space currently monopolized by the Hyundai Verna, a wonderful car in its own right.

If the Civic had been there, I can understand that a diesel Automatic variant of City could overlap with the Civic in terms of pricing. But right now they dont have anything between city and accord. I dont understand why they did not come up with a diesel auto variant of the City. Or, on the flip side of things, do they have plans for the civic?
Excellent review as usual.
That chrome grill looks so tacky.
I will still pick Verna above this mainly cos of the engine.
As for missing Automatic in diesel I guess Honda might bring it later on judging by the response it gets after the launch.
Quote:
---
Originally Posted by vb-san (Post 3322820)
Do you mean to say that women would prefer CVT compared to a DSG or conventional AT? :)
---
Almost sir. Rather it is the other way around.
While preferring the AT for in city drives, I believe most men would be keen to know the shift speeds and performance from the gear box. Means men may prefer the DSG or torque converter over the CVT in rudimentary form.
Women may care less about the gear box used in the car as long as the basic contraption is easy to use and operate. No stereotyping intended :)
Excellent Review. Great comparison notes with the earlier models as also with Jazz. What does this car offer that Hyundai Verna or my own Elantra doesn't offer? It all depends on the on road pricing which will decide if its a win. City always had issues with ground clearance. Has that been addressed in this version?
Quote:
---
Originally Posted by GTO (Post 3322011)
Other Points:

• • Disclaimer : Honda invited Team-BHP for the City test-drive. They covered all the expenses for this driving event.
---
Fantastic Review GTO: Just when i thought you couldnt possibly cover anything more on the City; you then wrote another 5 pages. Incredible attention to detail! I have just one question; I dont know if it has been answered anywhere else- if it has; please direct me to it.
"The Amaze's top speed was limited to ~145 kph. No such limiter on the City, with Honda claiming a top whack of 190 kph. "
You had written this somewhere. Why would Honda do this? What is the rationale behind it? The other car manufacturer's dont make a bias between two of their cars running on the same engine and limiting the top speed of a cheaper one. Can someone please explain to me the rationale behind this move?please:
All times are GMT +5.5. The time now is

13:00

.