Interior - Front
The front doors open and shut in a triple-stage action. The Ameo is not a tall car and as a result, ingress & egress are not as easy as say - a Tata Zest. You have to sit down in the seats. Elderly folk and those with back problems aren't likely to be impressed.
If you've sat in the facelifted Polo, you've already sat in the Ameo. The cabin has a classy black and beige theme, while the large greenhouse means that there is plenty of light coming in. Overall, the interior has an airy feel to it.
While the dashboard's top surface is black, the lower part is beige. Brushed aluminium inserts have been tastefully applied on the center fascia and around the side air-con vents. The center fascia tilts slightly towards the driver creating a cockpit effect. The dash is straight-forward, functional and very well put together. There isn't a single uneven gap or loose construction. All the buttons feel durable and premium.
The materials used are high quality and the fit and finish are excellent. It blows the budget cabins of the Dzire & Amaze away. There are no rough edges anywhere. That said, there is still no soft-touch material used anywhere and the dashboard is now beginning to look outdated:
Lateral shot. While the Comfortline and Highline variants get a dual tone (beige and black) theme, the Trendline has all-black interiors:
Awesome steering wheel - among the best we've seen. Flat-bottom steering gets leather, chrome accents and piano black panels for a premium look. It's chunky and sweet to hold. Hornpad will be a stretch for those with small hands. It's not easy to press either:
Controls for the audio system are located on the left spoke of the steering. Mute button is very handy:
Right spoke houses the telephony controls and buttons to swap between the MID's features. Lower left button is for voice commands: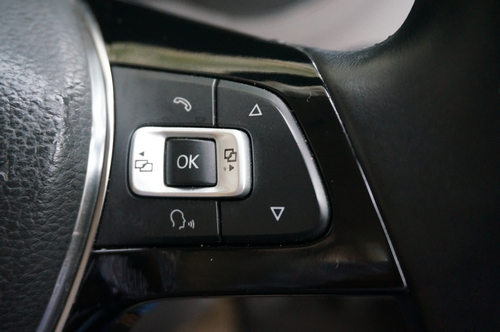 Zooming in to show you the leather's stitching pattern: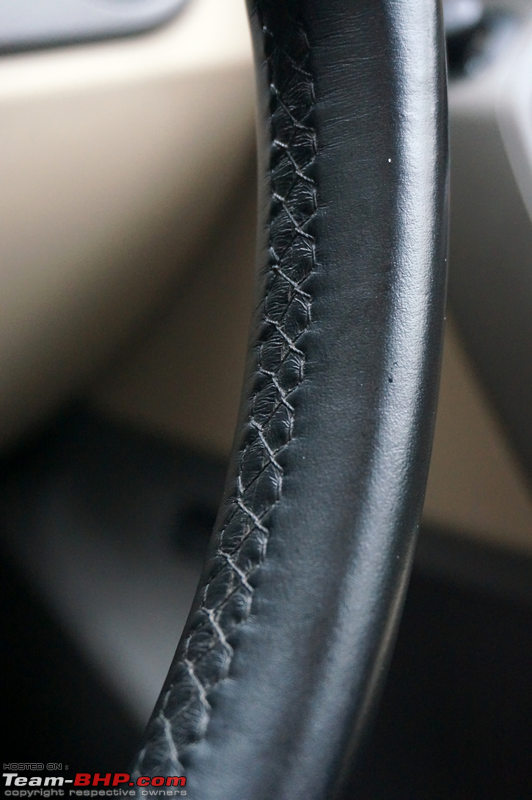 Nice! The steering offers tilt & telescopic adjustment. Both have a satisfactory range:
Familiar and easy to read instrument cluster from the Polo and Vento. Tachometer on the left and speedometer on the right - just the way we like it. The MID comes on every time you open the door, whether the key is in the ignition slot or not (shows the time and odometer):
The MID is simple and its white letters are easy to read. It features a digital fuel gauge, speed limit warning, digital speedometer, average speed, time travelled, distance to empty, average fuel consumption, outside temperature, an engine temperature readout (Celsius) and service reminder. The arrow below the fuel gauge shows which side the fuel flap is located on: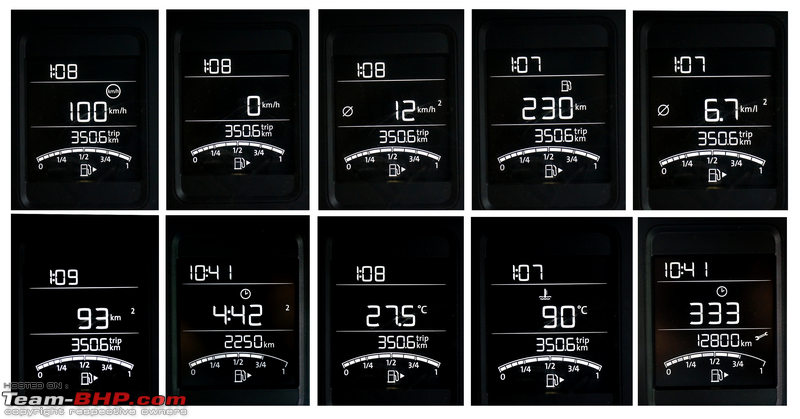 Stalks feel built to last. Unfortunately, European orientation means lights on the left and wipers on the right. Switches for the cruise control are located on the indicator stalk. The desired speed can be increased or decreased by using the buttons on the edge. Lane change indicator provided as well. Check out the super cool ad for the 'auto wipers' feature
here
:

Typical European headlamp and foglamp controls. Turn the switch to the parking light or headlamp position and then pull it to its first step to start the front foglamps. Pull further to the second step to start the rear foglamp. We feel that the Ameo should have had 'auto headlamps' as it's a feature you'll use all 12 months of the year, unlike auto wipers which are used only in the monsoons:
Black & beige doorpads are all plastic (no fabric). The boot release button is no longer located on the driver's doorpad. Armrest is wide and useable, but would have been more comfortable with some soft padding:
All 4 power windows have one touch up/down and anti-pinch. All window buttons are backlit in red:
Typical VW ORVM adjustment knob is located on top of the door handle. ORVMs can be retracted electrically by turning the knob to the topmost position (clockwise or anti-clockwise). The lock/unlock buttons are large. Yep, the doors auto-lock at 15 km/h. The lock/unlock action is audible, although not as loud as say the TUV300:
Useful front door pockets are big enough to hold a 1.5L bottle and the knick-knacks:
Seats get fabric upholstery and adjustable headrests (
unlike some of its competitors with fixed headrests
). Seats offer excellent support to the back as well as under-thighs:
Driver's seat is height-adjustable. The adjustment has a healthy range and the lever feels long-lasting. Crank the lever 17 times to put the seat in its highest position (from the lowest). Crank it 25 times to take it from the highest to lowest:
Long and sturdy metal bar for the seat's fore & aft adjustment:
Zooming in on the fabric upholstery to give you a better look at its design. Light colour means it'll soil easily:
Center armrest is a segment first. It's positioned well - you don't need to take your arm off it to operate the gear lever. No height adjustment though. Soft black fabric padding on top makes it comfortable: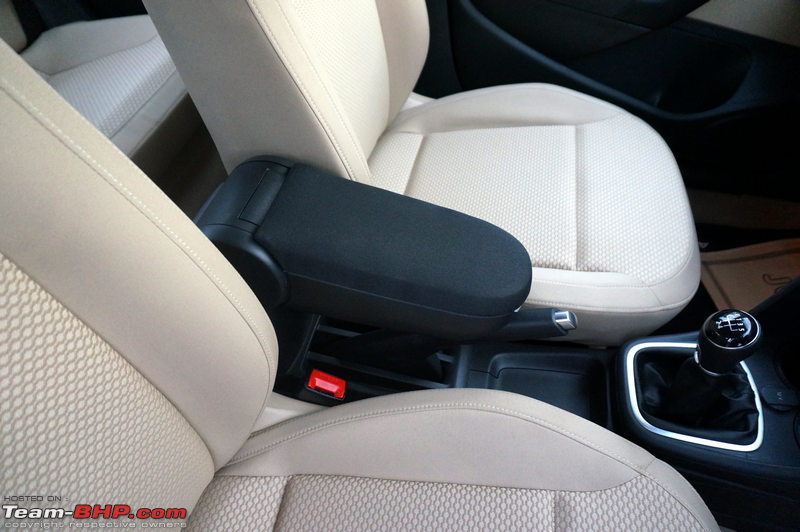 Center armrest has storage underneath with an anti-slip rubber mat. It can easily hold a 6-inch phablet and more: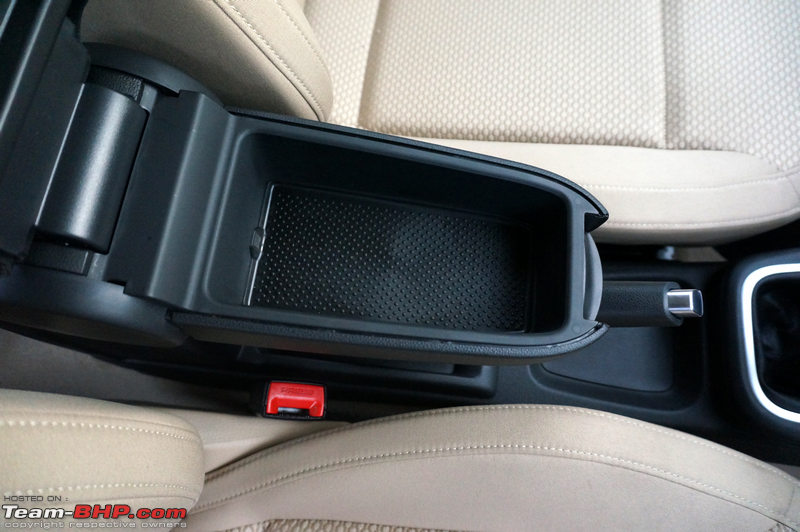 Handbrake is difficult to operate with the center armrest in place. Hence…
…it's advisable to put the armrest up before using the handbrake:
Seatbelts aren't adjustable - sucks in an otherwise loaded car. Still, the seatbelts are placed at a fairly neutral height:
Beige floor carpet is a big no for India. What was VW thinking? ABC pedals are adequately spaced out. Clutch is on the higher side and has a long travel range. A dead pedal is provided, but…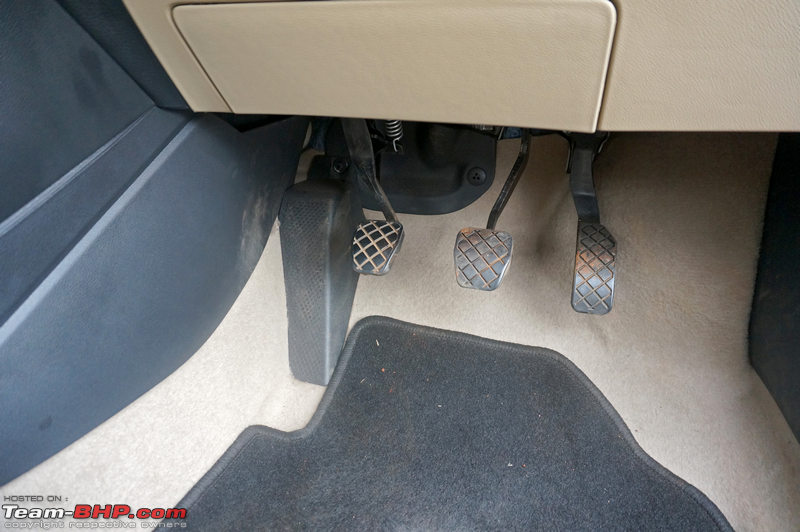 ...those with bigger-than-average shoe sizes will have trouble using it. There is very little space between the clutch and centre console panel to get your foot through. You might have to slide it from below the clutch. Lifting your foot from the dead pedal will cause it to rub against the panel and clutch too:
Bonnet release lever is placed on the right side of the driver's footwell. The lever is chunky and sturdy. To pull it, you need to open the door! This will cause a bit of inconvenience when a hotel's security guard asks you to open the bonnet for inspection: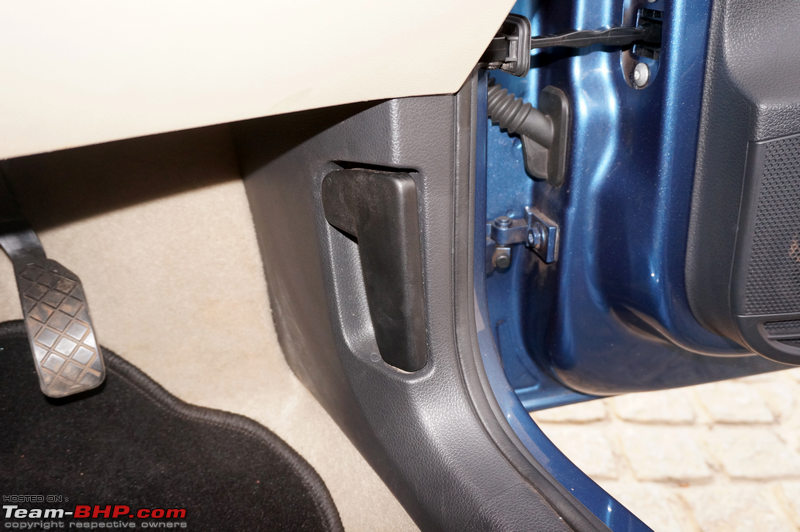 Driver's footwell gets ambient lighting with a theatre dimming effect. This light cannot be switched off. The maze of wiring looks untidy...honestly, unexpected in a German car. Don't miss the OBD port on the right: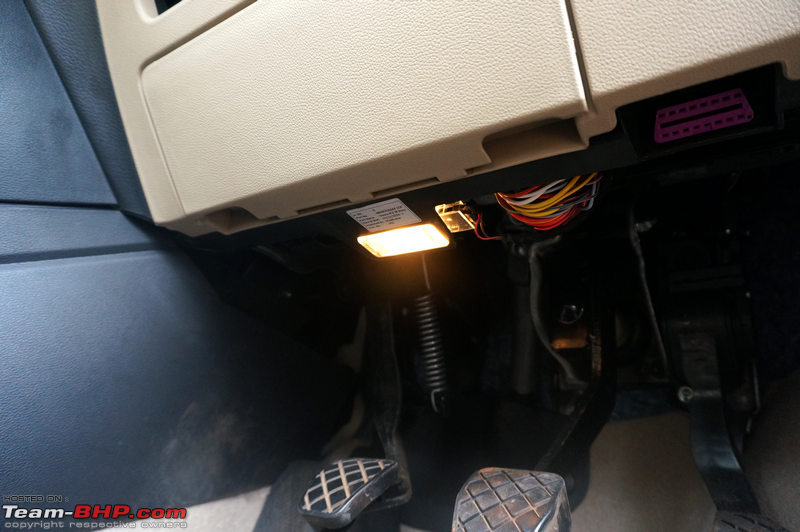 Passenger's footwell also gets ambient lighting. Thankfully, there are no ugly / naked wires hanging out here:
ORVMs are wide and offer a good view of the happenings behind. Notice how the driver can see the ORVM blinker from inside:
The IRVM is wide, but the sharply sloping windscreen and high parcel tray mean that coverage is strictly average:
Sensor for the auto-dimming function is located behind the IRVM. Feature is on by default; you don't even have to press any 'auto' button:
Visibility while reversing is strictly average. While the rear headrests don't pose a problem, the high boot, high parcel tray and tapering roofline limit the view. You'll be putting that reversing camera & parking sensors to good use:
Center fascia tilts towards the driver. Brushed aluminium finish looks damn classy. It's also present around the gear shifter & side air-con vents: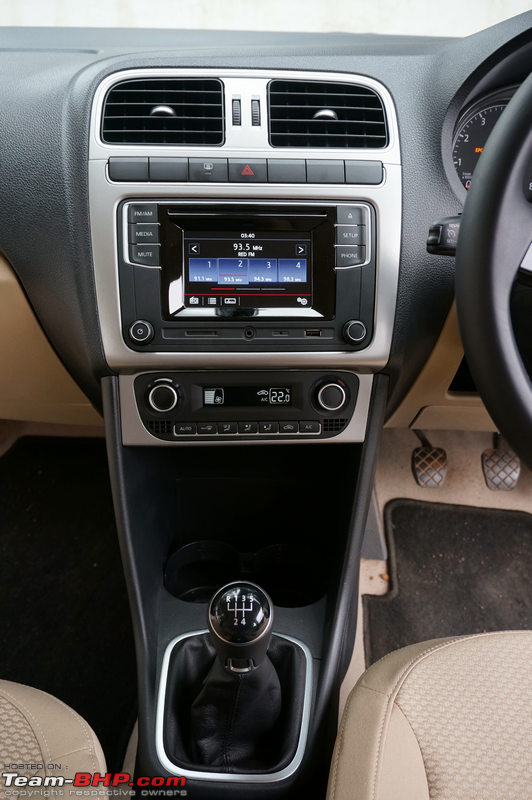 Air-conditioner vents have rudimentary direction controls. Air volume control works well - 0 flow does result in 0 flow (unlike most other cars). The air volume knobs switch to their extreme positions with a nice click. Fragile vents break with time though (
related thread
):
Touchscreen head-unit with CD/MP3, USB, SD Card, Aux-in and Bluetooth connectivity. Its functions have been covered in a separate post:
The Ameo comes with a climate control system. The sound of the blower at level 1 & 2 is silent. It gets audible on level 3, loud on level 4 and very loud at 5 & up. The temperature can be varied from 'low' and 18 degrees C to 29 degrees C and 'high'. Switch it off by turning the blower knob anti-clockwise to below the first level. From the "off" position, pressing the "A/C" button starts the system with the temperature at 'low' and blower at full power. From the "off" position, pressing the "Auto" button starts the system with the blower at level 2 and temperature at 22 degrees C. The system always begins in 'fresh air' mode:
Deep cubicle on the center fascia is segmented and features two cupholders: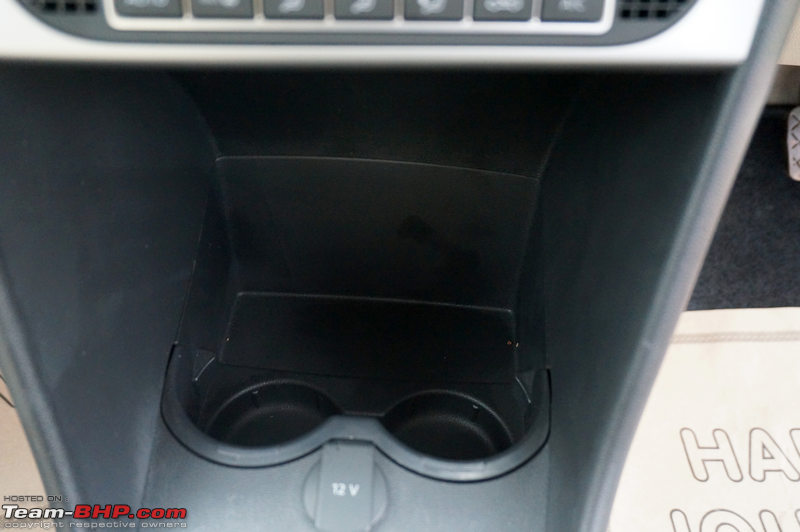 Need additional stability for cans or bottles? Use the foldable plastic piece that has been provided. It locks in place with a click. 12V power outlet located below the cupholders: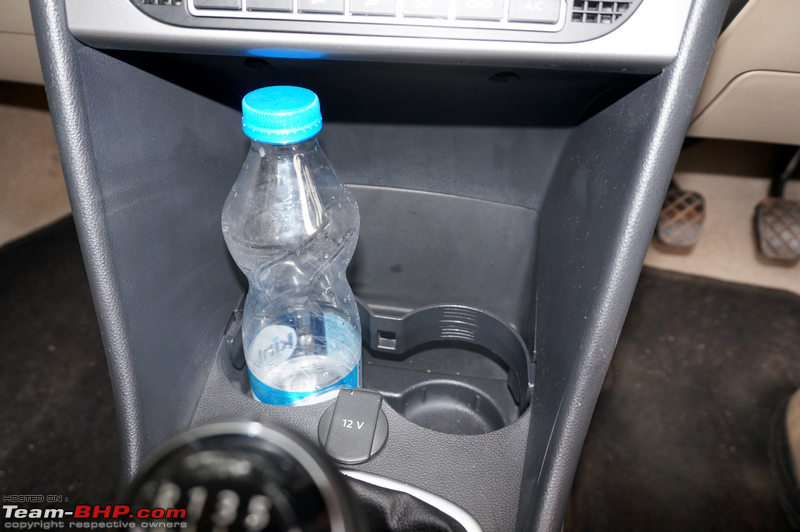 The gearknob looks elegant. Slick shifter is a joy to hold and use. Subtle chrome lining around it breaks the black monotony:
Slim slots on either side of the handbrake to hold pens & smartphones: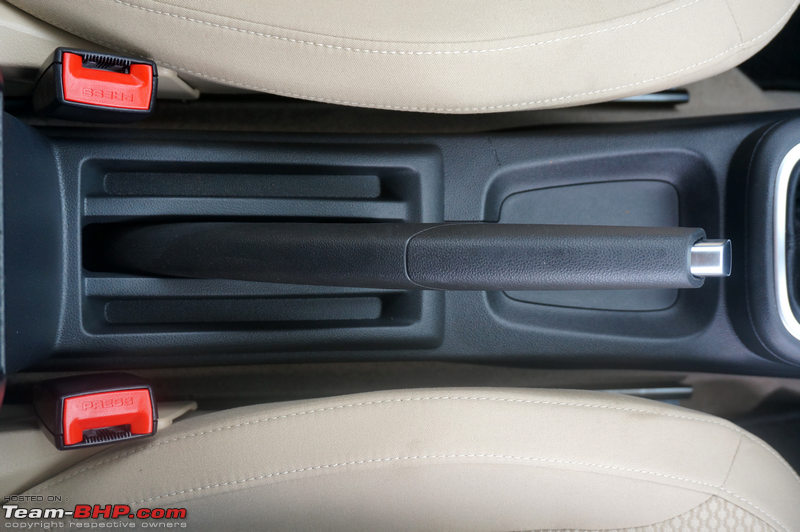 Dual airbags & ABS are standard on all variants of the Ameo :thumbs up:
Side air-con vents aren't asymmetrical as is the trend in modern cars. They get air volume control as well: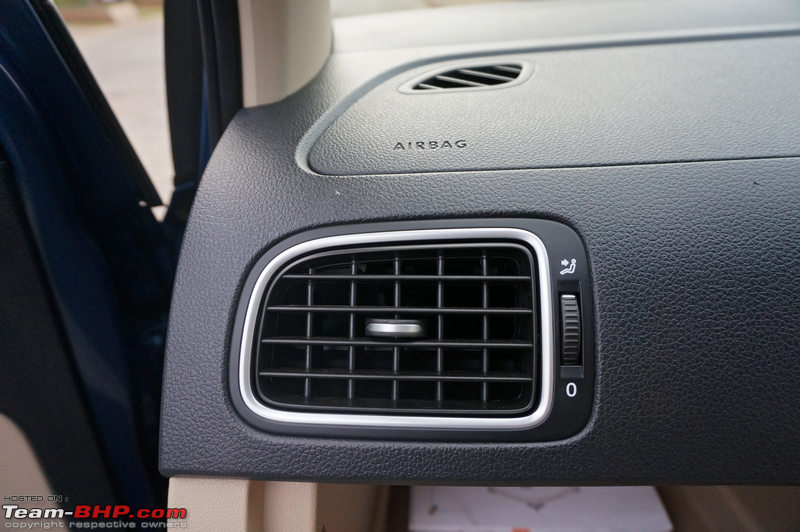 Large glovebox. A sunglass holder…
…coin slots, business card holder (
behind
) and…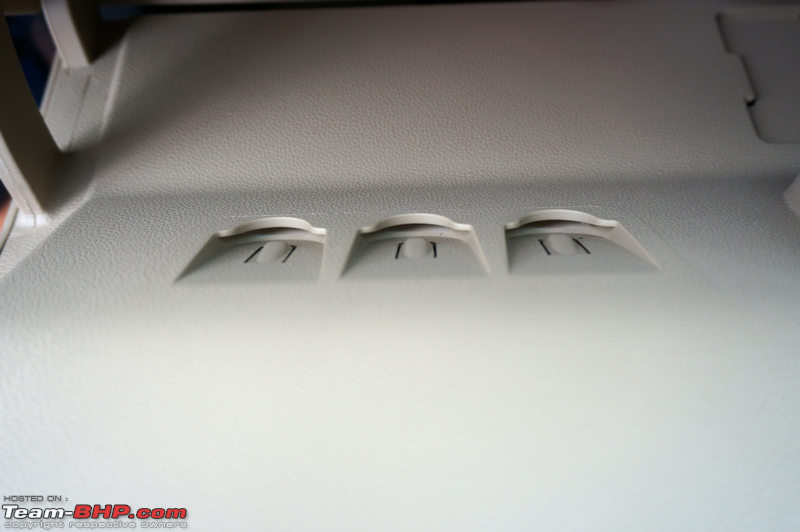 …a cooling vent to keep your fizzy drink chilled! This vent can be turned off by rotating it clockwise:
Driver's sunvisor merely gets a flap to hold tickets and the like:
Passenger's sunvisor gets a vanity mirror, but no light. The missus won't be pleased: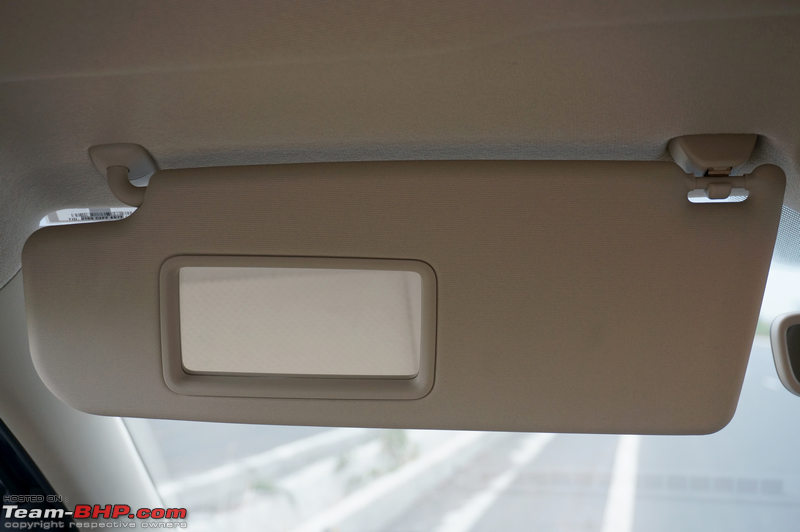 Single cabin lamp is located at the front. Should have been placed between the front & rear seats, so those at the back are also taken care of. Goes out with a theatre dimming effect when the door is shut: