Interior - Front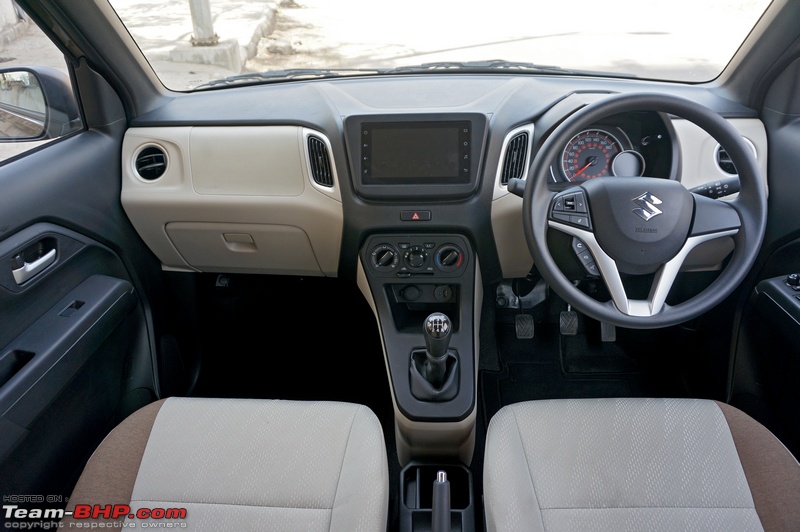 The front doors of the WagonR open and shut in a three-stage action. While the overall sheet metal of the car feels light, the doors are relatively heavier. Make no mistake, there is no European car like "thud" when you shut them, but they feel sturdier than the outgoing car's. They open super wide and the running board isn't too broad. The floor is low and the roof high, making ingress and egress effortless. This is a WagonR trademark. Once inside, there is a healthy amount of legroom at the front. The cabin is also wider than the outgoing car's and there is a marked increase in the shoulder room. The headroom is amazing - another WagonR trademark.
The greenhouse is large and there is ample light entering the cabin to keep occupants from feeling claustrophobic. The use of beige on the dashboard, seats, B & C-pillars and the light grey roofliner helps matters.
The dashboard is functional and looks better in person than the pictures. It has a beige & black theme and the AC vents get brushed silver inserts. The doorpads and floor are thankfully all black, as lighter colours tend to get spoilt very easily in our conditions.
As one would expect, the WagonR gets hard plastics on the dash. The quality is budget grade, but you will be hard pressed to find rough edges and ill-fitted bits. All controls are well laid out and the cabin is overall ergonomic. Everyone who drove the car felt at ease within 5 minutes of getting into it. The switchgear is picked up from other Maruti cars and the stalks especially feel good to operate. That said, the overall quality of buttons is average. You just cannot compare the WagonR it to its main rival - the Santro when it comes to part quality.
Black and beige dashboard with silver highlights and a touchscreen head unit in the middle is functional. Ergonomics are spot on and overall cabin is practical and user-friendly:
Tall driving position and good view of the road ahead. Dashboard isn't placed too high: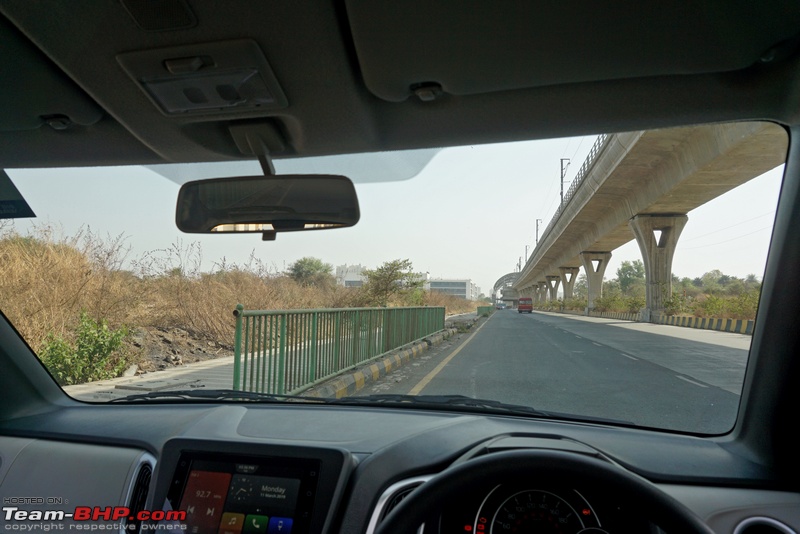 Lateral and overall visibility is good. Glass area is big. Front windows are huge and A-pillars are not too thick. They don't cause any blind spots:
Dashboard is fairly deep - the length from the windshield is long. Large flat surface in the middle is perfect for your favourite dashboard figurine: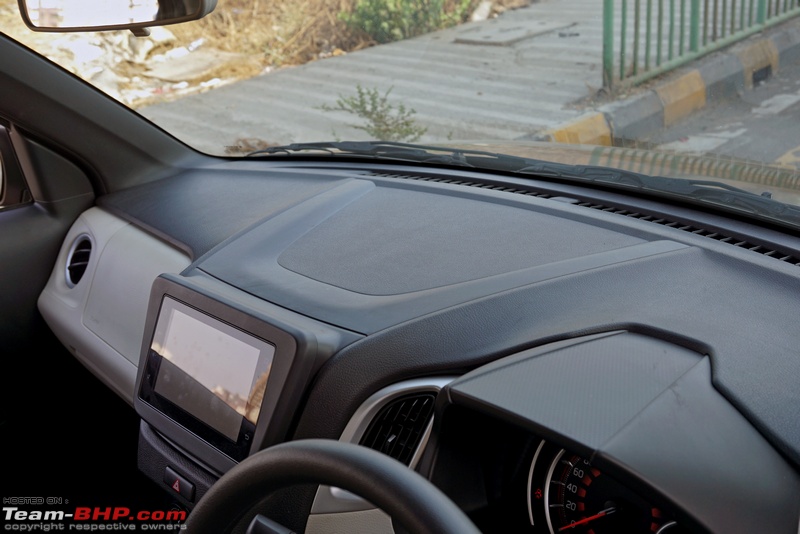 3-spoke steering wheel is taken from the Ignis, but has one button less. While it does not get a leather cladding, it features silver inserts and a chrome "S" logo in the middle. The wheel size and thickness are spot on. It feels great to grip and operate. Hornpad is large and easy to press, but those with smaller fingers will find it a stretch to reach it: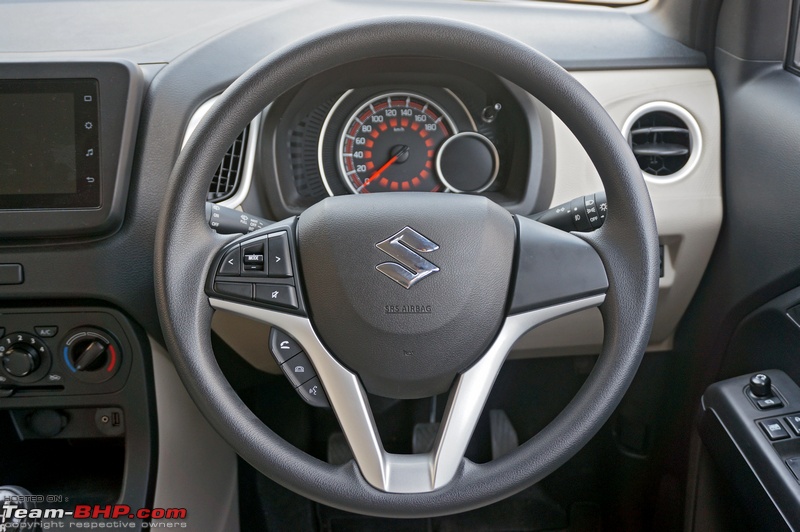 Buttons to controls the infotainment system are on the left side, while the right is blank. The buttons are easy to operate and provide decent feedback. A mute button has also been provided:

Call answer / disconnect and voice command buttons are placed down below. You have to press these buttons instead of pulling them towards you:
Steering gets tilt adjustment. The adjuster is located at a convenient place and is easy to operate: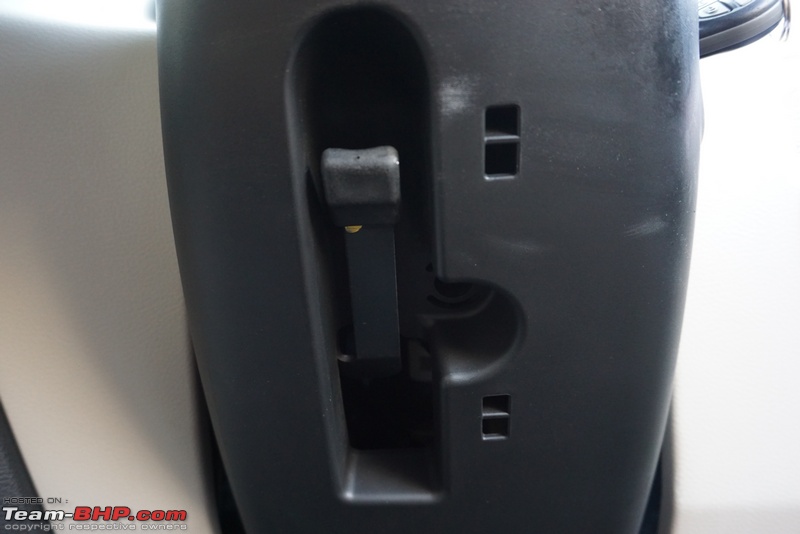 Instrument cluster is easy to read and dominated by a large speedo in the center. A circular dial on the right houses the digital rev counter, fuel gauge, clock and the single line MID. No temperature gauge provided. The numerals of the speedometer are backlit in white, while the MID cluster gets orange lighting. Notice the broken orange ring inside and the dual orange rings around the numbers: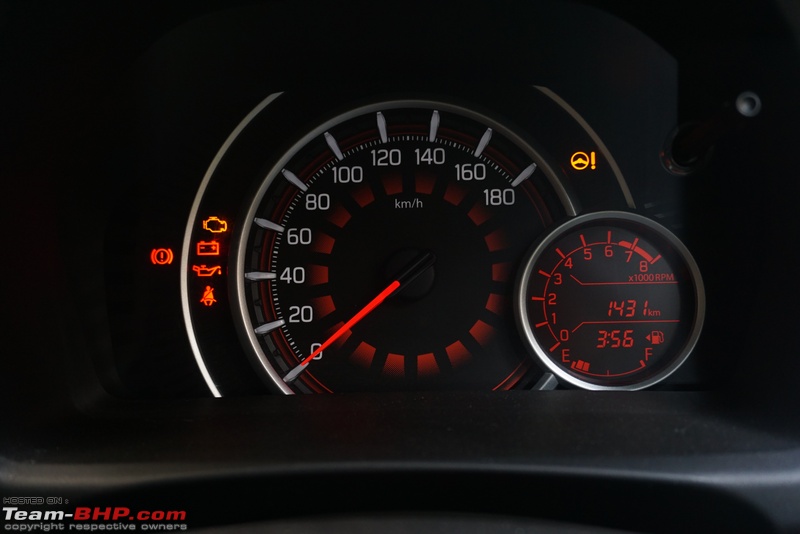 Old & ugly stalk for toggling through the various functions of the MID:
The digital tachometer shows rpm in multiples of 250, and the MID gets 2 trip meters:

MID also displays average and instantaneous fuel efficiency and distance to empty:

The low fuel warning is shown inside the speedometer, while the general "door ajar warning lamp" comes on whenever any door is opened, but not for the hatch or the bonnet:

Stalks are chunky and nice to use, but don't feel as nice as the Santro's. Front and rear wiper controls are on the left, while light controls are on the right stalk. Foglamp switch is integrated in the light stalk:

Ribbed detailing on the foglamp switch for a better grip: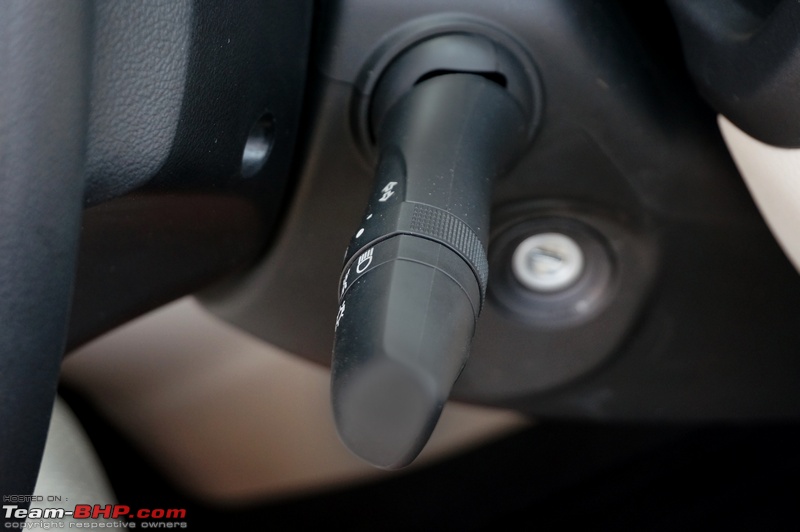 Standard keyhole with no illumination, just like other cars in the segment: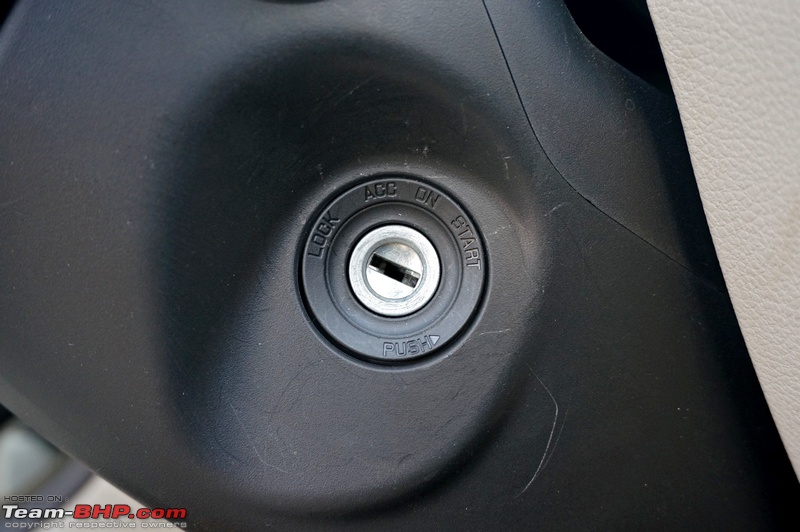 Circular side air-con vents get a silver ring around them.
Cup holders
in front of air-con vents (for cooling) are gone: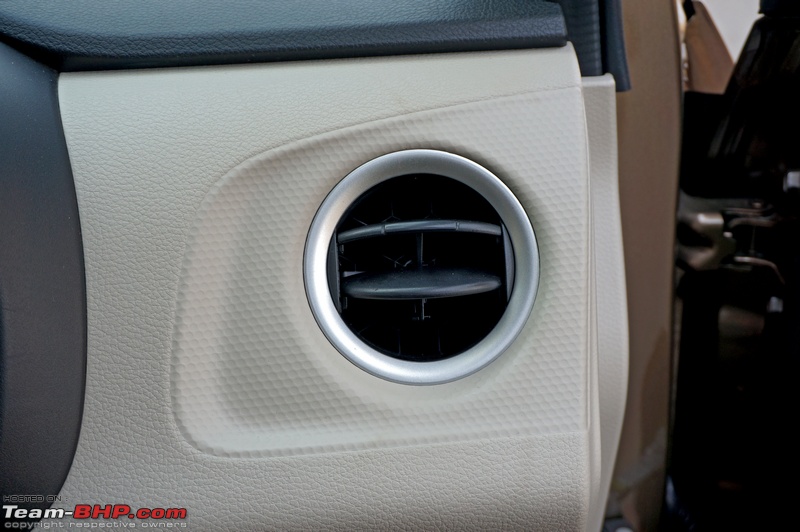 Side air-con vents can be shut, though they still let out a small amount of air: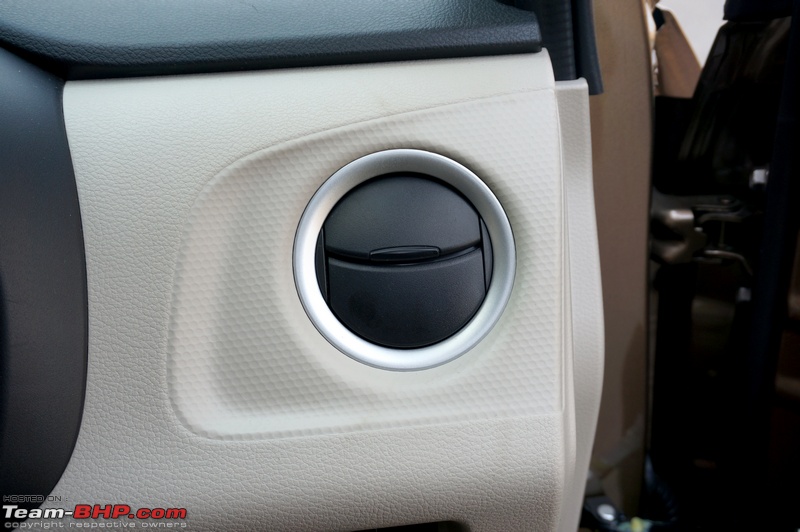 Headlamp leveller is located below the right air-con vent. It is backlit in orange. The CNG variant gets the CNG / Petrol mode switch beside the leveller:
Bonnet release lever looks like an afterthought. There is also some play in it and you need to apply more force than you'd expect to operate it: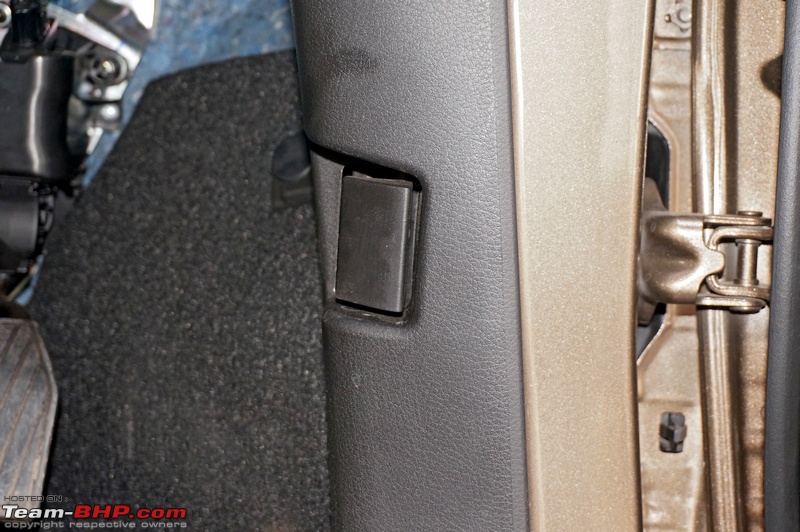 Fuel flap release lever is placed conventionally on the floor. Notice how the floor mat is cut around it and there is a depression below the lever so that there is space to slide for your fingers under it: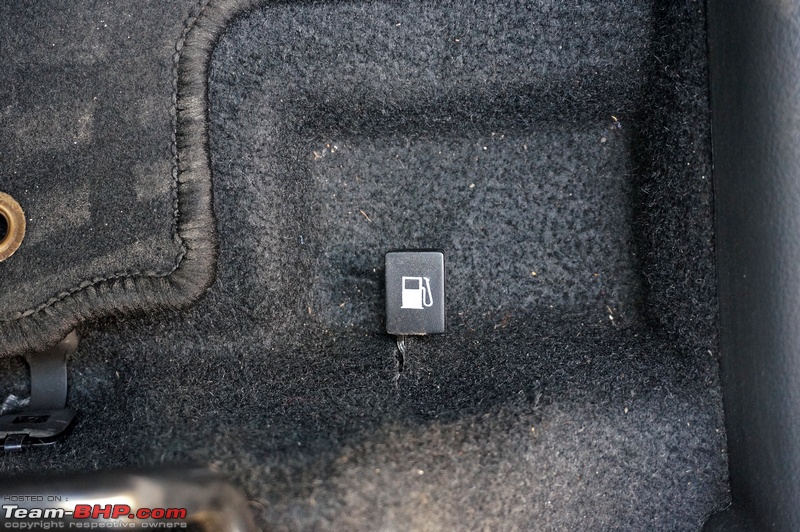 Doorpads are black, not beige. A good thing for practicality. They are fitted much better than the outgoing car's yet you still see some movement in them while operating the windows. The contours and creases on the doorpads make them look nice, but it sucks that doorpads no longer get fabric inserts like the outgoing car:
Standard Maruti console that we've been seeing since ages. The Maruti team obviously has some kind of emotional attachment to this piece. It's an eyesore and doesn't feel nice to use either – very utilitarian in design & feel. Only driver's window gets one-touch down functionality and button illumination. Door mirrors are electrically foldable: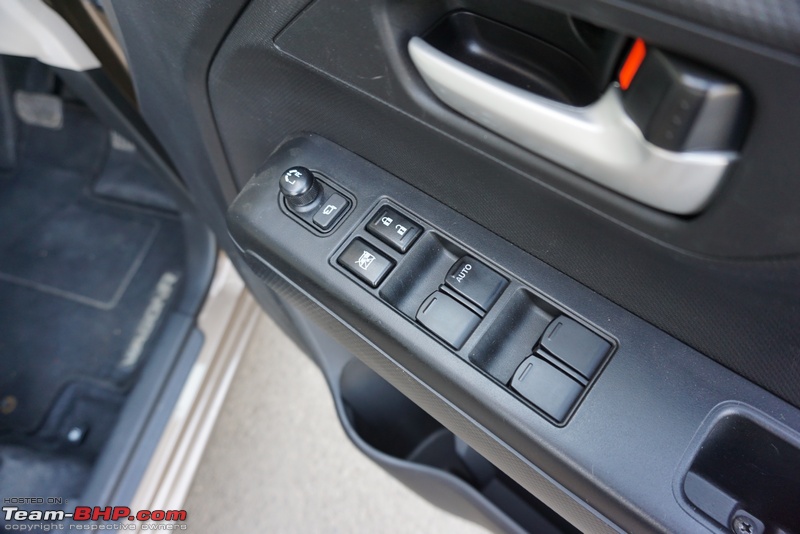 Door handles are finished in silver. Black exposed screw looks ugly. Thankfully, it is masked to some extent by the black housing: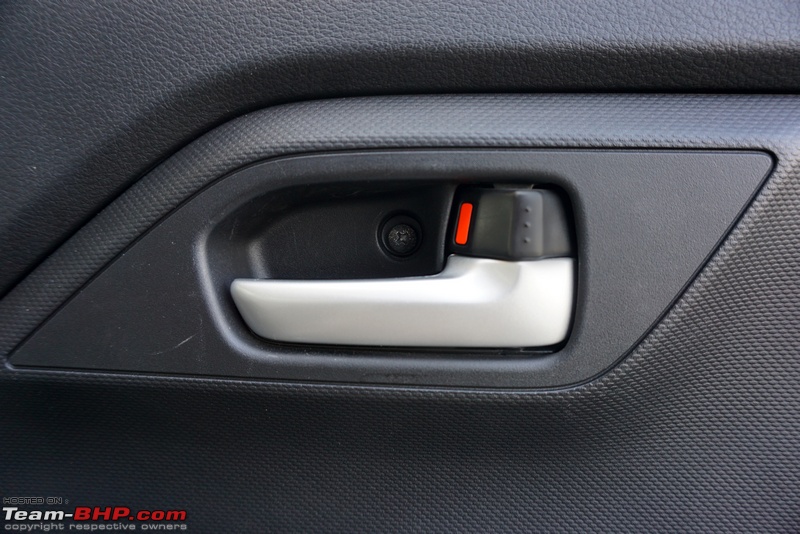 Armrest is narrow, but good enough to rest your elbow on long drives:
Good door pockets. They are well sized and get a 1L bottle holder each and space to store other knick-knacks: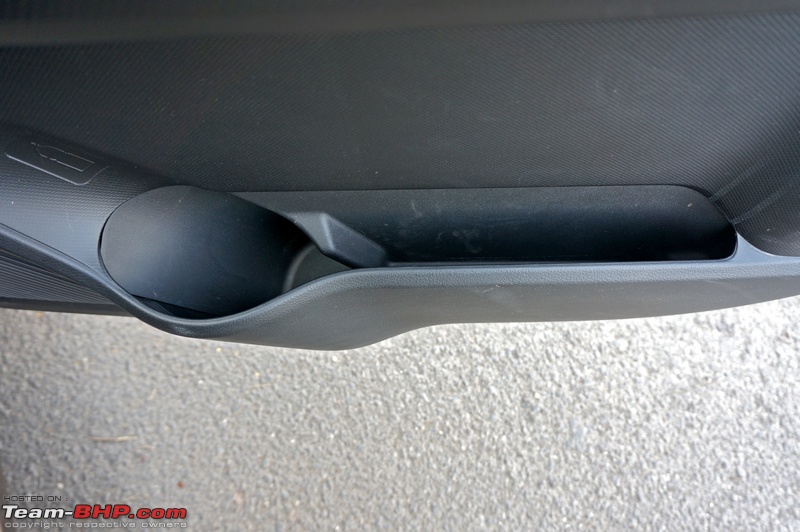 Door sills are not wide and hence less effort is needed to move your legs in and out of the car. No scuff plates provided, but notice the WagonR branded floor mats:
Front seats are upholstered in fabric and get an asymmetrical design. They are flat and very budget grade. The seats could have been a tad firmer so that they would be more suitable for long distance drives. Under-thigh and lower back support offered is sufficient: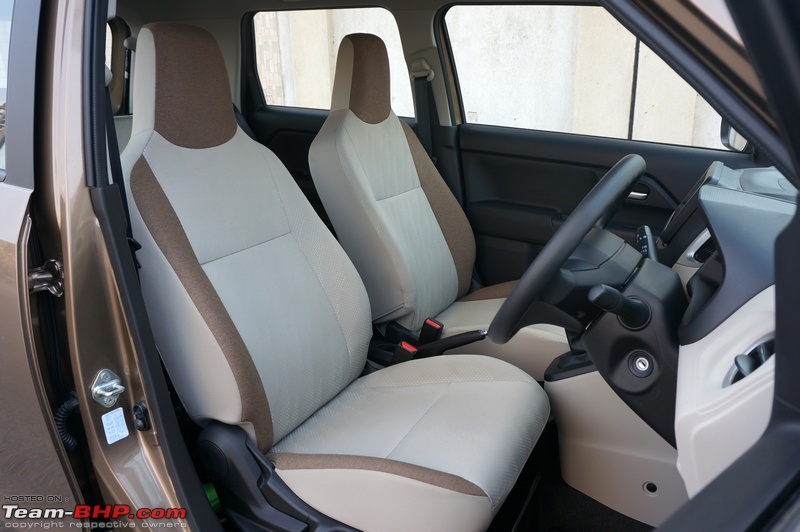 Integrated headrests are well positioned and suitable for all. However, the outgoing car offered adjustable ones. In the new car, Maruti has taken a step backwards: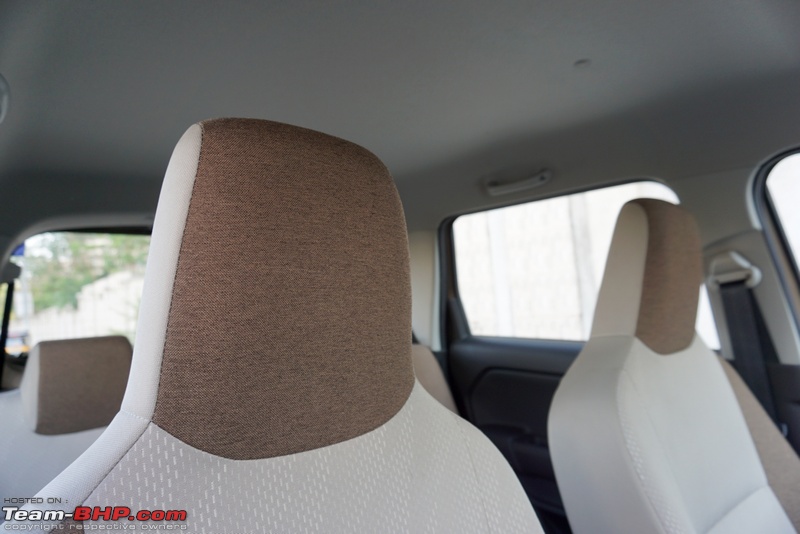 Sturdy lever to recline the seat feels durable. No height adjustment for the driver's seat in any variant: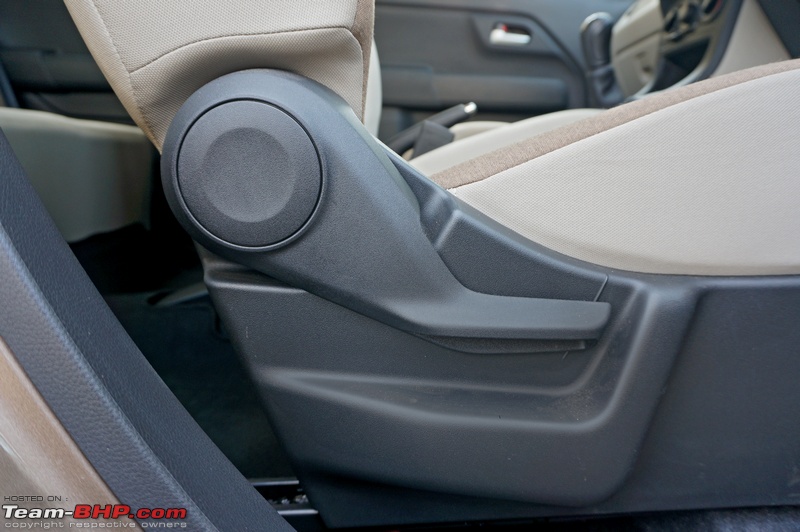 Front seats get a metal bar for fore & aft adjustment: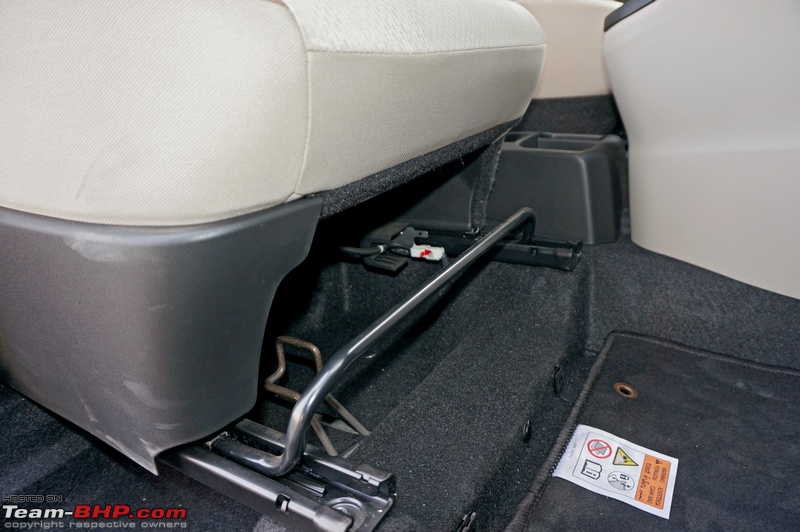 Fore & aft seat travel is more than enough to accommodate tall and short drivers alike:

A close look at the fabric upholstery: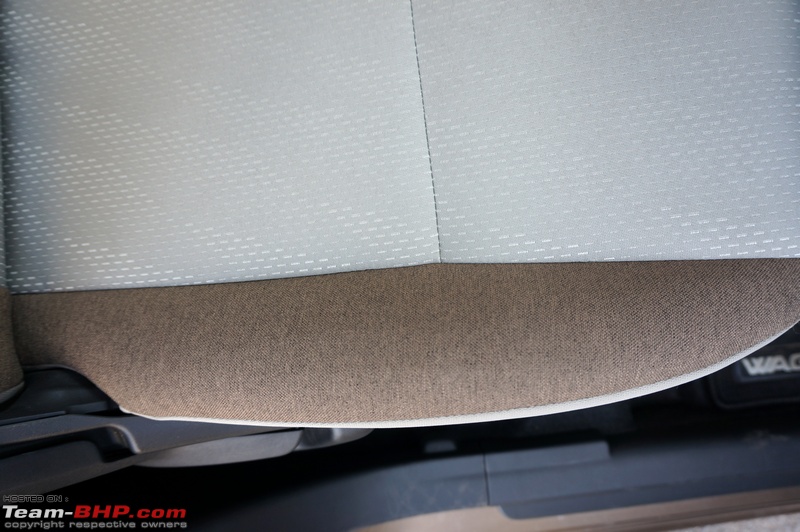 Seatbelts are not height-adjustable. However, they are placed at a comfortable height and will suit most occupants. They get pre-tensions and force-limiters: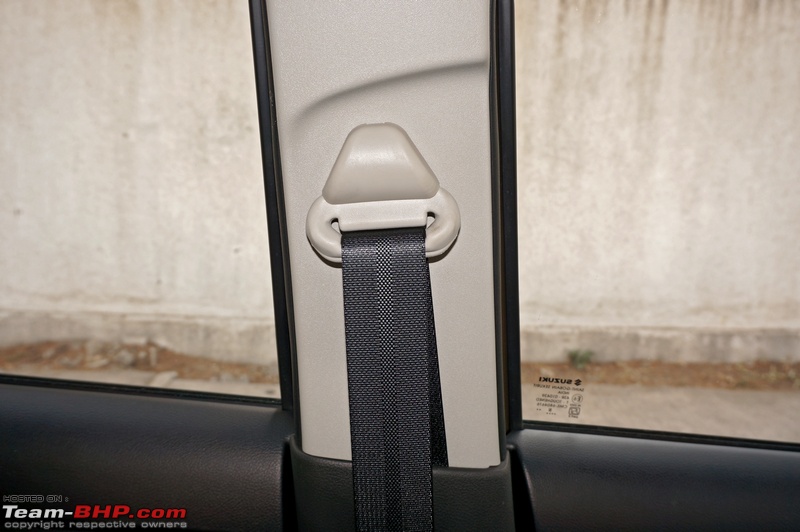 The standard Maruti A, B, C pedals are well spaced out. Dead pedal has been provided. While it could have been wider, it is useable: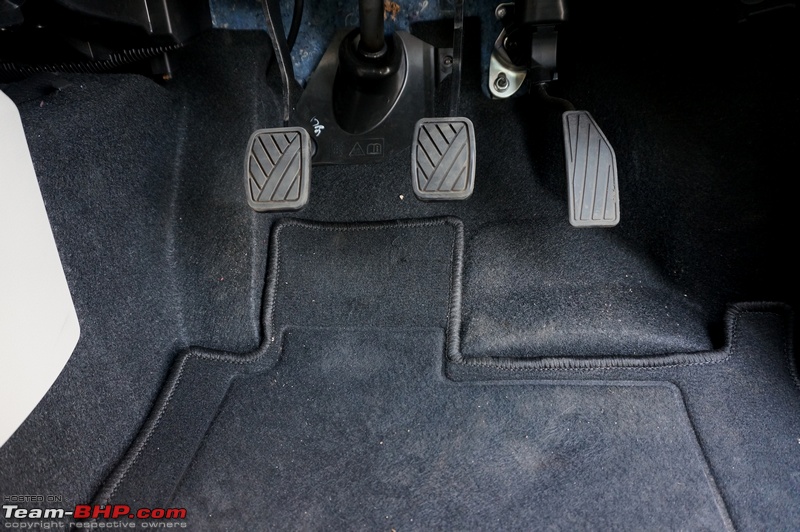 ORVMs are lifted from the Celerio. They can be electrically adjusted and retracted. While they offer sufficient view of things behind, they are much smaller than those of the outgoing car. The old car had huge ORMVs:
IRVM is on the smaller side and barely covers the large rear windshield:
Manual day / night adjustment is provided on all variants except the base model:
Rear windscreen is large compared to other hatchbacks, which is good. However, the thick C-pillars limit rearward visibility while parking: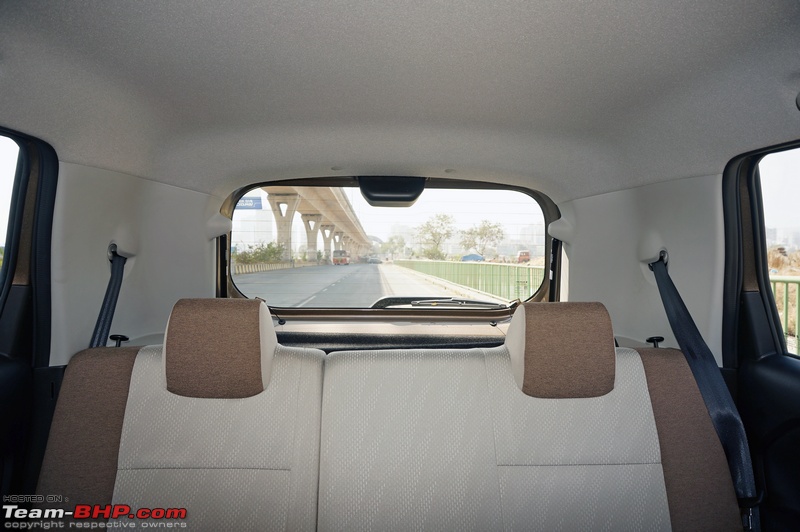 Center fascia is minimal in design, but functional. The gear lever is mounted on it more towards the driver's side. The air-con vents get silver surrounds: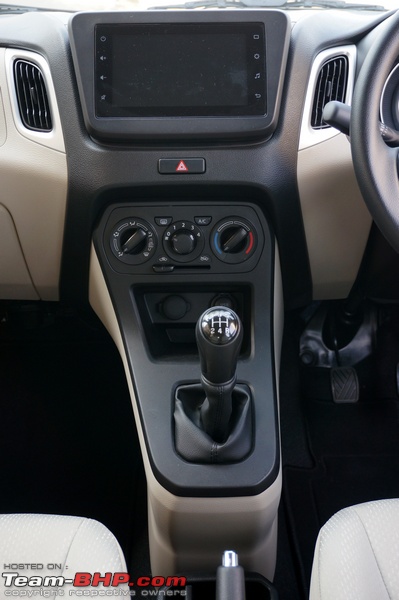 7.0-inch touchscreen infotainment system sticks out at the top (its functions are covered in detail in a separate post). It is flanked by trapezoidal air-con vents. The one on the right falls just behind the left hand of the driver when placed on the steering wheel. Due to this the cold air from the vent freezes the driver's left hand. Large hazard light switch is located below: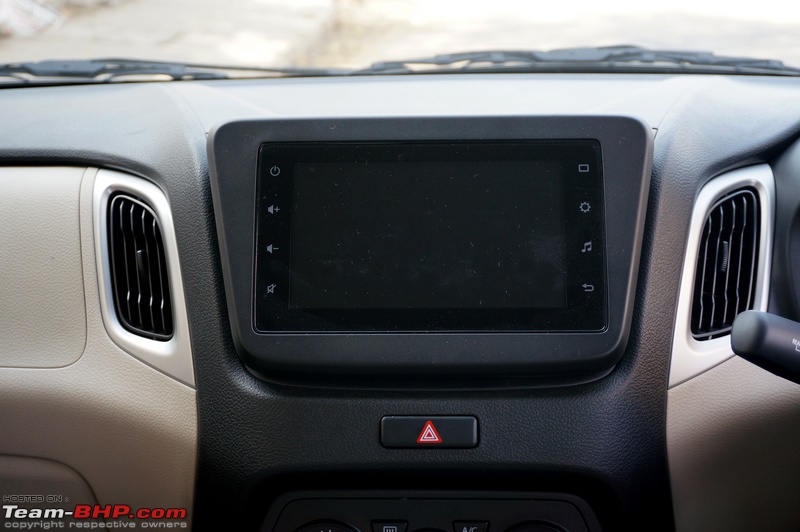 Climate control is not available on any variant. Instead, you get a manual HVAC unit. Air-con controls are basic and the defogger and compressor buttons are tiny. They can be operated without taking your eyes off the road only after getting used to. The manual slider for the fresh air and recirculation modes looks outdated. The air-con doesn't feel as effective as the outgoing car. Reason = larger cabin. On a hot day, it takes a while to cool down the cabin even with the blower on level 4. The blower is silent on level 1 and audible on level 2. It gets loud on level 3 and very loud at level 4: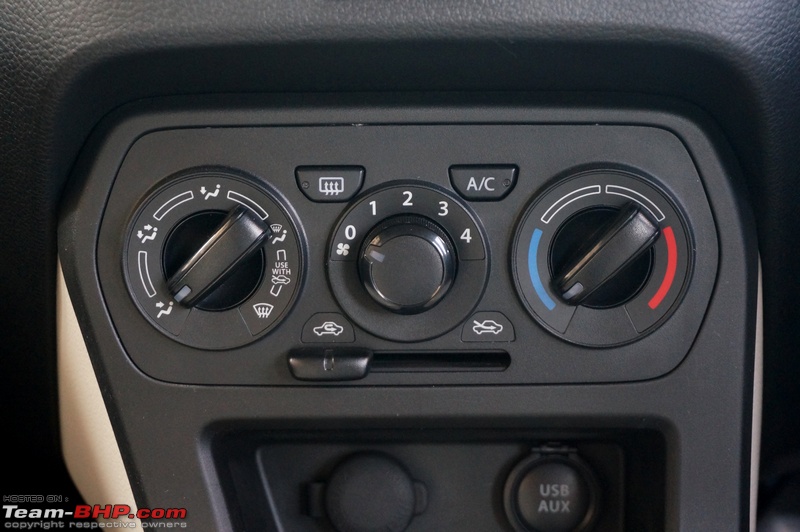 12V socket is provided on all the variants, while USB and Aux-in ports are offered on the VXi and ZXi trims. The 12V socket gets a rubber cover, while the USB and Aux ports gets a plastic cover: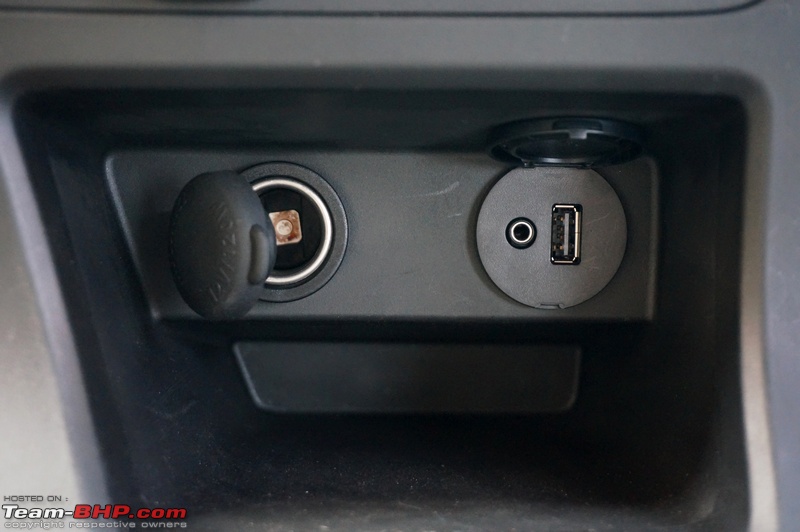 Storage space in front of the gear lever can be used to park your smartphone. Here's a 4" phone for reference. A 6" phone will stick out:
Bird's eye view of the handbrake console & its storage areas: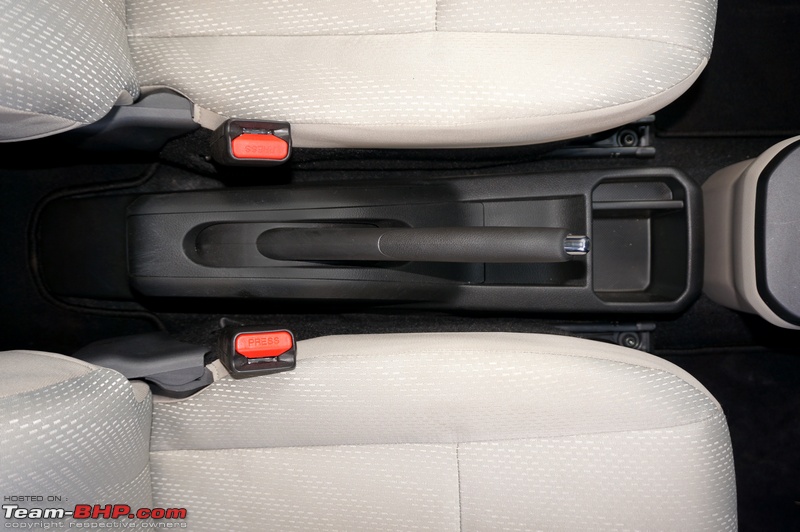 Single cupholder at the front of the console can accommodate a 1L bottle: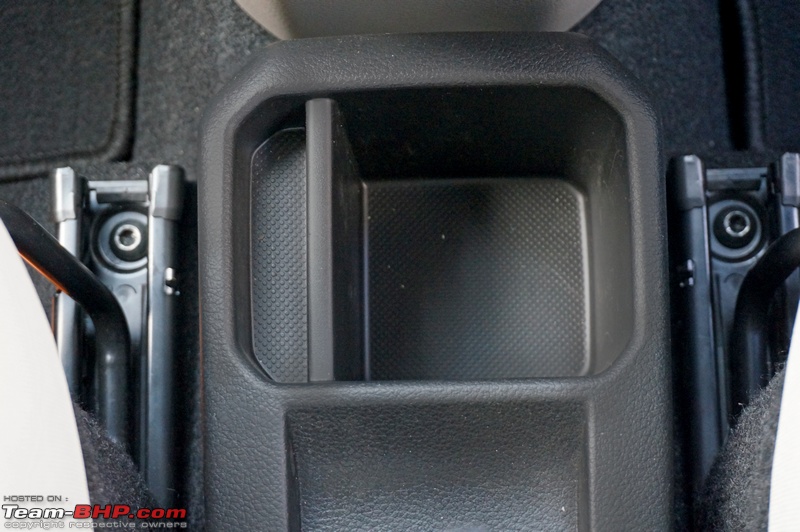 A raised compartment has been provided on the left for keeping small items (e.g. coins). Both spaces get a dotted texture on their plastic base: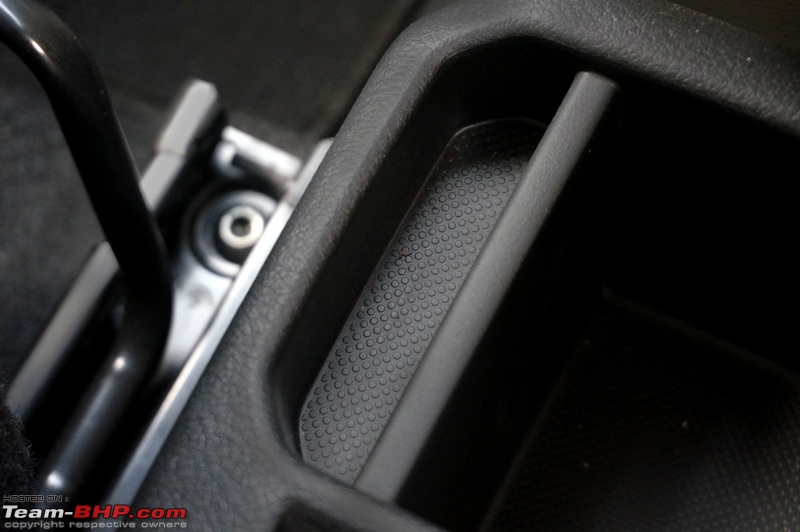 Passenger side of the dash gets an overdose of beige. Black or silver inserts would have kept things from getting boring: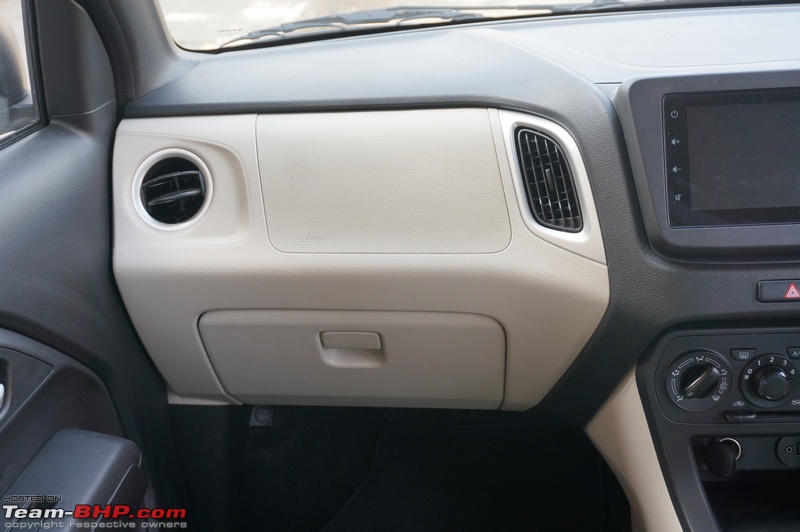 Glove box is medium sized...
...but fairly deep: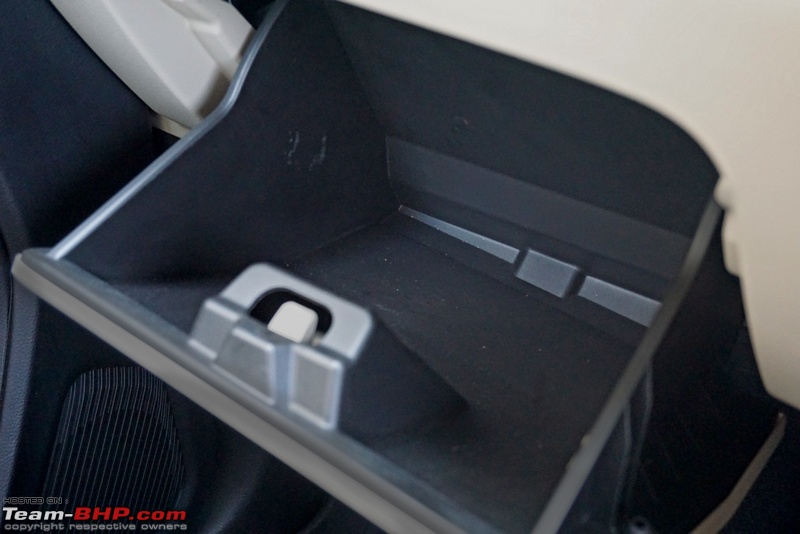 Large flat surface on top of the dashboard to place a deity of your choice: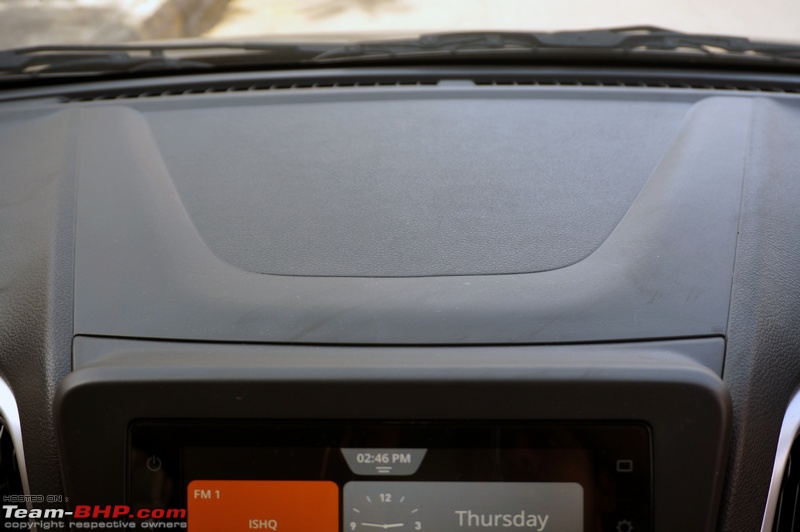 Single cabin lamp is placed in the front. If there's only one cabin lamp, it's best placed in the roof's center and not here at the front. Bluetooth mic positioned in line with the IRVM and cabin lamp: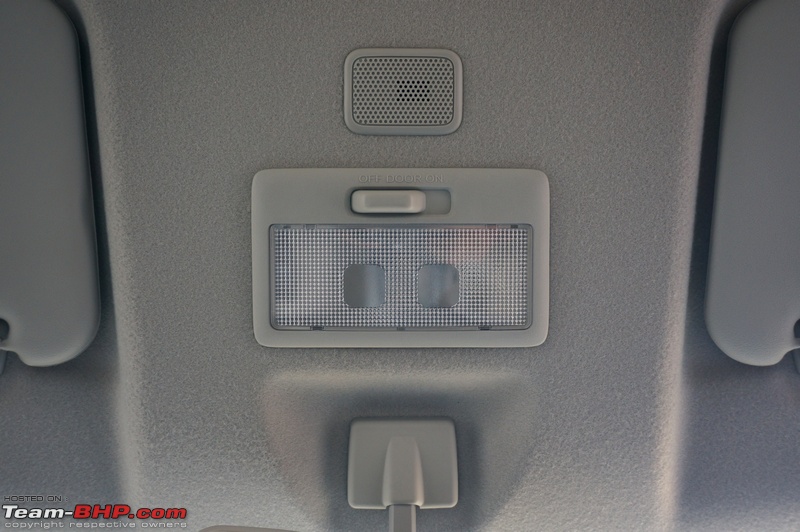 Sunvisors are economy grade in design and feel. Driver-side unit gets a flap to hold tickets: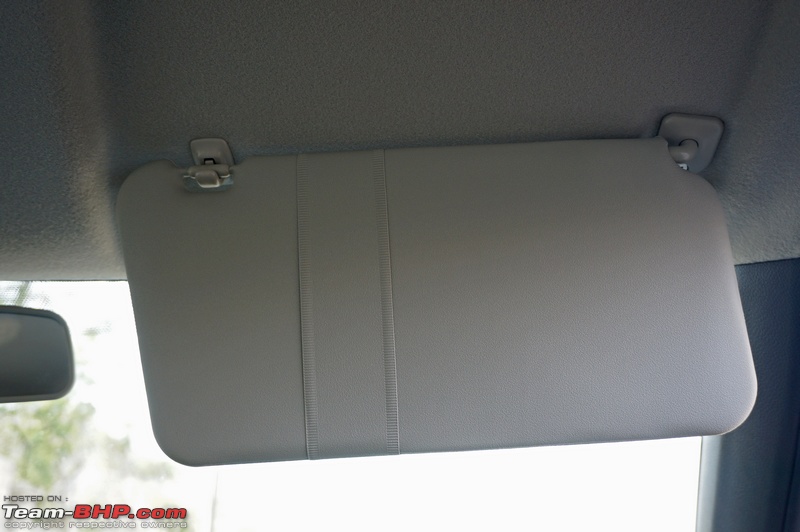 Passenger-side sunvisor has a vanity mirror, but no cover or light: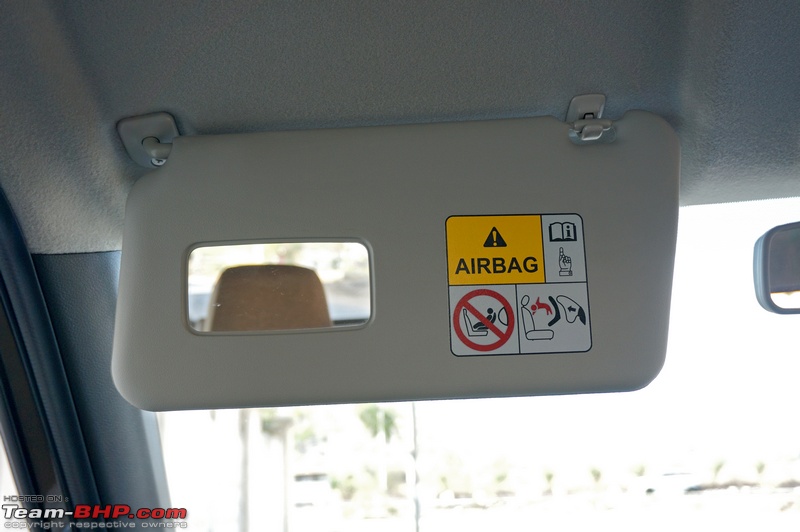 ZXi variant gets dual front airbags. All other variants have a driver's airbag as standard with a passenger airbag available as an option for a mere Rs. 5,000-7,000 more: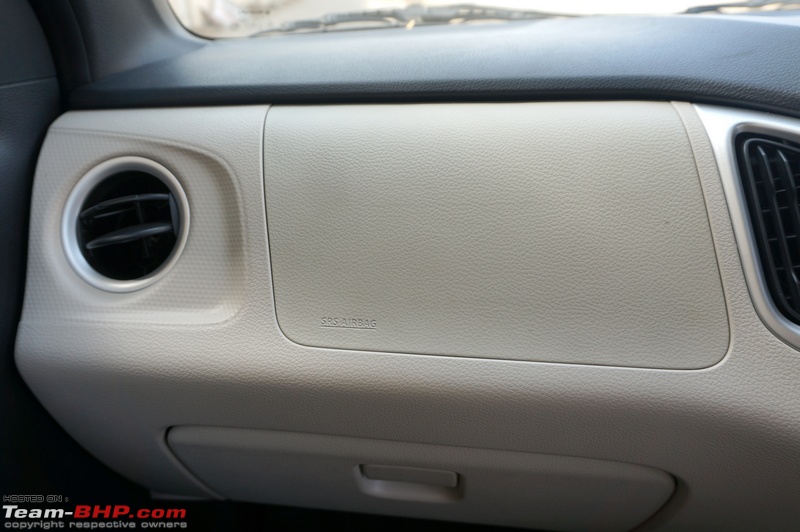 Things are neat and tidy even in places where most people won't look. There are no loose wires or cables dangling anywhere. Here is a look under the dashboard in the driver's footwell...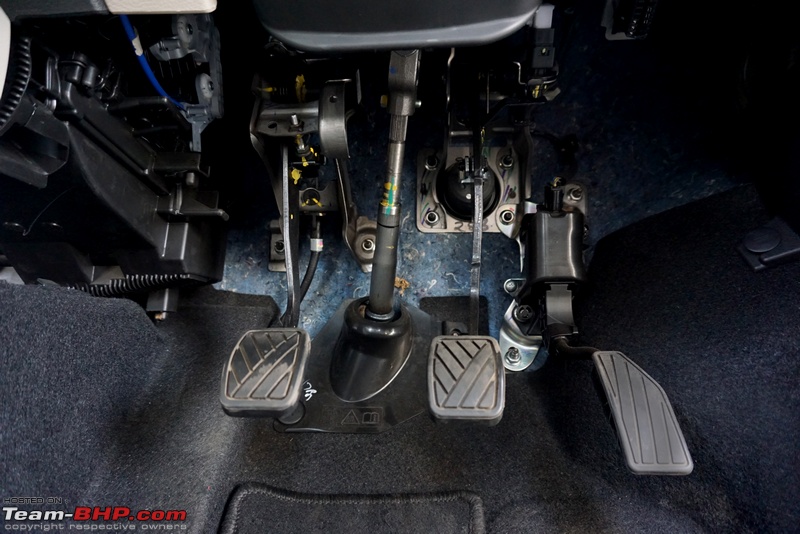 ...and in the passenger's: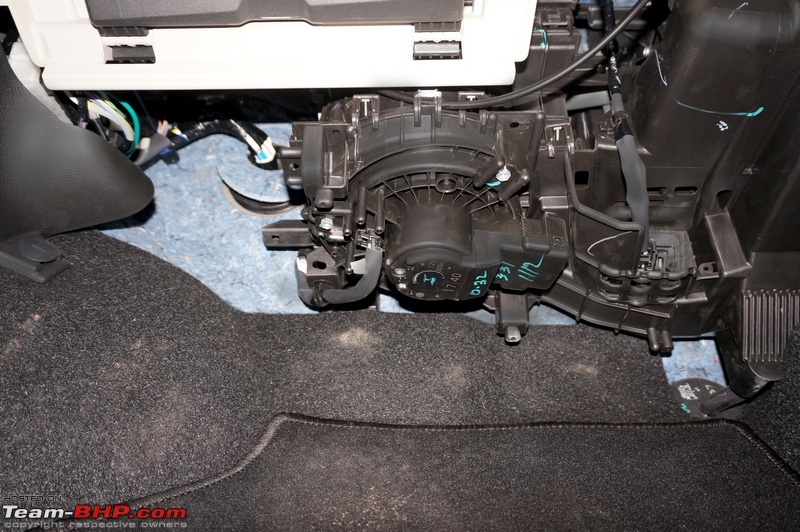 Jack is now placed under the driver's seat. Weirdly, the rest of the tool kit is in the boot: