Driving the Ciaz 1.5L Diesel
94 BHP & 225 Nm on tap. Maruti has gone for practicality, refinement & efficiency with this motor. It's a brand-new engine, so be sure to take that extended warranty!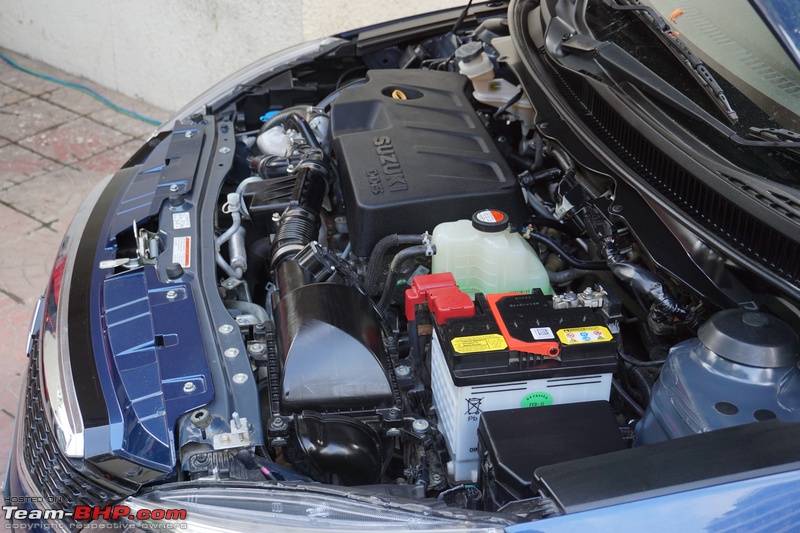 Press the engine start button and there's a small amount of cabin shake on start-up as well as shutdown. In fact, on shutdown, it was slightly more than at start-up. Drivetrain vibrations are felt on the clutch pedal, and these are directly proportionate to engine rpm. The idling speed, with the air-con turned on, continuously moves between 800 to 900 rpm as the compressor kicks in & out
rather frequently
. Other than that, we can tell you that the refinement is
top-class
. It's second only to the Hyundai Verna & way ahead of all others.
Maruti has worked hard on this engine and it shows. With the windows rolled up, there is no intrusion of engine sound at a standstill. Even on the outside, it's quieter than the 1.3L MJD. This is more evident to me as I was a Ciaz sales consultant in 2017 and used to spend a lot of time with the car. Once you get going, the engine is butter smooth. At highway speeds, wind and tyre noise will be more of a bother, relatively. Frankly, the refinement levels are better than some cars costing thrice as much (e.g. BMW 320d).
The 1.5L offers superior driveability than the Fiat-sourced 1.3L. It wakes up @ 1,500 rpm and there is a reason for that – peak torque starts at exactly this rpm level. The Ciaz diesel passes the 2nd gear speed breaker test with no problem at all. Forget the speed breaker test, this car can even move from a standstill in 2nd gear. Within the city, the engine has a very tractable nature and you won't be shifting gears too often. Depending on the speed & traffic density, you could use 2nd or 3rd gear like an automatic, without needing to downshift or upshift. Yes, at the absolute bottom-end (say ~1,200 rpm), this engine still hasn't woken up as compared to Honda's 1.5 diesel or Renault-Nissan's 84 BHP DCi. Maruti's 1.5L really gets it going post 1,500 rpm. Still, in 1st & 2nd gears (i.e. in city traffic), you won't find it dead below 1,500 rpm due to the shorter gearing. On the other hand, if you are in the taller 3rd gear at 1,200 rpm, you'll find the engine to be dead & will need to be patient. In this situation, you have 2 options if you desire instant go = wait for a couple of seconds for the revs to climb or downshift (
most people will downshift
).
I must add that the Ciaz 1.5D has a very aggressive anti-stall feature. Unless you try hard, it's almost impossible to stall! At one point in our test, GTO intentionally dropped the revvs too low in 2nd gear and the car was galloping like a horse...but it still didn't stall. Owners will appreciate this while going up steep inclines too, especially in the Ertiga with 7 people onboard.
On the highway, the Ciaz feels sufficiently quick, helped in no small part by the fact that its the lightest in the segment. No owner will complain about the performance, but it is far from being "fast" like the Verna 1.6.
Dr. Naren's V-Box post
has the Ciaz doing the 0-100 dash in 10.8 seconds, which is quicker than the 1.3L, but can't match the Verna's low 9.xx second time. As you accelerate, you feel a good spike in power at 2,300 - 2,500 rpm once the turbo is fully singing. We were also pleasantly surprised to see the engine revving clean to 5,200 rpm and what's more, it does so quite willingly, without sounding coarse! For a diesel, the DDiS 225 has a likeable engine note near the redline too. The high 5,200 revvs will definitely help you while overtaking, and during engine braking.
Things are tame at the top-end compared to Hyundai's 1.6 though. Despite the fact that this engine can do 5,200 rpm, it's best driven sedately or maybe, a little enthusiastically (at best). Maruti's diesel is definitely not a motor that's enthusiast oriented. Just as well as the cars we're seeing this engine in –
the Ciaz & Ertiga
- are best driven sedately. The Ciaz 1.5L diesel is a relaxed cruiser with 100 km/h seen at ~1,750 rpm, and 120 km/h at slightly over 2,000 rpm in 6th gear. Both are in its "peak torque" zone, thus you don't need to downshift for expressway-style overtaking. Even when you are cruising at 80 km/h, the engine is @ ~1,400 rpm, just near its wake up point.
At the cruising speeds of 100 & 120 km/h, engine sound is not even a topic worth discussing - it's simply not there! Road and tyre noise are what you'll hear instead, especially on a concrete expressway. Even at 3,500 rpm, your passengers won't complain. It's only past 4,000 rpm that they'll notice the noise, but it's still not loud or intrusive. This thing is refined at times when Honda's 1.5 sounds like a tractor!! Must add that Maruti's 80 & 120 km/h audible speed alerts are rather mild, like the beeps of those old Casio watches. If you keep the music at a normal volume, it's almost drowned out.
Maruti has mated the 1.5L to a 6-speed MT (
1.3L gets a 5-speed gearbox
). It's a smooth, short-throw gearbox that is lovely to use. I'll go a step further and say that it feels more "VW" than "Suzuki". Reverse is engaged via a collar towards the top left (above 1st). The clutch is among the nicer ones we have used. Its throw isn't too long and it's light enough (
but not super light like in some Hyundais
). One complaint = the clutch pedal's resting point is high. I wish it were 2–3 cm lower; the tall resting point did bother me in bumper-to-bumper traffic.
Overall, this is a far better, far superior engine to the 1.3 MJD in every way. We are glad Maruti put the investment in getting this done right. From the mass-market point of view, you could say that the 1.5L diesel has no disadvantages – it's an all rounder. The only guys who'll be wanting for more will be us enthusiasts, who would've wished it had an extra 10-20 BHP. We hope Maruti develops a more powerful VGT-version of this engine for cars like the S-Cross.
The engine revs clean to 5,200 rpm. We were pleasantly surprised: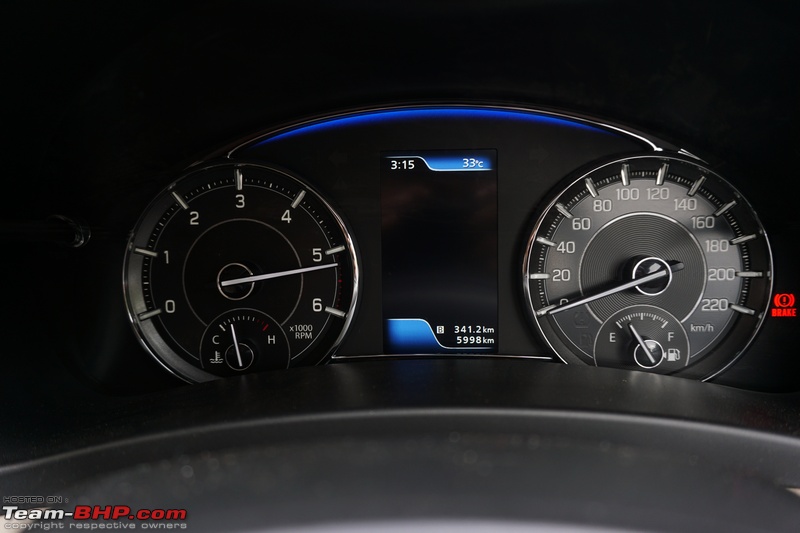 I was able to drive primarily in 2nd gear in this stop & go traffic jam (
no frequent downshifting to 1st
):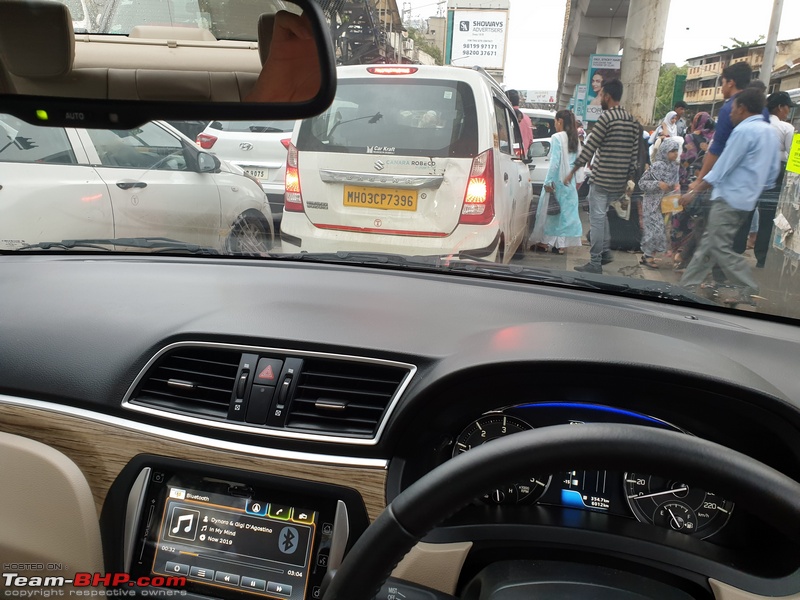 Gets an insulation sheet under the hood: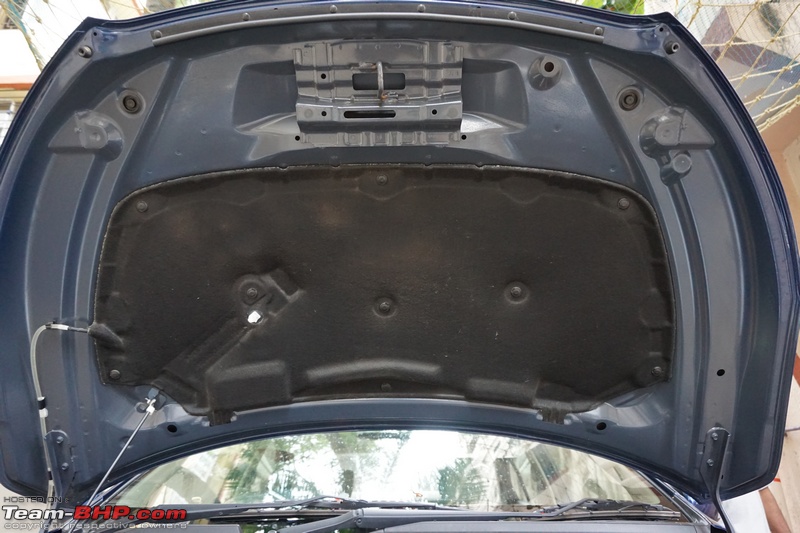 Firewall insulation appears to be beefier than in the 1.3L variant: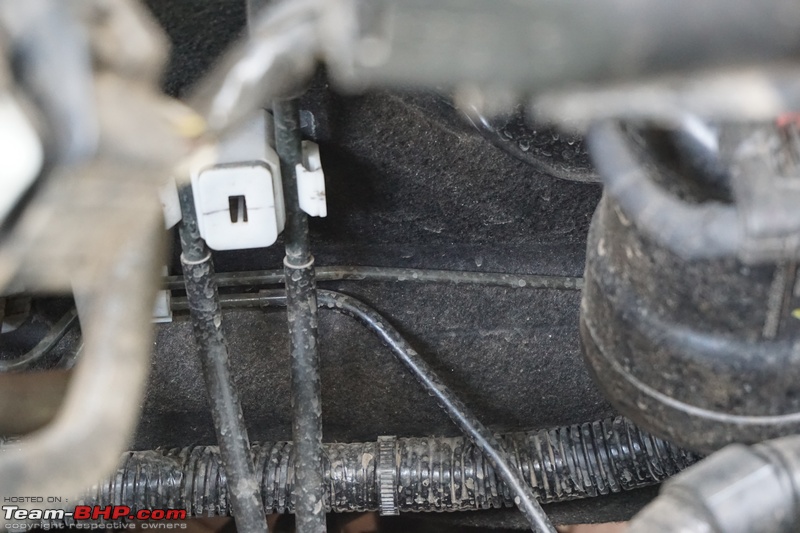 No underbody protection at all!! Not even a plastic cover below the engine :Frustrati. Weird that companies spend all that time & money in developing an engine, but not a moment thinking about how to protect it:
1.5L diesel now gets a coloured MID just like the 1.5L petrol (
1.3L diesel gets a black & white MID
):
A gearshift suggesting tool, which newbie drivers will appreciate:
Smooth & good looking 6-speed MT: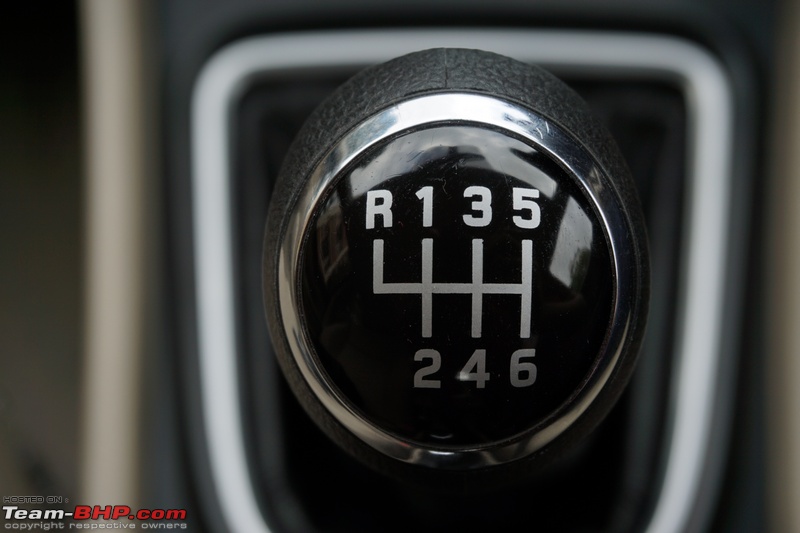 Leather boot below, and a collar to engage "R":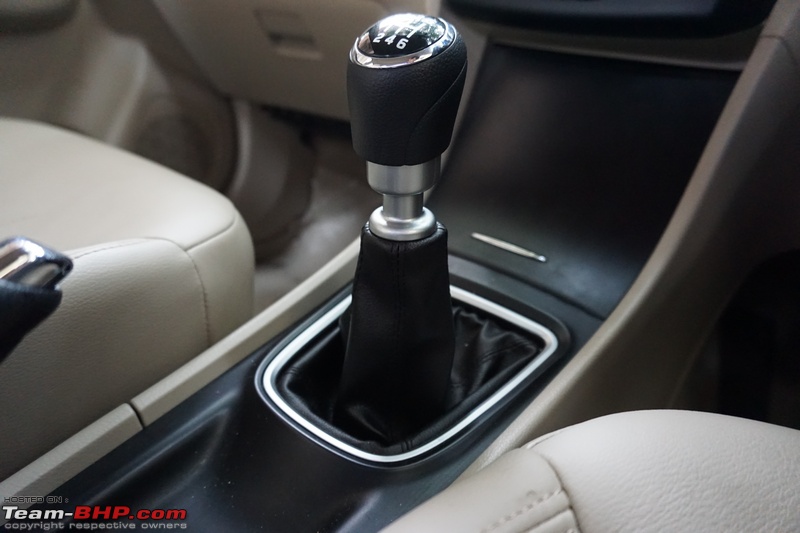 There is no idling start / stop system in this car and we like it that way! SHVS might come in later though. After all, Maruti is the one who invented "kitna deti hai" (must watch
related video
):
The DDiS' reputation was built on Fiat's 1.3L MJD, once the national engine of India. Maruti is smartly using the same moniker for its in-house 1.5L diesel now. DDiS badge is stuck onto both front fenders. In case you forgot what DDiS stands for = Diesel Direct Injection System: