Renault Lodgy
What you'll like:
• An all-rounded & practical 7 seater MPV. 3rd seat row is usable too
• Priced between the Ertiga & Innova. Top variant is 4 lakhs cheaper than the Toyota
• Robust, abuse-friendly build & construction
• 109 BHP diesel is fast, refined & fuel-efficient. 84 BHP variant has superb driveability
• Outstanding ride quality. Comfortable over any kind of road
•
Car-like
to drive. Balanced handling and dynamics
• Features: Touchscreen ICE, cruise control, navigation, adjustable lumbar support etc.
• Boot space of 207 - 1861 liters. Innumerable passenger : cargo combinations possible
What you won't:
• Limited 2nd row legroom. This seat lacks the fore & aft adjustment of its competitors
• 109 BHP diesel suffers from turbo-lag below 1,800 rpm
• Boxy, unappealing styling (especially the rear end)
• Low 3rd-row seat means you sit with your knees pointing upward
• 185/65 R15 tyres are too small for a people carrier. Same tyre size as the Swift!
• Renault's service network isn't a patch on that of Maruti or Toyota
• Owners of the mechanically-identical Duster have reported the occasional niggles
Link to Official Review
Toyota Innova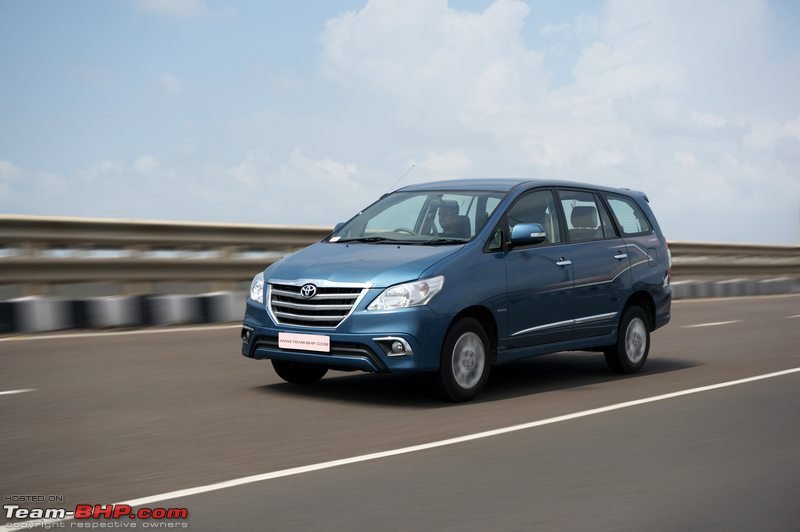 What you'll like:
• Indestructible build & durability. The Innova is known for its bullet-proof reliability
• Spacious, flexible interiors. An extremely comfortable long distance commuter
• Segment-best interior fit, finish & quality. Superior to the Xylo, Evalia etc.
• Diesel engine has excellent driveability on tap
• Balanced handling & road manners.
Car-like
to drive
• Toyota's fuss-free ownership experience & excellent after-sales
What you won't:
• Price just goes up, up, up with time! Direct competitors are substantially cheaper
• Garish front grille design! The earlier (2012) facelift was far more pleasing to the eyes
• Noisy diesel engine, especially over 110 kph / 3,000 rpm
• Gearing too short for highway runs. Taller 5th gear (or a 6th) would've been preferred
• Service interval of merely 5,000 kms (diesel variant). Inconvenient for those with heavy usage
• The same generation has been around since 2005 in India. Where is the all-new replacement?
Link to Official Review
Maruti Ertiga

What you'll like:
• A 7-seater MPV at the price of a C segment sedan. The petrol variant, especially, is very well priced
• Car-like ride, handling & driving experience. Effortless to drive in the city and on highways
• Flexible seating & luggage options. Cargo capacity runs as high as 735 liters
• Competent petrol & diesel engines. The latter offers outstanding fuel economy
• ABS available on all variants, except the base petrol. Bigger brakes than the Swift & Dzire
• Maruti's excellent after-sales service & wide dealer network
What you won't:
• Not a spacious 5 seater if you fold down the 3rd seat row for luggage. Limited width for the 2nd row too
• 3rd row is best suited to adults for short trips, or kids over long trips. Not really a full-size 7 seater car
• Minimal 135 liter luggage capacity with all 3 rows of seats in place
• Diesel engine carries a hefty Rs. ~1.3 lakh premium over the petrol. On-road difference is ~1.5 lakh rupees
• Even the top-end ZXi / ZDi variants don't get climate control
Link to Official Review
Honda Mobilio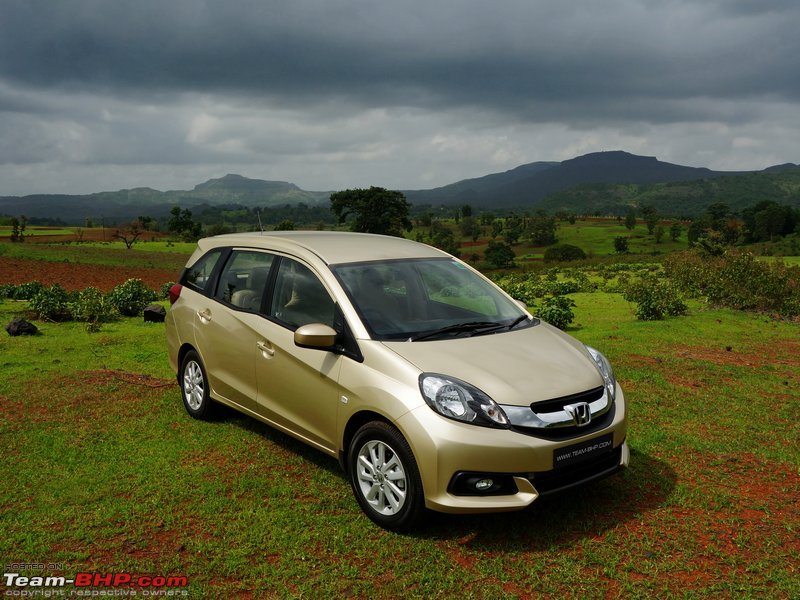 What you'll like:
• Great choice of engines. Both - the diesel & petrol - are fast and fuel-efficient
• Suspension offers compliant ride quality & neutral handling. 189 mm of ground clearance is a big plus
• Light controls, slick gearshift and easy maneuverability for the city.
Effortless to drive
• 1st & 2nd row of seats have ample leg & headroom. Middle row beats most C2 segment sedans
• 3rd-row access is easier than in the Ertiga. 3rd row fold-down doesn't affect 2nd row space (like the Ertiga)
• Practical 223 liter boot with all seats up. 521 liters of capacity with the last row folded away
• Honda's reliability & fuss-free ownership experiences
What you won't:
• Low 3rd-row seat is best for kids or occasional usage only. This isn't a full time 7-seater
• Noticeably more expensive than the Maruti Ertiga
• The Brio's unconventional dashboard & interior design are too basic for this class of car
• Front styling is identical to its smaller siblings. Face should have been differentiated
• i-DTEC isn't as refined or high-rpm friendly as the Ertiga diesel. Also, overall NVH insulation is poor
• Brio-level cost cutting doesn't work at this price (
thin sheet metal, slim seats, uneven shut lines, missing insulation & cladding
)
• Many practical features missing (
seatbelt height adjustment, adjustable front neck restraints, auto-locking doors, bluetooth connectivity, full MID etc.
)
Link to Official Review
Mahindra Xylo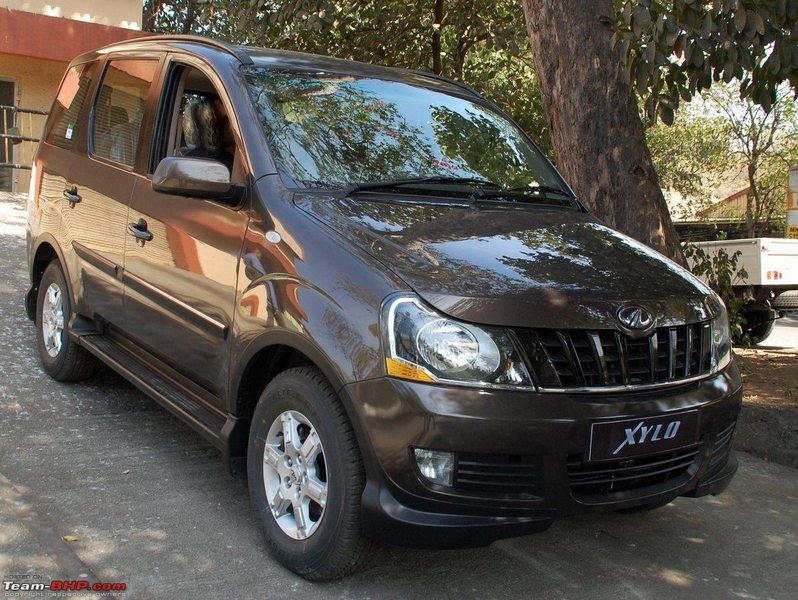 What you'll like:
• A 7-seater UV at the price of entry-level sedans
• Robust, abuse-friendly build & construction. Rough road friendly
• Very spacious! Interior ranks high on practicality
• Diesel engine is fast, torquey & fuel-efficient
• Features include voice control, reverse parking aid, dual front armrests, lumbar adjustment etc.
What you won't:
• Awkward styling. Design isn't proportionate either
• Bouncy ride quality. Unsettled over any type of surface
• Driving experience marred by excessive body roll and a slow, numb steering
• Lacks the quality & finesse of same-price hatchbacks and sedans
• Mahindra's after-sales service remains a gamble
Tata Aria

What you'll like:
• Solid body-on-frame construction. Seemingly robust
• Futuristic styling, especially the face. Good street presence
• Spacious 1st & 2nd seat rows. Interior quality a big leap ahead for Tata
• Balanced road behaviour. Strong brakes too
• Premium level of equipment. Many segment firsts, including AWD
• Safety : Traction control, ABS, 6 airbags & all-round disc brakes
What you won't:
• AWD variants are very expensive
• Third row of seats best suited to kids only
• Unsettled ride quality at highway speeds (compared to the Innova)
• Niggling issues & problems persist, as reported by existing Aria owners
• Tata's un-premium after-sales service experiences
Link to Official Review
Nissan Evalia

What you'll like:
• Light steering, gearbox and tight turning radius. Easily driveable in the city
• Fuel efficient 1.5L diesel engine is a proven workhorse
• Generous cabin space, very usable 3rd row of seats and a large luggage capacity
• Features include a colour MID, reversing camera, keyless entry/go, 3rd row air-con etc.
• Safety kit : ABS, EBD & BA are standard. 2 airbags on all, except the lowest variant
What you won't:
• Boxy looks & sliding rear doors give it a commercial van look & feel
• Middle row missing basics like roll-down windows and door armrests
• Small 1.5L engine has mediocre highway performance. Overtaking needs to be carefully planned
• Thin 165/80 R14 tyres are a joke on an MUV of this size
• Nissan's patchy dealer network & service quality
Link to Official Review
Chevrolet Enjoy

What you'll like:
• A well priced 7-seater MPV
• Compliant low speed ride, matched to neutral on-road behaviour
• 1.3L diesel offers excellent urban driveability and fuel economy
• Compact size & light controls make it easy to drive in the city
• Equipment list includes leather seats, dual-airbags, ABS, EBD, dual air-con, parking sensors etc.
What you won't:
• Not as well-rounded as the Ertiga or Innova. Several loose ends that need tying up
• Uninspired interior design. Ordinary part quality too
• Poor NVH insulation. Refinement levels miss the mark
• Underwhelming 1.4L petrol. Weak low end torque
• Missing essentials (MID, dead pedal, steering-mounted controls, tumble-down 2nd row seats etc.)
Link to Official Review