Attachment 1601734
Tata Hexa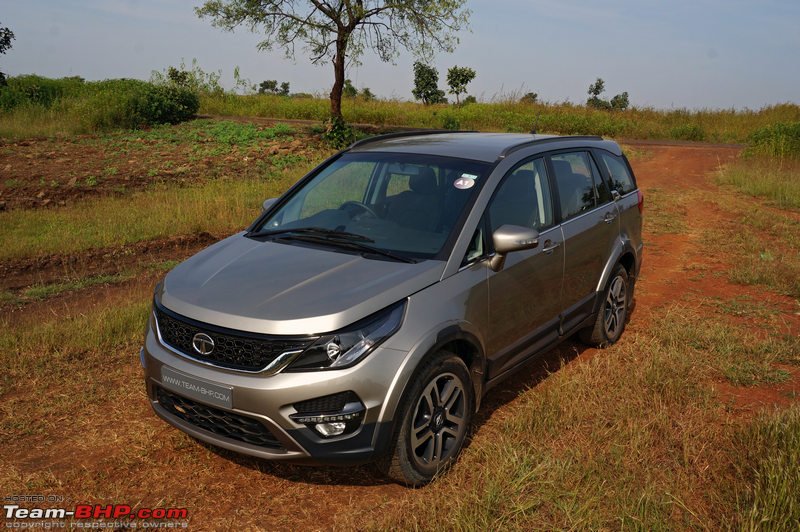 What you'll like:
• Smart styling & substantial presence. Solid build & paint quality too
• Spacious, high quality and comfortable interiors. Even 3rd row is rather useable
• 6-speed AT is smooth & competent. Perfectly mated to the 2.2L diesel
• Excellent ride quality. Comfortable over any kind of road
• Features such as selectable driving modes, auto headlamps & wipers, ORVM demister...
• Awesome 10-speaker JBL audio system. Sound quality is fantastic!
• Topnotch safety kit includes 6 airbags, ESP, TC, ABS, EBD, hill hold / descent control etc.
• AWD with electronic wizardry & 200 mm of ground clearance
What you won't:
• Automatic variant unavailable with AWD, ESP & super drive modes
• Missing essentials (
steering reach adjustment, smartkey entry & go, auto-dimming IRVM...
)
• Access to the 3rd row is flawed in the captain seat (6-seater) version
• Heavy steering (low speeds), long travel MT shifter, big size & wide turning radius are annoying in the city
• Fat 2,280 kg kerb weight blunts performance & efficiency. Competition is 400 kilos lighter!
• Concerns over niggling issues & long-term reliability
• Tata's after-sales service remains a hit or miss
Link to Official Review
Mahindra XUV500
What you'll like:
• A well-engineered, contemporary SUV with a
value-for-money
price tag
• More mature styling. Front end no longer looks garish
• Acres of space on the 1st & 2nd seat rows
• Competent engine delivers fantastic urban driveability, as well as fast highway performance
• Balanced ride & handling package
• Safety kit includes 6 airbags, ESP with rollover mitigation, ABS + EBD and all-wheel disc brakes
• Expansive feature list (sunroof, touchscreen ICE, powered driver's seat, cruise control etc.)
What you won't:
• Absolutely no luggage capacity with all the seats in place
• Cramped 3rd seat row is best suited to children only. A sliding middle row is sorely missed
• Interior quality, although better, still has a lot of scope for improvement
• Clutch is lighter now, but has a long travel range & high resting point. Gets cumbersome in traffic
• Niggles & issues, as reported by existing XUV500 owners
• Mahindra's inconsistent sales & service experiences
Link to Official Review
Toyota Innova Crysta
What you'll like:
• Indestructible build & durability. The Innova is known for its bullet-proof reliability
• Spacious, flexible & practical cabin. An extremely comfortable long distance commuter
• Upmarket interiors. The ZX AT variant is very plush
• Powerful diesel engines with user-selectable driving modes
• Balanced suspension & road manners. High speed stability is
rock solid
• Top-notch safety kit. 7 airbags, ABS, ESP, TC, Isofix & 3-point seatbelts for all
• Feature packed! Leather seats, LED headlamps, mood lighting, cruise control & lots more
• Toyota's excellent after-sales service and fuss-free ownership experiences
What you won't:
• Hefty price tag! 2 - 3 lakhs higher than the
already expensive
ol' Innova
• Top ZX variant is unavailable with a middle-row bench seat (8 seater)
• Lower variant's interior looks too basic. GX doesn't even get a stereo!
• 2.8's single-digit urban fuel economy due to the hefty kerb weight, engine size and AT
• 2.4's NVH package still has holes to fill (
engine clatter, dancing gear lever
)
• Heavy steering at parking / low speeds. Can get cumbersome in the city
• Poor sound quality from the ICE. Cheap speakers beg for an upgrade
• Short service interval of merely 5,000 km. Inconvenient for those with high usage
Link to Official Review
Mahindra Scorpio
What you'll like:
• Same popular SUV package, now improved in the 2014 avatar
• Robust, abuse-friendly build & construction
• Aggressive front-end styling. Has good street presence
• mHawk turbo diesel is a jewel of an engine. Great driveability, performance & fuel economy
• New chassis brings better road manners
• 4x4 available on S4 variant too. More affordable than the Safari 4x4 & Duster AWD
• The Scorpio enjoys strong resale value in the used car market
• Features: 6" touchscreen system, GPS navigation, projector headlamps, LED tail-lamps, auto-headlamps & wipers, cruise control, 17" rims etc.
What you won't:
• Ride quality, though improved, is far from plush. Still gets bouncy & bumpy
• Surprisingly limited 2nd-row legroom in an SUV of this size
• Overdone rear end styling. Also, decade-old body shell shows its age
• Fit & finish leave a lot to be desired. Rough edges are plentiful
• Price of the higher variants is dangerously close to the more accomplished XUV500
• Niggles & issues, as reported by existing Scorpio owners
• Mahindra's after-sales service quality is a hit or miss. Remains a gamble
Link to Official Review
Tata Safari Storme
What you'll like:
• The best Safari till date. Tata continually upgrades & tweaks this SUV
• Solid body-on-frame construction. Substantial size & strong presence
• Competent engines. Excellent driveability & superb refinement
• Improved interiors, comfortable driving position & a much lighter clutch
• 1st & 2nd seat rows have enormous space. Nice seats too
• Good ride quality. Also, the X2 chassis brings better road manners & braking ability
• Low range 4x4 transfer case, limited slip differential and sufficient rear wheel articulation
• Additions such as a bigger 63 liter fuel tank, steering-mounted audio controls, double-din ICE, flippy key & LED cabin lamps
What you won't:
• The same old body style. Surely shows its age
• Effectively a 5 seater. The 3rd row jump seats aren't suitable even for kids
• Not as dynamically accomplished as the XUV500, Duster or its sibling, the Aria
• No MID, navigation, climate control, reversing camera or dead pedal in a Rs. 15 lakh car
• ABS & all-wheel disc brakes removed from the base LX variant
• Niggling issues & problems (
as per the many Safari ownership reports
)
• Tata's after-sales service experience remains a gamble
• 4x4's critical electronic bits & fuel tank are placed too low. No protective plate against splashes either. Massive size & kerb weight negatively affect its offroad performance
Link to Official Review