After our trip to
K Gudi
Jungle Lodges, we wanted more of the same. Since we are moving out of Bangalore in April, we want to finish off picnic places within 250Kms of Bangalore.
Therefore, we visited Deccan Dreams on the 4th floor of Forum mall, and booked a weekend at
Kabini River Jungle Lodge
. This is considered one of the 5 best wildlfe resorts in the world.
This time we wanted to leave early so that we can avoid the morning traffic on Mysore road. We left home around 6:30AM and were near Bidadi by 7AM, which is not bad. Breakfast was at Indradhanush as usual. The drive was uneventful, except for one blue Indigo which tried racing me. I like to drive fast on highways, when I find slower vehicles, I move away them as soon as possible. If somebody is driving faster than me, I let them pass me. If somebody is trying to race me, I let them pass me. For me highways are not for racing, but for fast driving. Therefore, when this Indigo guy started racing me, my first thought was he was kidding me. Indigo against a Baleno? So I tore away from him at 150+ hoping not to see him again. But Mysore road is not a cruising highway, like I described in the K Gudi trip report. Every time I tore away, I had to slow down for some diversions, or traffic congestions. Therefore the Indigo kept catching up to me every time I slow down, and so he was not losing hope. I realized I can't shake him off, besides Srirangapattana was nearing after which the road is full of construction activity until Mysore. So, I let him pass by fully slowing down.
Now, the directions to Kabini was simple according to the website:
Kabini River Lodge is situated 5 km off the Mysore-Mananthavadi Road. To help you plan your trip we present the following options.

Options from Bangalore To Kabini:
1. If you are travelling by your own car, all you have to do is reach Mysore and them follow the detailed route sketches. Incidentally, your driver can stay free of cost at our comfortable dormitory.
Scary isn't it? Anyway, we went armed with Mysore map, and this time we decided to go through Mysore. At fountain circle, we took Ashoka road, then turned right into Irvin road, and then turned left into JLB road which continues into Manathwadi road. But they had to confuse us, after all it was Mysore. After crossing ramaswamy circle, we see a board for Kabini pointing to left, while we knew we had to go straight. After briefly going left, we U-turned and got back on the original road. At the next circle we see one more Kabini board pointing right, we were like what the hell! So we turned right at the circle only to see a sign "Road Closed". So we continued straight, took the next right, asked directions, went in circles, some how landed on Manathwadi road.
Somehow we were under the impression that this stretch was really bad. But the road was wonderful, the tar was freshly laid and was a pleasure to drive. This was a narrow two lane road without dividers. But I could maintain 80Kmph most of the drive for 70Kms. Then suddenly road got bad, after two Kms of bad road, we reached a forest gate. The guard quietly opened the gate and let us in. Before we drove in, I tried to confirm the directions with the guard. Then he pointed to a road to the left and said it was a much better road going to the same destination. So we left the bad road and enjoyed good road all the way to our destination.
We stayed in the cottage, there are other accomodations like tents and rooms. This is how the cottage looks during Day...
...Night...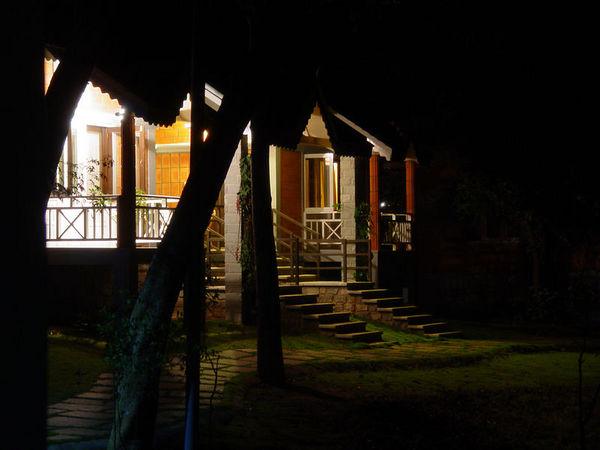 ...and Dawn.
The difference between K Gudi and Kabini is that Kabini lodge is a proper resort where all facilities (fulltime power, hotwater) are available like a hotel, and the lodge are situated outside the jungle among the villages. The K Gudi lodge on the other hand is located deep within the forest with limited generated power and limited water supply, etc. That way K Gudi is more exotic, cheaper, feels unexplored and tucked away unlike Kabini which is well known and full of foreign tourists. Until Veerappan died, no foreigner was allowed at K Gudi because Veerappan loved to kidnap important looking people.
The programme was similar to K Gudi, after the 4PM briefing we all left for the safari on open jeeps, some in open vans and entered the Nagarhole National Park. The forest here looked much drier compared to K Gudi, which was very green and feast to the eyes.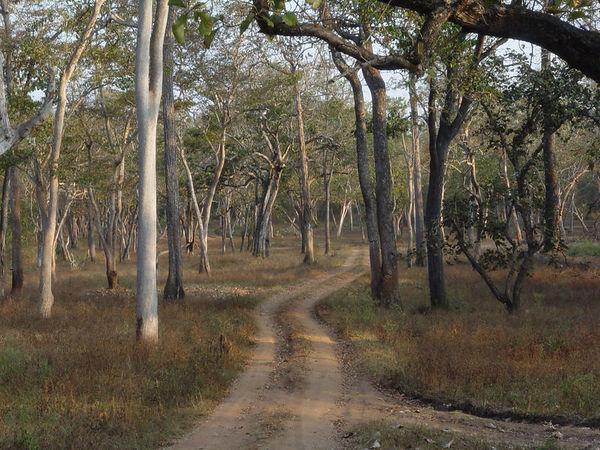 First we ran into a herd of elephants that were bathing in a water hole along the safari route. They had a 2 month old baby along with them and they all formed a circle to protect the young one.
Then we got closer, suddenly one of the females turned and charged at us to scare us away. Since we didn't budge, it stopped and then turned away.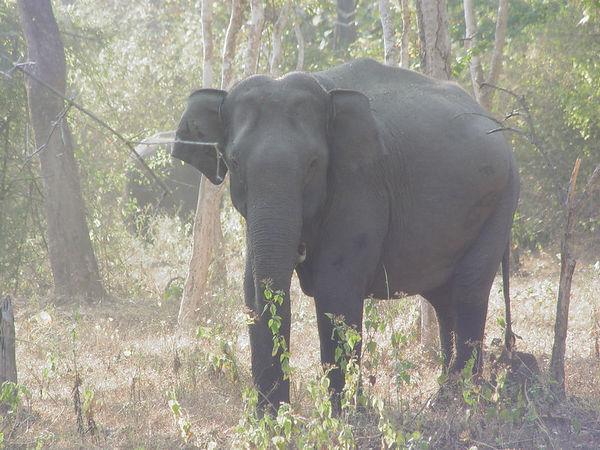 Then we ran into multiple groups of Indian Gaurs. These can grow upto 6ft and weigh 1000Kgs. Some mistake them as bisons, but there are no bisons in India.
After the initial excitement, it turned very dull. We didn't even see the spotted deers which are usual found dime a dozen. A peacock and then s sambar, and then nothing. I had started thinking K Gudi was a better bargain.
Meanwhile I noticed one odd behavior by the driver. Every time he encountered a slope, he would switch off the engine and switch to neutral gear. He kept doing it throughout the safari so that the Engine noise wouldn't disturb the wildlife as we approach them. Isn't this very bad for the Engine?
Suddenly our guide asked the driver to stop and started to listen keenly. He said he can hear warning cries from spotted deers, which means a predator is nearby. The guides do this often, so we were skeptical. He requested us to remain silent, while my son was trying to break the silence by making funny noises. This went on for 15 minutes. Then the guide said lets move on, but very silently. Within 100 meters the guide turns right and says he sees a tiger, then he corrected himself and said it is a big leopard walking along the road next to the power line. The holy grail of Indian safari is seeing a wild tiger, but leopard is just below that. So the guide asked the driver to turn into that road and we start following the leopard.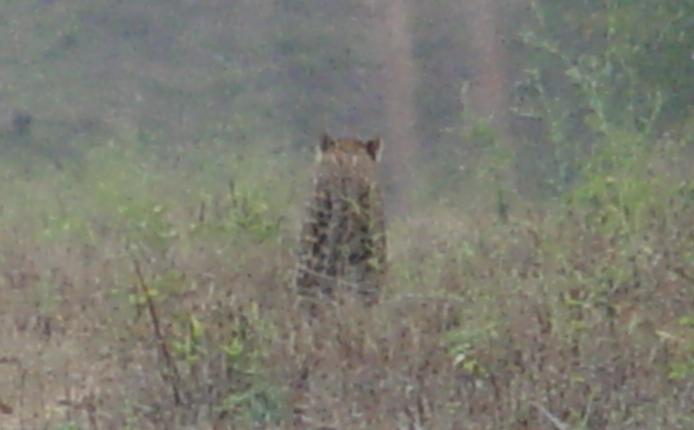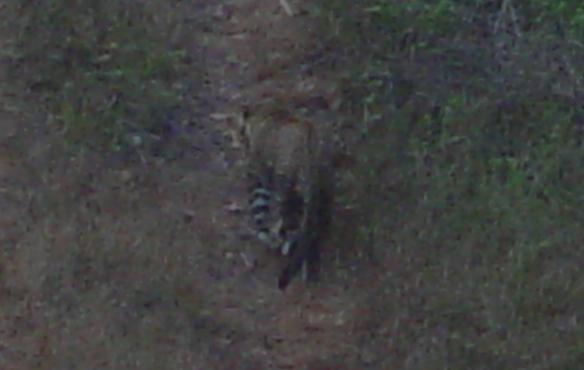 It kept walking and we kept following with a switched off engine.
Meanwhile our guide was frantically calling all the other jeeps to partake in our good fortune. One van joined and saw the leopard. Then a jeep joined, but the leopard had walked over a hill on the road. Unlike our driver who kept the engine silent throughout, the other driver roared his jeep over the hilly part of the road and we followed them only to see the leopard leap and dash into the bushes on the side. When one more jeep joined us, there was nothing left to see but the sheer joy on our faces. Poor fellows!
After that we returned back to the lodge drunk with happiness of seeing a wild leopard, which is a very rare sight.
The night was very serene at our river facing cottage...
Next day early morning I took some nice snaps around the cottage.
Early morning we went on the safari again which included boat ride and elephant ride. The mornings can be really chilly here. On the way we saw a beautiful sunrise.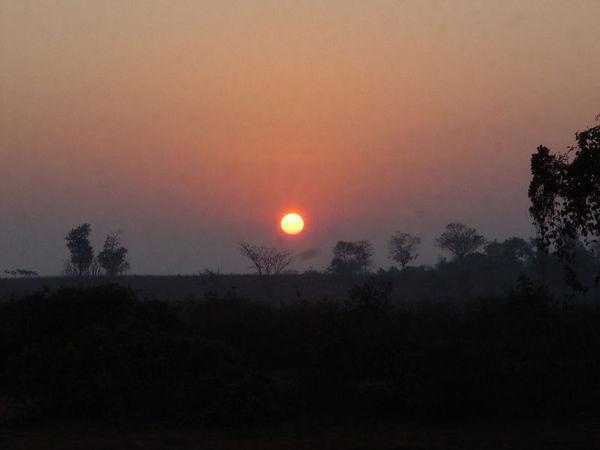 In the morning there weren't much wildlife sightings. Soon we reached the river in the middle of the forest. originally we wanted the coracle ride, but my son decided it will topple and started crying, that left us no choice but ride the motor boat. The whole area was formed by the back waters of Kabini dam, we could see the top portion of many big trees submerged by the back waters.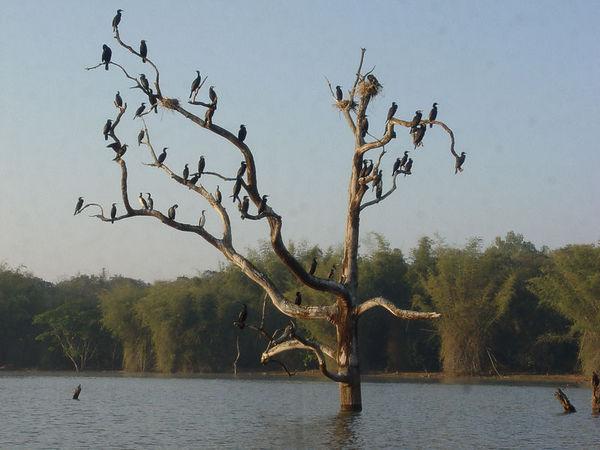 A view from the boat.
After the boat ride we were going towards the elephant camp for the elephant ride. And out of the blue we saw a lone tusker feeding along the road. It is not common to see a lone tusker, but we got lucky again. He was not afraid of us, in fact he came a little forward and posed for us.
Next we saw a huge peacock walking along the jeep trail, it made no attempt to runaway like other animals.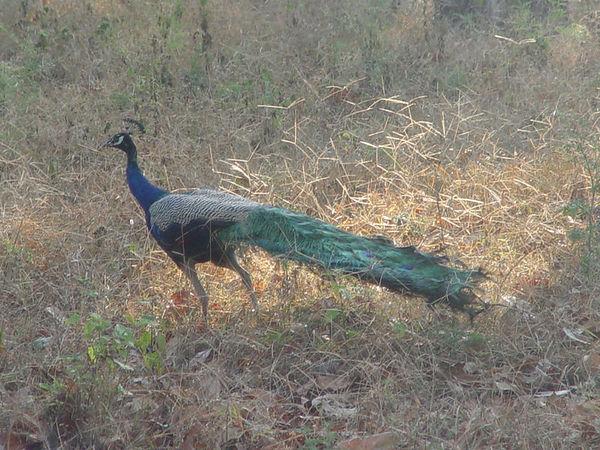 Soon we reached the elephant camp and were welcomed by an elephant which had a 14 months old nursing baby. The guide warned us that the baby is very naughty. Still many tourist were taken to the baby and were patting it. My son who is usually scared of elephants, decided this baby was a harmless one. So he took the initiative and moved in front of the baby and patted baby's head. Suddenly the baby got excited to see someone shorter than self and rushed forward to greet him. My son got pushed to the side on to the ground, the 200Kg baby was dragged to the other side by the guide. It was one funny moment except my son was crying with the shock. After few minutes he saw the funny side of it and started narrating the whole incidence to everybody around by acting out the whole scene, he even played the elephant part.
That was one cute baby elephant.
After the ride we got back, finished our breakfast, started back for Bangalore.
On the way I had hoped to meet the lone tusker... I mean the lone BHPian [Ananth Kamath] from Mysore, but he was busy in an Air-show that day, so decided not to disturb him.