Hi All. This is my first writeup on my first ever trip by my new car (Santro). And wow, what a journey it was! My car and me (as a driver) were just 1600 KMs old before trip. And road was full of wide stretches, Ghats and all. Also to add to that I got the feel of night Driving during my journey back.
Pre Travel Preparations:

We were 4 friends who decided to make full use of long weekend and planned an outing. We did online booking for the cottages provided by Mandir Trust. We took the printouts of google maps for directions out of the city to Srisaialm road. I read a lot on Tbhp about the pre travel preparations. I had done first free servicing of my car a week before. So I was not worried on the Car front. Still I checked all essential things like engine oil, coolant, wiper water level, radiator water level, brake and power steering fluid levels and everything was OK. On prior night, I filled up the tank on Jubilees Hills Check post IOCL pump and also corrected the tyre pressure to 30 psi. We took some snack packets and water bottles. I also burned a CD full of all good songs. And after all this we were ready to Go.
Starting:
At about 7 AM on 22nd Dec (saturday), we reset the trip meter and started on our trip from my Home in Jubilee Hills. We carefully followed the maps for our directions out of the city to reach Srisailam Road. We went through Charminar and old city. As it was still early morning, roads were pretty much empty. At 7.30 we were out of city. There is a good 4 lane stretch with road divider for about 5 kms after city. After that there is a good 2 lane road. The road condition is very good except 2/3 kms stretch in between.
The journey:
After about 70 Kms or so, we took a halt for tea. After that we joined the Nagarjun Sagar Road and Quit it after 20 Kms or so to take right towards Srisailam. The road after this right turn is a black carpet. I saw a wide stretch of tarmac touching the horizon without a single vehicle and I stepped on the pedal. In no time the car reached 130 kmph. I just pressed a bit more and I touched 140 kmph. That was the highest I could do, as a trademark Indian speed breaker was ahead and I had to slow down. After this we continuously clocked 90-110 kmph.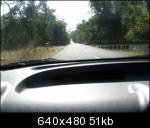 After half hour or so, we reached a Malikarjun Dam. We stopped and climbed up to see the water reservoir. It was half full. We took a halt there for about 15 mins. and started again. After 20 mins. or so we took a final left turn to Srisailam. At this point we were able to see the outlines of the hills, which we were going to cross. After driving for 20 mins. or so, the ghat section started. We decided to stop and have a breakfast. So we stopped just before the Hills. There were huge trees and we parked on the left and took our breakfast.
After this the last 80 Kms to Srisailam were ahead. These are full of Ghats, Jungles and some very beautiful and scenic locations. We decided to take it easy on car and enjoy the road fully.
After about half an hour or so, we saw an entrance to Tiger sanctuary. We looked at each other and there it was. I stopped the car and we inquired about the ride inside the Jungle. But we were told that the private vehicles are not allowed. However, he said that they undertake a 1 and half hour trip inside the jungle with their Gypsy. There is no guarantee that we will see animals at this time of the day. But there is one beautiful point inside from where we can see all the Hills and the lake in between from a good height. We decided to go inside. So we parked the car inside their main gate and embarked on the jungle trip in the Gypsy. The road was very rocky and dusty and surrounded with huge trees from both sides. Couple of times we crossed narrow bridges overflowing with water. The Gypsy was riding with ease though. After about 30 mins. or so we reached the point. It is really a very good location and we decided to capture the moments in our cam. Here are some of those: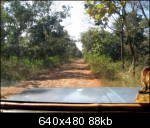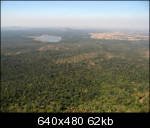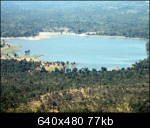 We came back in 70 mins or so and resumed our Journey to Srisailam. Finally 35 Kms before Srisailam, real Ghat section started. There are basically two portions of Ghats. First we climb down to reach a bridge on the river, which is surrounded by big hills from both sides. There is a Hydro Electric Power station here. Also there are various points in Ghat section where people can stop and can have a look at Breathe Taking view of River surrounded by hills, a dam on that river and large body of water. Here are some pics: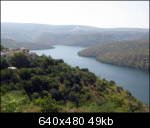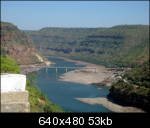 After the bridge another ghat starts where we need to climb up the Hill. Some of the turns are very steep and we need to put the car in 2nd gear to climb those. After about 15 mins we finally reached Srisailam Entrance toll post. We gave 30 Rs. and entered the town.
In Srisailam:
We took the keys of cottages. We were very pleased to see the cottages. It was an independent house in a colony surrounded by dense cover of trees. We had car parking of our own inside the house. The cottage was very clean and well maintained. The Mandir trust has really done a great job on this front. We all dozed off for about half an hour. After that we took a quick round of town. The mandir was closed till 6 PM. We decided to take Darshan at 6. After about an hour in queue we took the Darshan. After that we roamed here and there in the town.
Next Morning, we decided to go to Akka Mahadev Caves. APTDC operates a ropeway and boat trip to the caves. We started at 10.30 AM. The journey to caves by boat was very exiting. Here the Krishna River is surrounded by hills from both sides. Here are some pictures: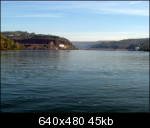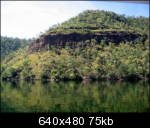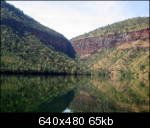 We came back at around 4.15 immediately we took some snacks and decided to start on the back Journey as the entry into the Jungle is closed after 7 PM or so and we wanted to complete the 80 Kms of Ghat section during day light.
Back Journey:
We started at around 4.30 PM This time we put some silent songs and started the journey. We did not stop at any points, as we wanted to cross 80 Kms of hilly, junglee roads in 1.5 hrs or so. We did it precisely and as we were climbing down the final ghat section it was twilight (5.45 PM). After that at around 7 PM we took our first stop at a dhaba. Everyone was hungry, as we did not have our lunch. So we decided to take proper dinner at the dhaba. The food was good. Tomato Curry, dal Fry, tandoori Roti and Egg Bhurjee. We spent around and Hour on the dhaba and started at around 8 PM. This was my first Night Driving experience and it is very different from day driving. Everything depends on the two lights, which you see in front. From those two lights you need to track your speed and do the overtaking maneuvers. To my relief the traffic was not that much. we touched Charminar at sharp 9.30 PM and to my house at 10 PM.
My eyes were strained though and I had a slight headache also. The night driving had its effect, I thought. I took a crocin and went to sleep with memories of my wonderful trip to Srisailam.
Statistics:
Total Distance Traveled: 465 Kms
people on board: 4
AC usage: 50% time
Average (Tank full to Tank Full): 15.4 KMPL
Highest speed during day: 140 kmph (as in speedo)
Highest speed during Night: 110 kmph (as in speedo)