Story Ahead...
DAY 03 (Mahabaleshwar; Panchgani):
====================================
One thing was damn sure to happen in the morning... we lost saddam (petrol from 3 of the bikes was stolen). I guess this is something that happens on all the MTDC resorts as it happened while we were at Harihareshwar MTDC as well. Anyways, 3 of us proceeded to fill the gas...
PLEASE NOTE:
Ahead of this what I will write will remind you of "Final Destination – 2" and will make you think about the existence of cosmic powers and intuitions in human life. Ashish please don't get mad on me...

The time we 3 left MTDC to fill gas, a black cat crossed the road. I never believed in anything like this but for some reason I slowed down and Ashish (the CD 100 guy) moved ahead before I can tell him anything and I followed him slowly. We filled gas and came back to MTDC. Plan was to move ahead to Panchgani and from there bikers would come back taking the Mahabaleshwar-Mumbai route and Tavera will move ahead and reach mumbai via Pune.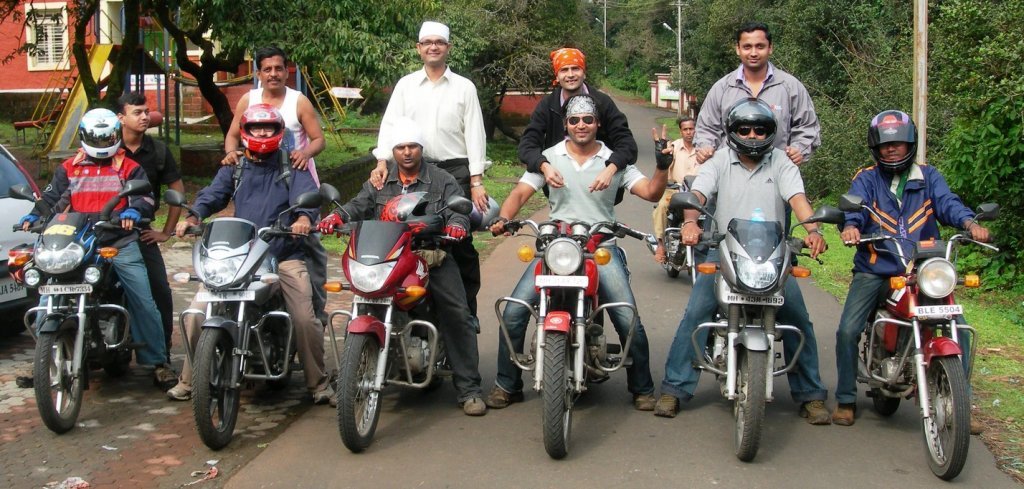 After a brief photoshoot at MTDC, we all left for Panchgani. Within the first 10 minutes I blew up my tyre. Rest moved ahead and now it was the turn of Mush (Red Unicorn Guy) to help me out. He went and came back with a puncture repair guy to fix it. All fixed and done we moved ahead. I roared my engine and it was fun covering the Mahabaleshwar-Panchgani route but suddenly I realized that the bike is running heavy, infact very heavy as if some WWF guy has holded it from behind restricting its movement.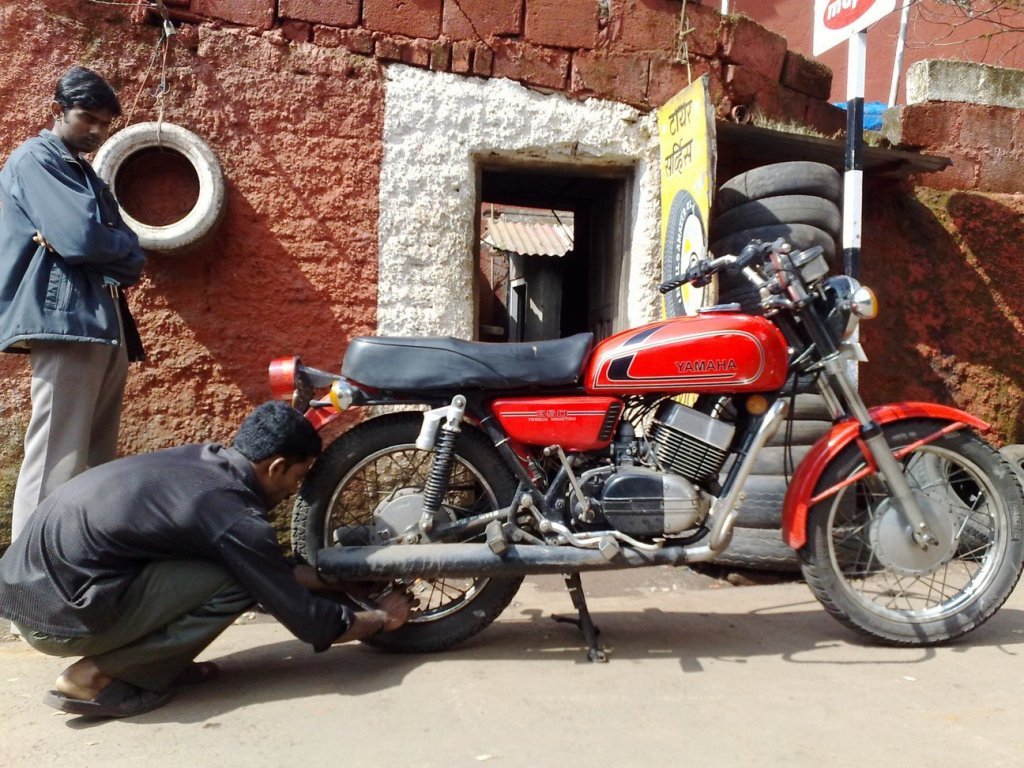 Stopped, checked and found that the rear rim was jammed and was damn heavy to rotate. Found out that the rear-break once applied is not releasing the rear liner. Finally as there was nothing around, decided a temporary fix and loosen the rear break to such an extent that hitting the break paddle would not pull the liner even a bit.
At Panchgani petrol pump, checked with another puncture repair guy and he somehow was able to set the liner to work temporarily.
Back in business, we pushed ahead to Panchgani table lands. The plan was to be there till noon 12:00.
All I remember is the horse riding on the table lands. I might have rode horse almost for 1 hour before emptying my pockets. Went down to the 'cave restaurent' to have some onion pakoda's and to get friendly with red-faced monkeys.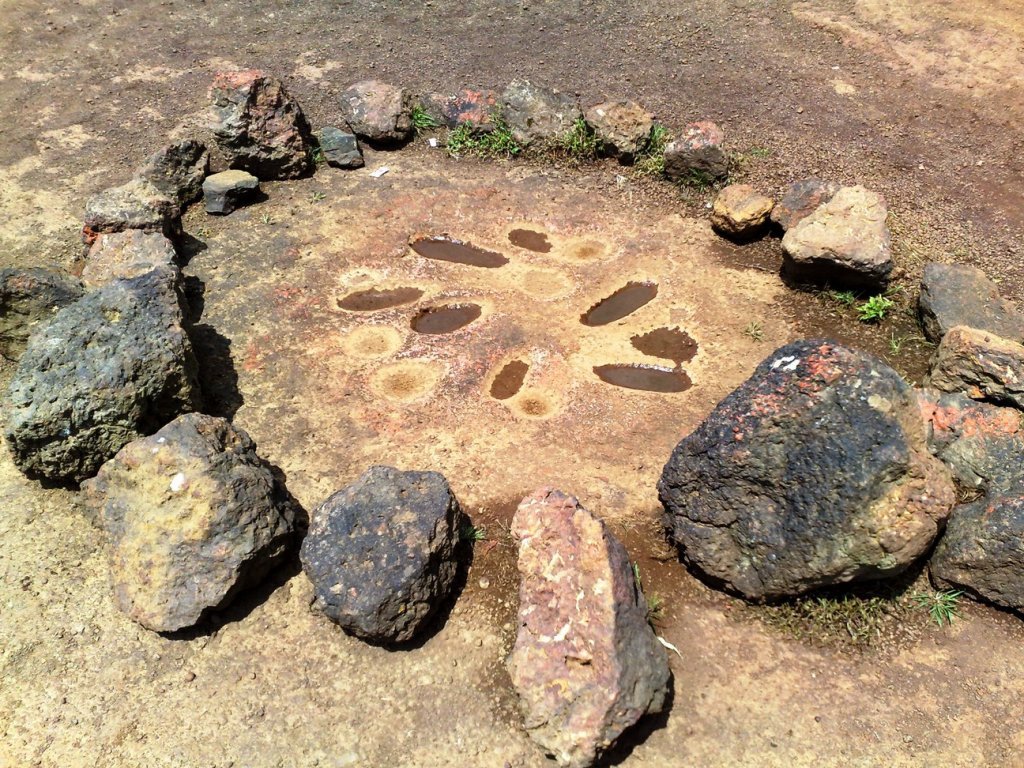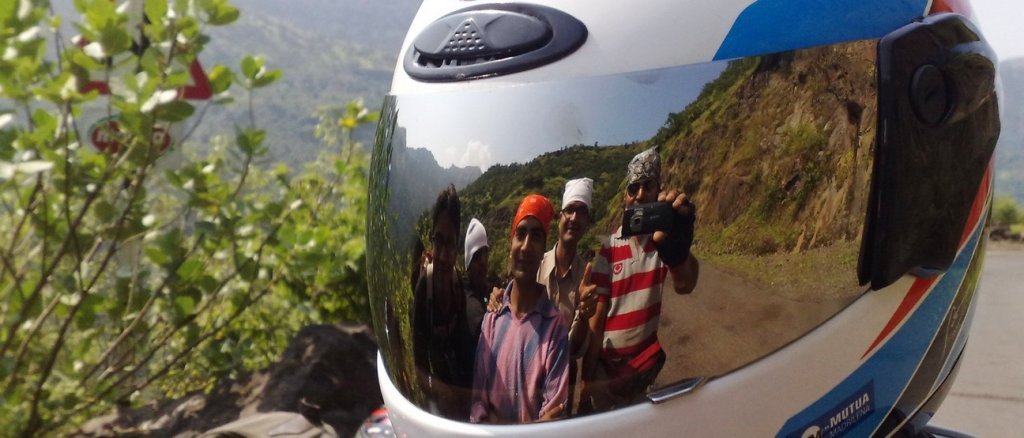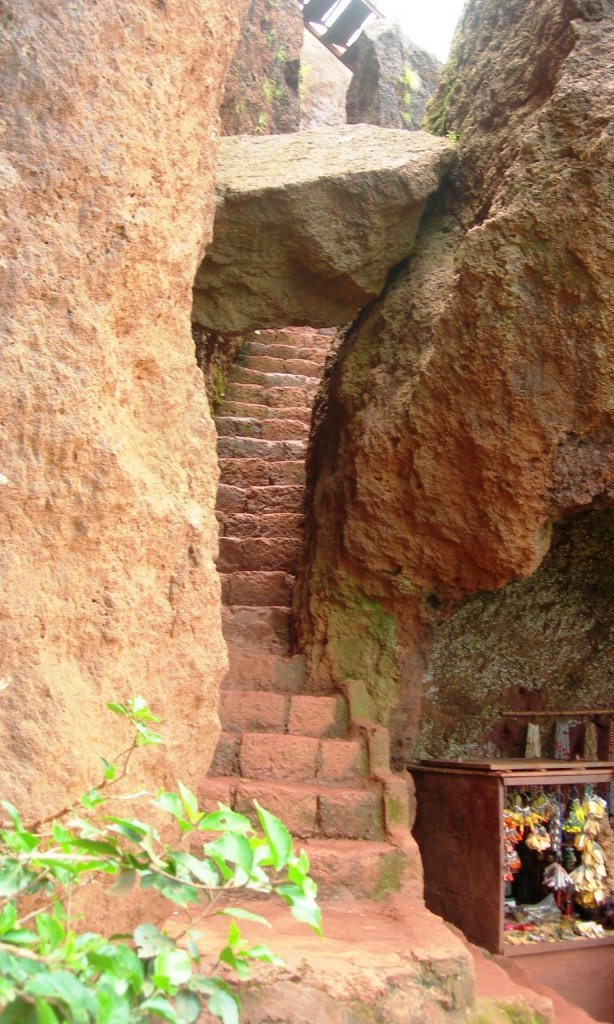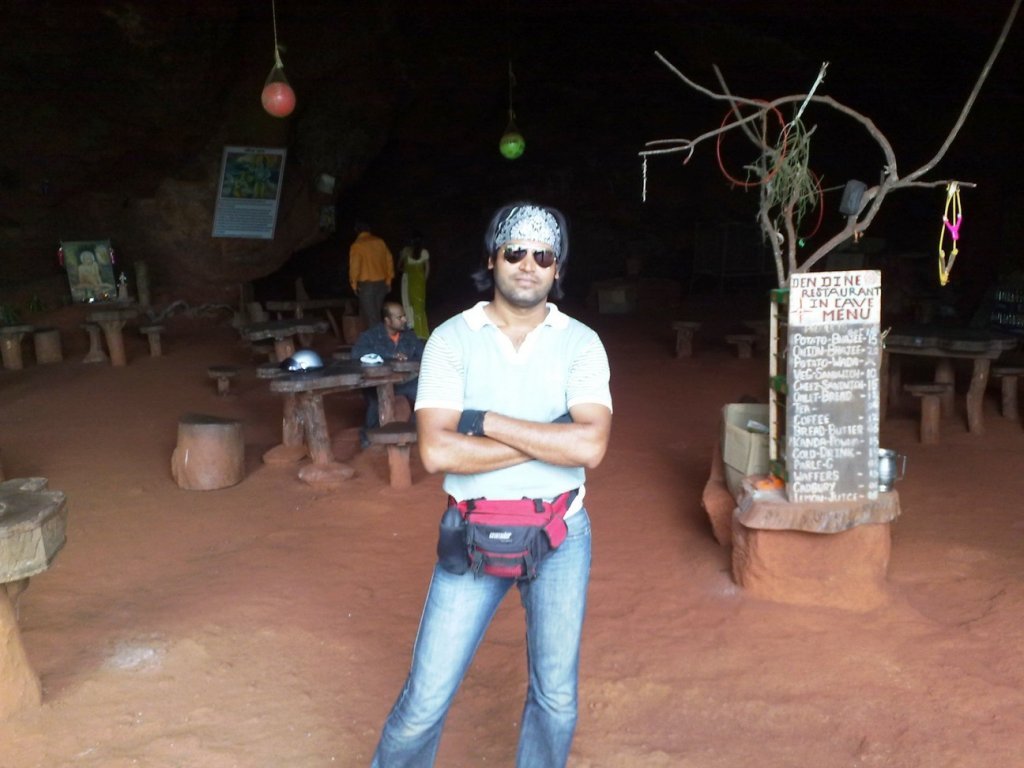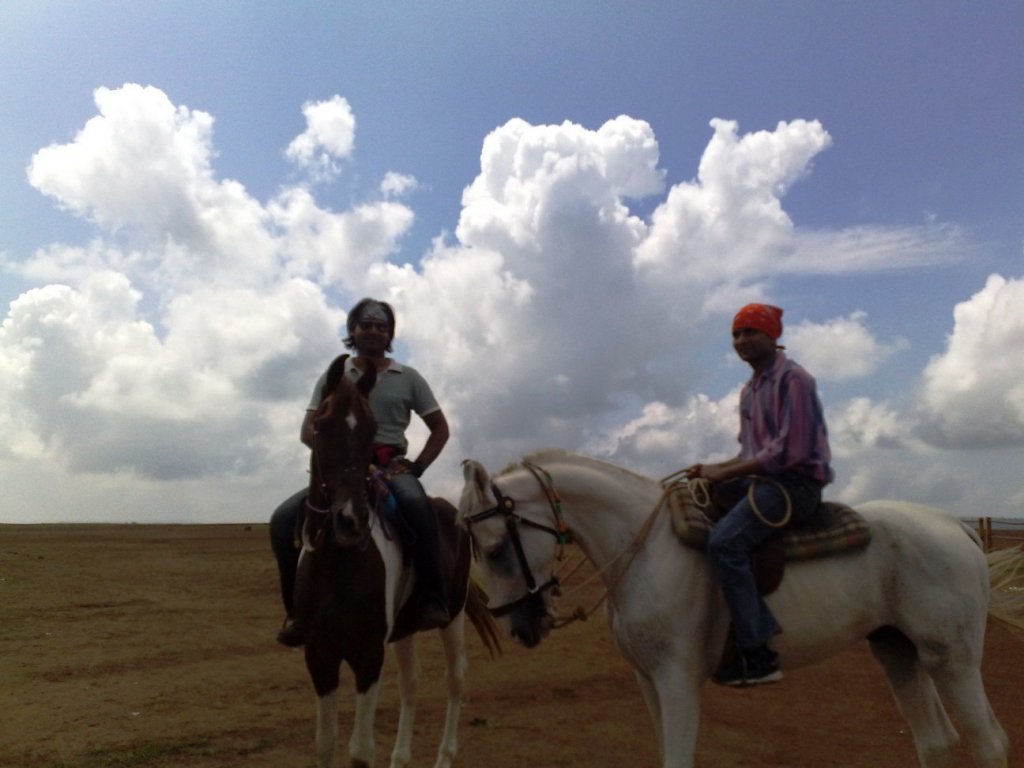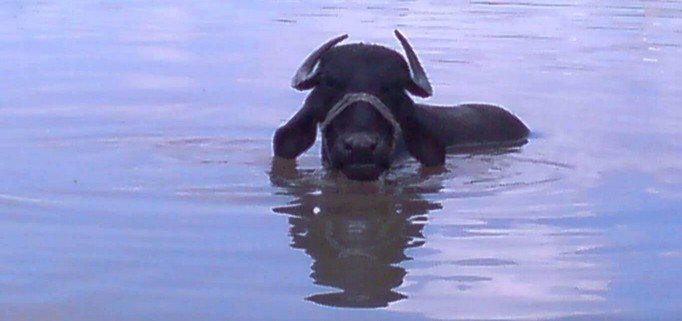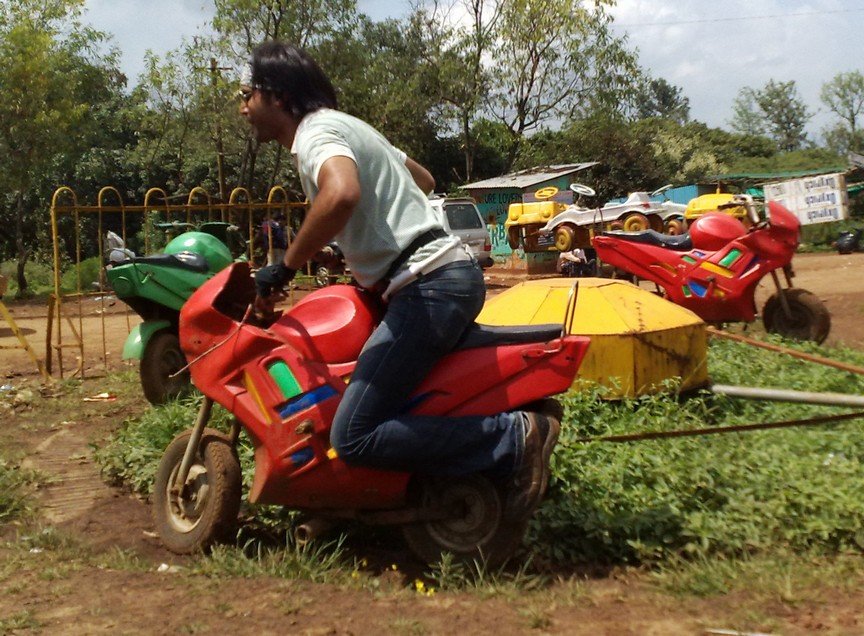 All done, we decided to move back to Amchi Pyari Mumbai. Half of the guys in Tavera moved ahead on Pune highway via Wai and remaining bikers moved back on the Mumbai highway via Mahabaleshwar.
Till the time we crossed Pratapgarh on our way back everything was pleasant and fine. I on my RD with a pillion and Ashish single on his CD100 were ahead of all enjoying twists and turns of pot-hole filled valley road.
At one turn I started updating Ashish that whenever rear of RD feels even a slight bump, it feels as if the rear brakes are getting applied causing a wait-n-go kind of motion. We decided to free up the rear breaks once again after few turns if the problem increases as it was risky to go down on slopes on front breaks alone. I slowed down to 30KMPH from 50KMPH here on.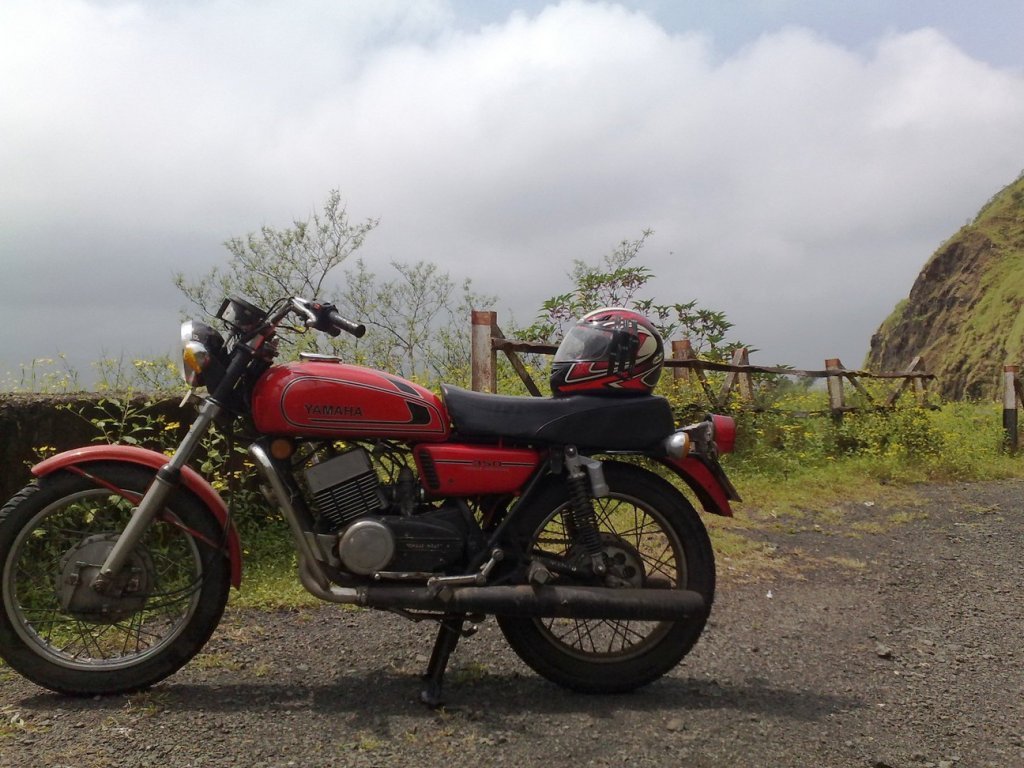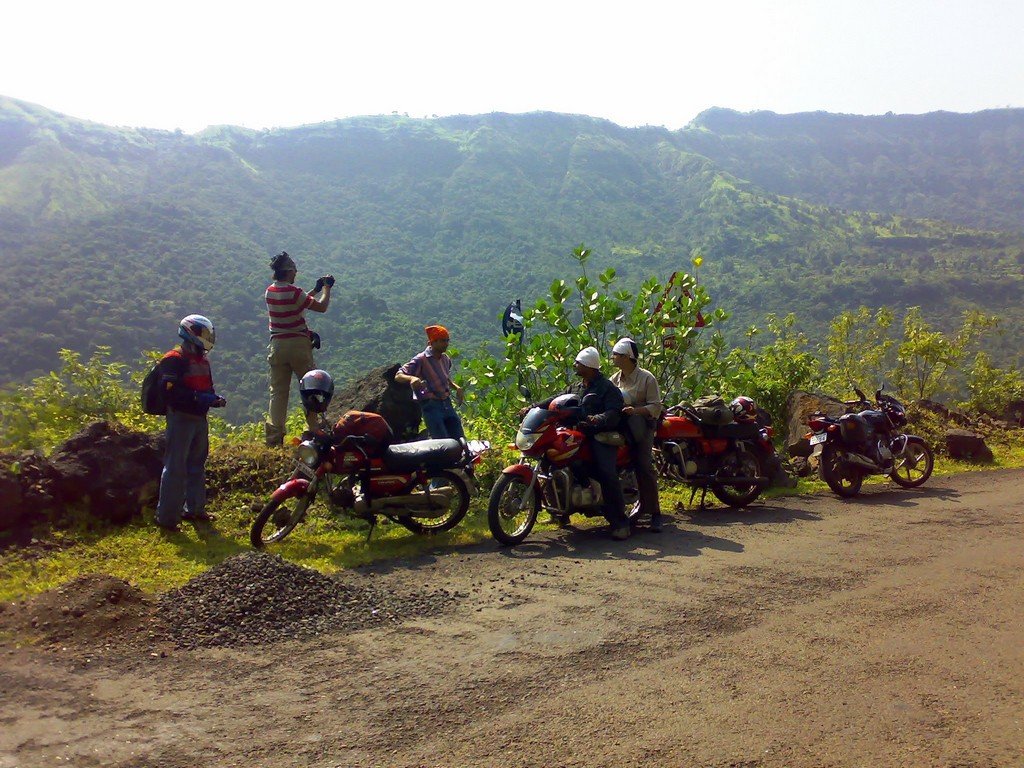 With the second turn, (barely a minute after we decided), my life turned around with the turn and next thing I saw of me and my pillion lying on road, RD flipping away on steep road until it came to stand still upside down resting on handle grips and taillight at the center of road.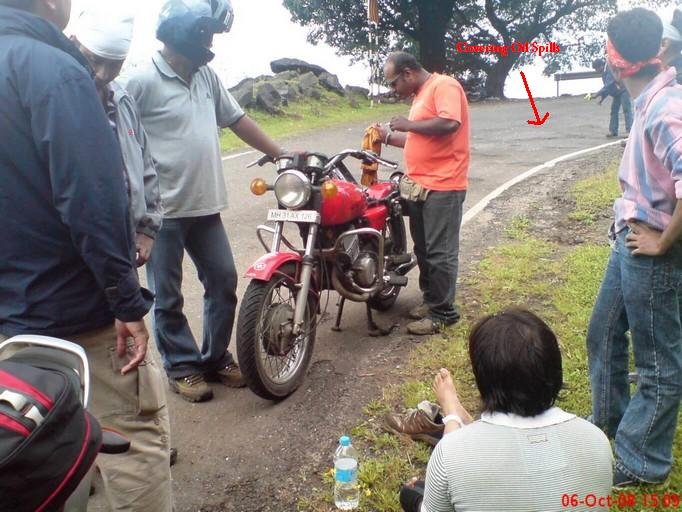 Petrol and 2T Oil free flowing on road as if my dear NOMAD was bleeding (both tanks were filled to the top). Somehow, I and my pillion were saved with few scratches and not bleeding at all and we both laughed.
Ashish was following us and he was shocked to see us down with people running to help us. ( Oh! forget to tell you that while coming down the mountain we were singing, Ek Hasina Thi, Ek Deewana Tha, Kya Umar, Kya Samaa, Kya Zamana Tha)
Me and my Pillion (Srikant A.K.A Haddi) were sitting down and laughing. He always used to say that with me on RD, he is sure that nothing will happen or else nothing will remain and here we were with not even a bit of bleeding.
By this time all other bikers have catched with us. We took RD on the roadside, cleaned out the oil-spills from bike as well as road. I found it hard to keep my left leg on road... Knee was paining (but no fracture). My pillion Shrikant got a big rashes on his left butt (just for the namesake coz he doesn't have a butt). We rested for some 20 minutes, did first aid and moved ahead.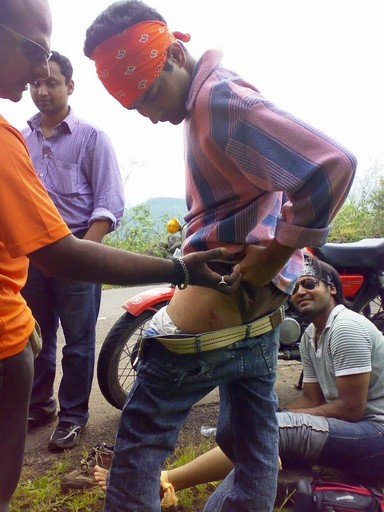 The clutch lever of RD was broke so I managed it to get started with a push on 1st gear driving single. With the pain in my left knee, I kept it straight on the leg-gaurd. Voilla!!! Now I was riding RD with rear-brake, clutch and my left knee gone. So how was I changing the gears....? Remember the old days of Indina Chief/BSA/Norton with hand gear. Yeah, Thanks to my height that I managed to have my hands reached to the gear shaft for changing gears.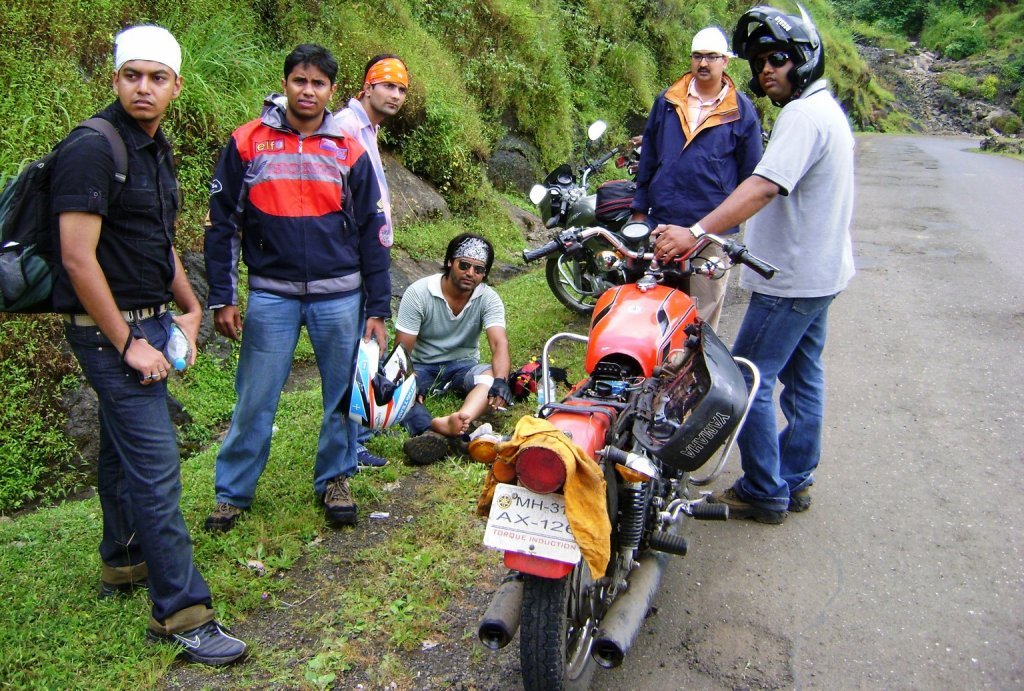 The next stop for all bikers was at Mahad, Hotel Kuber; where we were supposed to have evening snacks to keep us all fueled up till we reach Mumbai. After the break at Mahad, Mush with srikant as pillion (red unicorn guy) accompanied me on a slow ride to Mumbai while others moved ahead fast to their destination.
I was still riding my RD with that amazing situation I was in. The pain in left knee was increasing and Srikant's rashes on his left butt swelled to a point as if he had 4-5 doses of botox injected.
Finally, after covering more than 100kms at Pen I was exhausted and declared it a day. It was hard for me to manage the RD in traffic with no clutch, brake and one leg. I called up my biker partner Sushil (Blue RXZ 5-Speed in other rides) along with a clutch lever and additional guy to carry RD home.
Reached home by past mid-night and immediatly pushed to MGM hospital by my roommate (Swapnil).
Everyone had a question on their face and I had only one answer, this time I screwed up pretty bad.
This trip was going to be a turning point for me and my rides which you will find in my coming log.
Happy Riding and trust you intuitions...
By the way, I
still
dont ride fast, but fly low