This is not a description of how I've out performed another car.
This is a run down of what I had been planning for last three months.
Note: All the images are shown here without any thumbnail link. It may pose a problem in terms of downloading. Especially those who're using dial up connection. But a little patience and waiting will really help to get the right feel of these cold mountains.
Idea is going to Himachal (Manali to be precise) for a short break. We, me and my friend from Delhi are both fond of that place. We know a few people from there. We stay in one particular hotel because we like that ambience. Lastly, he is a writer, likes to have a hypnotic gaze at the distant mountains while writing. And I, like to roam around for no specific reason.
Driving down from Delhi to Manali and back is around 1200 kilometres . One can add plus minus sixty seventy kilometres for local running. Transport happens to be a Suzuki Grand Vitara. Add to that, two litres Johnny Walker Black. Camera gears of 20kg including my heavyduty tripod. 30 CDs. 40GB IPod with Itrip. Altec Lansing InMotion mini audio system to plug IPod for evening sessions. A4 size note pad and expensive pens for my friend. Mont Blanc ink for his writing to look really rich. IBM ThinkPad to check and transfer images at the end of the day.
Looks like we are sufficiently prepared for our trip.
Flight to Delhi is only half an hour late. Consider myself lucky in Delhi cold winter morning. Take few minutes to load up bags strategically to avoid unnecessary rattle. Fill up tank with 60 liters of gas. We head for Chandigarh. After horrible Azadpur's vegetable mandi's traffic Grand Vitara starts breathing normally. Long rows of trees on the both sides of the road. Lovely green field blending in fog. Speedo needle at 120 with faint rumble from 265 wheels. Who says life is not for living? We debate where to stop for the night. The choice is Chandigarh or 30 kilometres detour to Nalagarh, Himachal's foothills. We opt for Nalagarh. Who wants to get into a town?
Nalagarh heritage hotel has very little to talk about any heritage. Desperate attempt to make it look like a well kept old palace. This hotel is expanding. From twenty rooms to forty. Simple reason - to accommodate business travelers spreading their factories all over Baddi. The recent hot spot for the industrial boom in Himachal.
Through narrow lane we climb up to the main entrance, pull out necessary stuff from the car to cover one night. Ask hotel guys if any one can clean the car…Next morning we leave hotel at sharp 8 in the morning. Outside temperature is 5 degrees.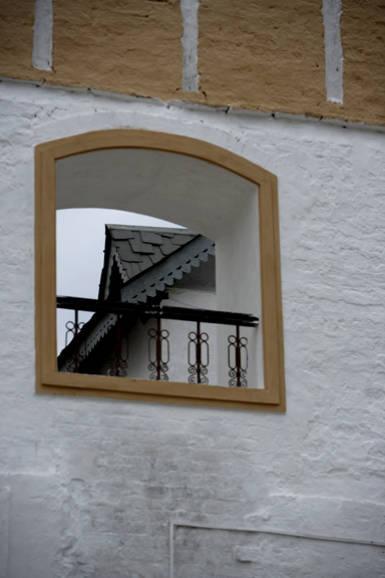 15 kilometres of horrible road to reach Swarghat, national highway 21. There is almost no road in places. Recent rain infested broken roads are now covered with dust. 15 kilometres takes us more than 20 minutes to cover. From the point we hit the main road, fun starts. This is the most beautiful hill road I've seen. Essentially, for the army and for national importance. One can comfortably cruise in 80. But on an average speed will come down to give and make way for those cement loaded trucks. Trucks are from ACC factory in Slapper at Bilaspur district.
Grand Vitara's engine sounds little rough when starting cold in the morning. Within a short time it becomes almost noiseless. Only when shifted down to second for a quick burst, it sounds like a huge wind tunnel turbine. But muted, very muted. This car, despite being a four wheel drive is a tourer only. For a car of this nature, ground clearance is extremely low. Suspension is ok for regular roads but on off road situation, it complains. Not a big one but a complaint nevertheless. My friend had tried some off road stunt earlier and realised that it's not in the same league of other four wheelers.
Bilaspur has a long stretch of flat land. Pushed the car to 100 while passing through lovely long trees barricaded road to reach the most exciting part of the drive. 35 kilometres of twist and turns. Brilliant road surface. I'm taking every sharp turn with out shifting or braking. 160 horses with massive torque of 24kgm (hope that's right) won't allow you to think for a shift down. Every single sharp bend is emphasised by rear tyres squalling sound. Oh, I forgot, these tyres have already done 32000 and not delivering the right traction. I tell my friend to go for new tyres after we get back to Delhi and it shouldn't cost him more than 35k, at the most. He gives me a nasty look. Before any sharp blind curve I blow the horn more than necessary and only to find out an overloaded TATA truck is approaching, occupying more than half the road. Slam the brake, get that uncomfortable ABS shudder under the foot, shift down, swerve to left and pass out. I must be doing this for last one hour. Trucks in this country will never go out of the habit of overloading and gasping for breath.
Winter rain started drizzling well before we got into Bilaspur and still continuing on and off. I couldn't stop anywhere for a shoot. Road is down right muddy and too much of traffic. After crossing Pandoh dam weather is better now. We're now going higher much rapidly. Here we have road with curved mountains as our roof. River Bias looks stunning from here. Outside temperature is 3 degrees.
At this point both, the sides of the mountains are extremely high. Almost like vertical walls. Thin waterfall rolling down from the top. One U turn, frame looked all right with the car for an area description. Outside temperature is 1 degree.
Late breakfast at Mandi and driving up reveals dark clouds. This could well mean that we're heading for bad weather. Only consolation, it's winter and bad weather usually doesn't linger for long. From Mandi to Kullu takes us almost 2 hours to reach. By this time, as far as our eyes can see, it's different shades of gray. Nagging rain, bad traffic and 'whiter shades of pale' is not doing much to elevate our soul.
Just a few kilometres from Manali a toll-booth stopped us. Apparently there's 300/- entry fee to Manali. On asking why this new development, they replied 'it's for keeping Manali clean and garbage free'. Readers, please feel free to believe what you like to believe. But I have serious problem to accept this reason. Note: 300/- is for one week. After spending almost a week, I haven't seen any sign or attempt of clean Manali.
From this point and as we going up snow started covering our car. By the time we reached hotel, Grand Vitara has grown almost six inches tall. Outside temperature is 0 degree.
My friend has given the key to a hotel boy to pull out our luggage. He goes out in the snow and never returns back. I did have a suspicion and that turned out to be right. Grand Vitara locking system is abnormal. Single press on open switch opens only the driver's door. Pressing it twice in rapid succession, other doors open. Poor hotel boy was not really aware of this and after single press he started pulling the door lock. Imagining that lock is misbehaving due to cold, he yanks it really hard and
manage to pull out the entire lock assembly from the body!
Post this we have a real tough time to pull out our luggage from the side door. Grand Vitara doesn't have any option to open the door from inside.
Late afternoon Manali looks like dark and really cold as I realise I cannot venture out anywhere. Nursing Johnny Black seems to be a good idea especially when the outside temperature is –3 degrees.
Next morning starts with gray sky with rain and snow. Slippery road with Grand Vitara on 4 wheel high. Weather is bad but I cannot wait any longer to pull out my cameras.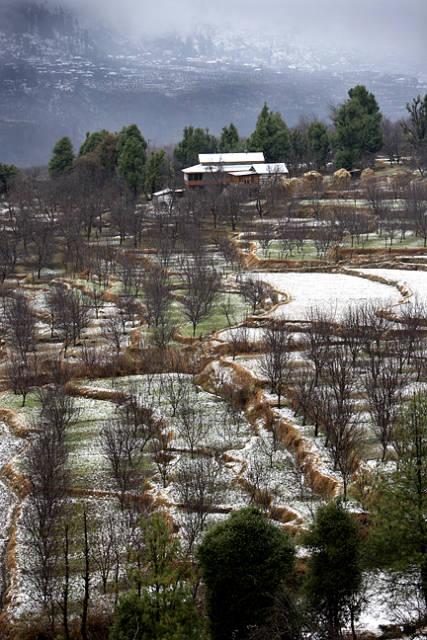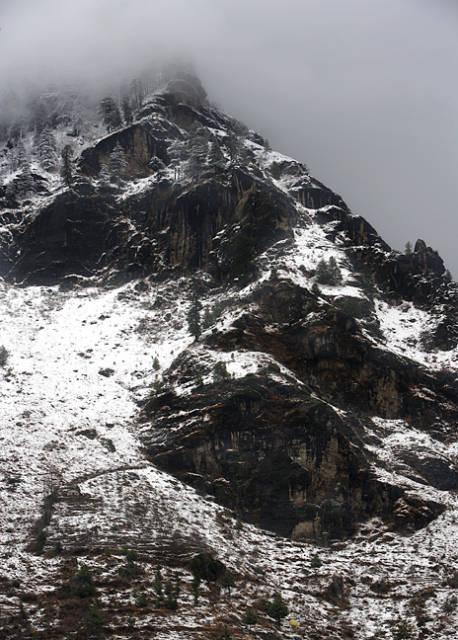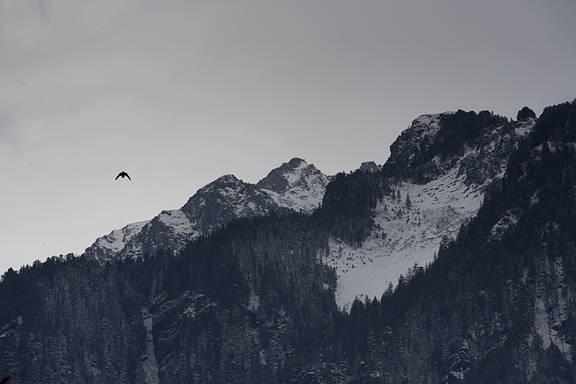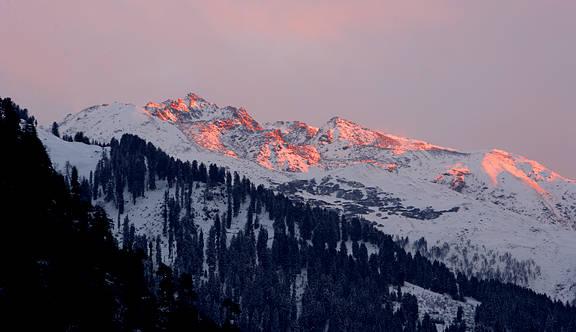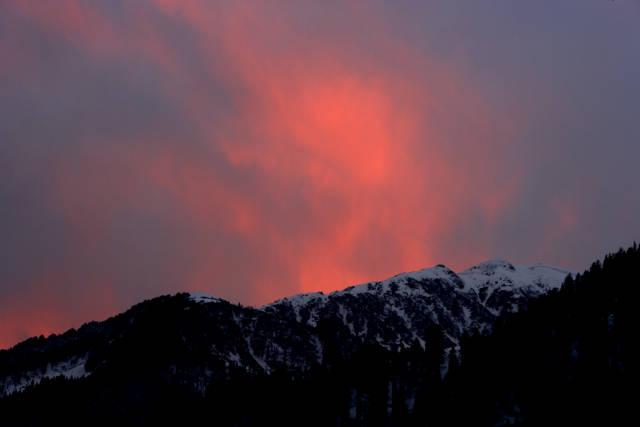 I'm splitting post here because of it's huge size