Mr. Suren, I must say this thread was one you'd created aptly! :)
'was wondering where to post this news....!
Here's a 1957 (going by the rim/s) Fiat 1100 elegant aka 'centrelight fiat' just brought in to a local scrapyard near Suraj talkies (Yakutpura) here in hyd. today.....my mech. saw it being towed on the way & notified me, rightly guessing where it was being taken...so sure enough we found it at this place in queue with the cars (mostly fiats!) that are to be scrapped.....I recently rescued my delight from here too btw!
However, we were told that this car is up for sale if anyone's interested, failing which the guy who bought it would ultimately have it scrapped!
He's told us that he'll meet us tomorrow & we could then check out the car in more detail (it was locked so could only check it out from outside) & talk about the price....
Now although I did make the first call to Suren who's the only classic enthusiast in HYd. I know looking for a classic, I'm making this public just in case, as I'd be sorry to see this car scrapped!
(Sorry for the delay in uploading the images Mr. Suren but having trouble with my net! Trying to post all pics. I took of the car too...)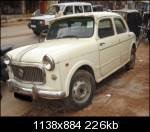 Although do be warned, it wouldnt come dirt cheap, maybe just reasonable (between 20-25k), based on my recent personal experience...what's happening here nowadays is that these scrapguys dont mind picking up good fiats for even 17-18k, as they are able to make a good profit selling the parts viz. engine/gearbox/diff. to Bombay where I'm told they are much in demand....so a car in this condition would've been bought pretty much in that price range.
And from what I can see, its quite decent & basically needing a rolling restoration needing mainly many of the original cosmetic bits...but firstly need a new battery, which is why they'd towed it in.....
Incidentally, if saved in time, this car would also be welcome for the DECHAA vintage/classic rally here on 15th aug.! :Cheering: