Friends:
Always wanted to share my thoughts and research on the Weber DCOE carburettor proposed for my 1995 Padmini S1. So here goes...
The Weber DCOE (Doppo Corpo Orizzontali) (double-body horizontal draught) performance carburettor is a complex animal.
It comes in variants from Weber 38 DCOE to Weber 50 DCOE.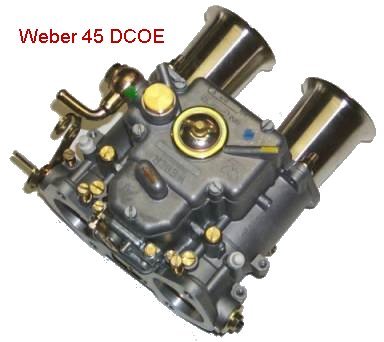 Just love the gleaming RAM stack trumpets.
Application
The Weber DCOE (doppio corpo orrizontali) carburettor was extensively used on:
Triumph GT6 and Triumph Spitfire:
Fiat 1100R (Rinnovato), Fiat 125:
Alfa Romeo Spiders (1300 junior, 1600, 1750, 2000, 2600)
and the Alfa Romeo 2600 Sprint used by the Rome police.
Porsche 911 T
CitroŽn DS 21
Lamborghini 400 GT lslero
The 1780 cc Ford Lotus Cortina
the Caterham Super 7
Lotus Elan
BMW 1800 Tl/SA
Aston Martin DB6 - Vantage
Maserati 3500 GT 34
Renault Caravelle 1100S
Lancia Flaminia 3C
Opel Rekord Sprint
Simca 1000 D/GLS, Simca 1500S
The two throats of the Weber DCOE can have synchronized butterfly-valves (like in the case of the Weber DCOE 2) or differential butterflies. In the case of the differential Weber, each body has to be tuned independently.
Some random thoughts on tuning the carb

What I've learned is that transplanting a carburettor is not as simple as plonking a faster Pentium 4 into a slower Pentium 4's socket as we do in our world. We understand front-side buses and double-data rate synchronous RAMS, so would plonk the right Pentium 4 into its uPGA-478 socket.
(Similarly?) transplanting a Weber double body horizontal draught carburettor is definitely not for the faint of heart (or tech brain).
You have to be ready to build a new sheet metal manifold, test your welds with compressed air for leaks and experiment with it for a longish period of time.
Experimenting with different jet sizes would be necessary. It has a progression circuit and main circuit that govern the progression from idle to cruise to overtaking acceleration.
Some creative matching of Idle Jet, Air corrector and Emulsion tube would be called for. Tweaking the jetting:- venturi jet, main jet, emulsion tube jet, air jet, idle jet, etc.
The big Weber 45 DCOE comes in Weber 45 DCOE 9 to Weber 45 DCOE 152 choke sizes. 45-DCOE-152 offers a plastic float. 45-DCOE-9 offers a brass float. Even that makes a difference. Why? Changing the fuel level in the bowl will change the point that the main circuit starts to feed, alter the characteristics of the emulsion tube, and affect both drivability and fuel consumption.
Tweaking the ignition advance/retard settings, octane ratings of fuel, chamber resonation, venturi size, fuel foaming.
The expert carburetor tuner would use an air-flow meter (AFM).
In other words, you need to be an educated tech specialist. An unlettered street mechanic would be challenged by the engineering understanding, necessary.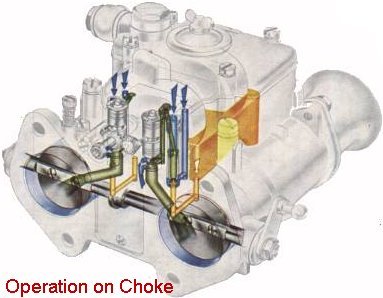 Heard that when a Weber DCOE develops a vexatious air leak, people steam-clean it up and palm it off on eBay. Another thing to be careful about when buying a used Weber.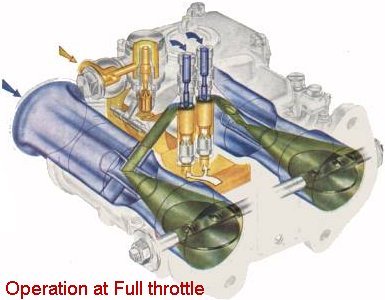 Spares to mod it: