| | |
| --- | --- |
| mangywarez | 8th August 2005 07:56 |
---
Personal Cars Flooded In Mumbai Floods

Guys this is my Hyundai GETZ GLS which was soaked in water on the very 4th day after i took its delivery.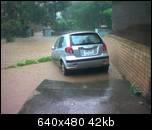 I got inside from the hatch, pushing the 40 side seat down, and then setting the handbrake and gears.
Later a friend and myself managed to get the car on this elevated area by pushing it real hard.
I got the feel of participating in the "Worlds strongest man" contest here, but feared of damaging the front bumper.
The car was in the front where you can see a small wall, it was around five meters that we managed to push it up here.
Till then it was soaked in water thill its windows. With water all inside on the floor and the seats soaked in it.
On 28th July i however managed to rip the whole carpet apart and get the car back to normal.
Take a look at the pics below.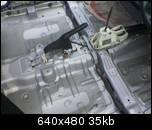 Thats what is called spick and span right.