Dealership experience And Nano experience.
Dealer : Tejaswi motors, Hitechcity.
Pre booking :
I had very bad experience at the tata dealerships in hyderabad when we had an indigo. But then I heard about a TATA dealership which opened up recently and which takes its customers pretty seriously. So walked in to enquire about the sweet little car. Walker in an a person with a smile walks towards me and greets me and asks me which car are you looking for sir? NANO! and the conversation went on for a good 30 mins, she explaiuned all the loan option, cash benefits, discounts, after sales packages etc. It was a pleasant experience.
After Booking
:
After booking the car, the sales executive was in touch with me everyday to keep me posted about the delivery status, PDI, Load processing and few other details. A very kind person.
Delivery :
It took closed to 40 mins even after the payment and approvals are done well in advance. Insurance and few other signature were left and these took close to 40 mins. Got a chocolate box along with the car
Post Delivery :
I liked the nano so much that I couldnt resist buying it. But soon after I rode it to the fuel station, filledit up and drove it with the AC on from idle, heard a BBBRRRRRR sound fromthe engine bay while accelerating, Initially I thought it was the belt which was making that sound and will vanish some time soon and kept driving it but later it was getting more and more loud. Took it to the service station the next day and found out that the AC compressor pulley is the culprit. Mech did some adjustments and the problem was solved.
Later when I came back home, Did a keem inspection and found rust on the drive shafts and other areas. Got a doubt and decoded the VIN number and found out that the car is almost 1 Year old :Shockked:. The car had 40 kms on the odo when I took the delivery and the reason they gave for this was that some testing was done before delivery hecne the big number. I was fine with it but after looking at the mfg date, Informed the manager about it and had a long argument. Good that reg was not done and after stressing a bit, Got it replaced. Now I have a golden 2011 mfg bs4 nano :D
When the car was exchanged, the odo was at 120 kms. The bs4 nano seems more refined/smooth?
Nano experience :
Beautiful car for the city, you can park it any where without any worries. Easy to handle, easy to maintain. It's way cheaper than maintaining my 2011 CBR.
Braking is a matter of getting used to. Acceleration and gearing are just great for the city. It can go uphill with the ac on and on 2nd gear. You can still see the car accelerating at that pocition. Getting close to 18 kmpl on ac in the city. Ample space for legs, head and luggage. A salute to ratan tata for making this lil wonder.
Dislikes :
No left side ORVM, No provision for speakers(front), no glove box, no cigarette lighter even on the top end version (got an after market one though).
Upgrades :
1. Autocops security system - Done.
2. HU, Front and rear speakers, AMp, Sub - Pending (waiting for a weekend)
3. Tints - Waiting for registration process to happen.
4. Alloys (dealer still dint get stock)
5. ORVM left - Wonder where to get hold of one.
6. Seats. Semi leather for sure.
7/15/2011:
Done with the audio install. Got JBL 4" on the front, Rockford fosgate 6x9 on the rear, kenwood 350watt 2 channel for the jbl 1100 watt sub. Scosche wiring was used. Used my Good old Sony gt460US HU which was taken off from my other car while upgrading to a 3RC out HU.
Ordered semi leather "Saddles" covers. Will take time I guess. He said by thursday they'll be ready so friday will be the day I'll get them. I'll even get the glasses tinted that day.
So far, I'm having fun driving this cute lil car.
7/22/2011 :
Took an off from office and got all the left over work .
Things done today.
1. Seats.
2. Horn.
3. Sunfilm.
Few pics clicked from my mobile.
Before :
After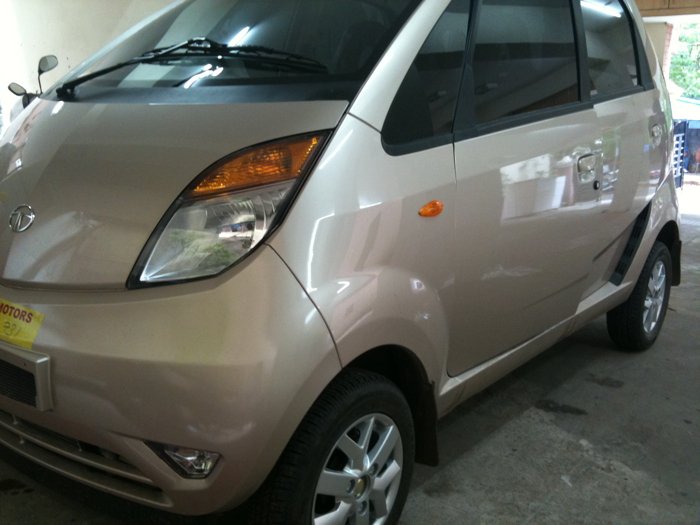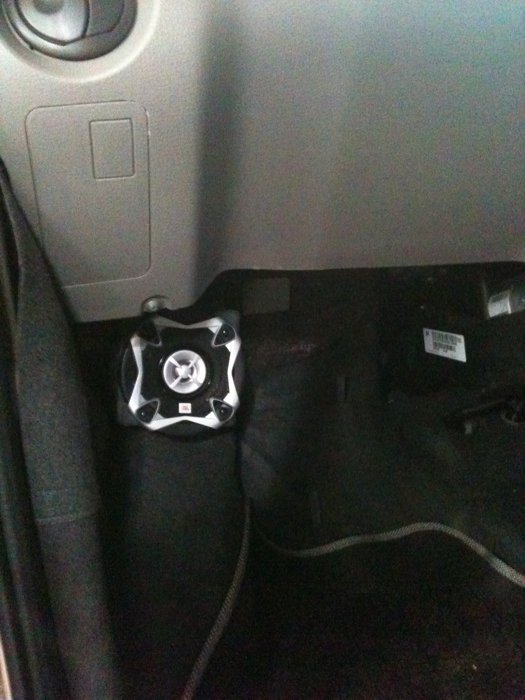 Will Post more pics tomorrow. Couldn't click more today as I dint have time.