What you'll like:
• All-rounded package in a sharp design. Improved over the 1st-gen i20 in nearly every way
• Spacious interiors with outstanding quality, fit and finish. Practical 285 liter boot too
• 1.4L diesel has excellent driveability, refinement, performance & fuel economy. 6-speed gearbox is smooth
• Mature suspension offers a comfortable ride and neutral handling characteristics
• Hyundai's fuss-free ownership experience & excellent after-sales service
• Loaded with features & gizmos (16" rims, keyless entry & go, 8-speaker stereo, rake & reach steering, rear air-con, reversing cam, cooled glovebox and lots more)
What you won't:
• Missing equipment vis a vis old i20: Rear disc brakes, side & curtain airbags, sunroof, auto-wipers & DRLs
• 1.2L petrol is nowhere as impressive as the diesel. Mediocre highway performance for a premium hatchback
• Anyone over 5'11" will find rear headroom to be insufficient. Sloping roof eats into cabin height at the back
• Dynamics & steering aren't to an enthusiast's tastes. Swift, Polo etc. are more fun to drive
• On-road price difference between the petrol & diesel is ~1.3 lakhs. That's higher than the competition
• Rear wiper only on the top Asta trim! No fuel-efficiency indicator, auto-locking doors or height-adjustable seatbelts on any variant
Link to Official Review
What you'll like:
• Snazzy styling packs appeal. Interiors are well-designed too
• Competent engine range. Very refined motors
• Balanced ride and handling. Superbly tuned suspension
• Terrific fuel efficiency, especially from the diesel
• Effortless to drive in the city; lots of fun on the highway
• Maruti's excellent after-sales service & wide dealer network
What you won't:
• Small, impractical boot. Luggage capacity is severely restricted
• Mediocre brakes (
LXi / LDi & VXi / VDi
). Inadequate for emergency braking conditions
• Looks nearly identical to the outgoing generation car
• Rear seat space, though improved, still isn't "spacious"
• Pricey ZXi / ZDi variants. Also, ABS no longer an option on the middle "V" variants
Link to Official Review
What you'll like:
• A well-built solid European hatchback
• Clean and contemporary styling. Absolutely no quirkiness
• Mature suspension offers a balanced ride & handling package
• Dual airbags even in the base variants!
• Accommodating 280 liter boot
What you won't:
• Commuter 3-cylinder petrol engine
• Mediocre rear bench legroom and a large floor hump
• Missing essentials (driver armrest of the Vento, 60:40 splitting rear seat, dead pedal, seatback pockets)
• VW's sub-par dealership & service experiences
Link to Official Review
What you'll like:
• A neutral family hatchback with the "T" badge
• Spacious interiors can easily carry 5 adults
• Super light controls, especially steering & short-throw clutch. Effortless to drive within the city
• Well-tuned suspension. Safe handling and flat ride
• Safety package (Airbags, ABS & EBD) optional on middle variant too
• Toyota's fuss-free ownership experience & excellent after-sales
What you won't:
• 1.2L engine lacks bottom end; isn't a class-topper like the Etios 1.5 (from which it is derived)
• Cost-cutting glaringly obvious in many areas
• Economy-grade interior quality & unconventional dashboard
• Missing equipment (climate control, height adjustable driver's seat etc.)
• Poor insulation. Engine, suspension & road noise are prominent
Link to Official Review
What you'll like:
• Stunning design & styling
• Solid build quality
• Fuel efficient diesel
• Mature & superb ride quality
• Outstanding high speed dynamics. A benchmark amongst hatches
• Perfectly calibrated & weighted power steering. Deserves a mention here
• 5 star safety
What you won't:
• Rear bench space. Cosy interiors by big hatch standards. Not an Indica Vista
• Interior fit, finish and quality are strictly average
• Low FE of the petrol
• Lack of outright performance (diesel). No high powered engine (a la Palio 1.6 100 BHP)
• Engine noise at speed (petrol and diesel both)
• Service network not a match of say, Maruti or Hyundai
Link to Official Review
What you'll like:
• A well-rounded family hatchback
• Superbly tuned 1.3L diesel powerplant. Short-throw gearbox is a pleasure to use
• Spacious interiors. Rear legroom betters some sedans
• Excellent ride quality mated to neutral road manners
• Ideal for city driving : High seating position with a light steering, clutch and gearshift
What you won't:
• Dated & unappealing styling
• Missing features (No climate control, MID, steering-mounted audio controls, seat height adjustment)
• Sensitive steering at high speed. Needs a steady hand on the expressway
• Some quirky interior bits : Push / pull type door locks, centrally-placed window switches etc.
Link to Official Review
Tata Vista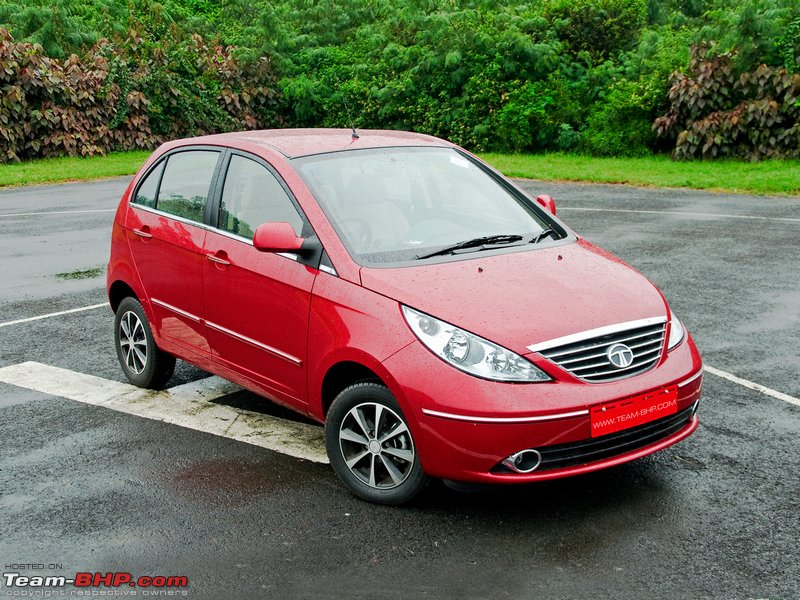 What you'll like:
• Efficient diesel engine
• Offers great value for money
• New interiors look and feel much better in terms of overall quality
• Improved gearbox, light clutch and light steering make for effortless city driving
• Spacious interiors. Roomiest in the segment; beats some sedans from 2 segments up
• Absorbent, comfortable ride quality
What you won't:
• Fit and finish need improvement. Exterior panel gaps are inconsistent too
• Soft suspension setup. Best driven sedately
• Is getting long in the tooth
• Niggling issues & irritants persist (as reported by existing Vista owners)
• Tata's after-sales-service remains a gamble
Link to Official Review